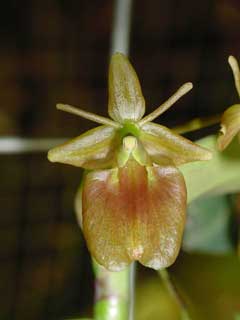 Epidendrum orbiculatum C.Schweinf. 1943 GROUP Megalospathum SUBGROUP Cupreum Photo by Ecuagenera and their Ecuador Orchid Website .
Drawing Original Drawing by © Padre Pedro Ortiz Conserved at the Herbario de la Universidad Javeriana, Bogota Colombia




Common Name The Rounded Lip Epidendrum
Flower Size 1" [2.5 cm]
Found in Cuzco Peru in damp high altitude forests with a dry season from May through December at elevations around 2800 to 3150 meters as a small sized, cold growing epiphyte with curved, spreading, lightly complanate stems enveloped basally by close, tubular, scarious sheaths with and without articulated basal leaves and carrying oblong to oblong-elliptic, coriaceous, thick, obtuse, conduplicate below into the clasping base leaves that are minutely bilobed apically and blooms in the winter and spring on a short to 2" [5 cm], 3 flowered, racemose inflorescence arisng from a prominent, coriaceous, spathe.
References W3 Tropicos, Kew Monocot list , IPNI ; Orchids of Peru Vol 2 Fieldiana Schweinfurth 1959; Icones Planetarum Tropicarum Plate 067 Dodson & Bennett 1989 drawing fide; Icones Orchidaceaeum Peruviarum Plate 052 Bennett & Christenson 1993 drawing fide; Icones Orchidacearum Part 7 Plate 750 Hagsater 2004 see recognition section; Orchid Species of Peru Zelenko Bermudez 2009 photo fide; Icones Orchidacearum Part 13 Plate 1364 Hagsater 2010 drawing fide; Orquideas, Tesoro de Colombia Vol 2 Ortiz & Uribe 2017 drawing fide; AOS Bulletin Vol 87 #10 2018 photo fide;
--------------------------------------------------------------------------------------------------------------------------