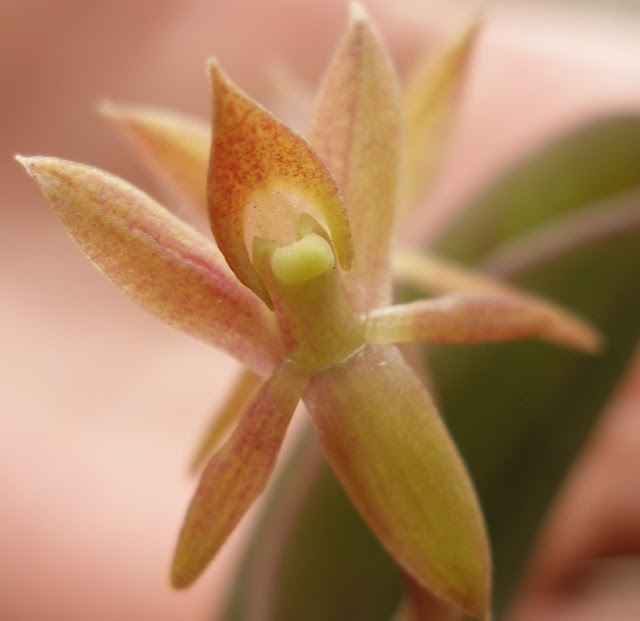 Epidendrum polyanthogastrium Hágsater & Dodson 1999 GROUP Geminiflorum
Photo © by The Plantas de Pulan Website
TYPE Drawing by © Jimenez, Hágsater & E.Santiago and The AMO Herbario Website





Common Name The Many Belly Flowers Epidendrum [refers to the flowers with the excavated papilate disc of the lip]
Flower Size .6" [1.5 cm]
Found in Ecuador on the western slopes of the Andes at elevations around 2000 meters as a miniature to small sized, cool to cold growing epiphyte with terete, fleshy stems giving rise to the new stem from the middle of the previous stem enveloped completely by leaf bearing sheaths each carrying 4 to 6, articulate, ovate, apically bilobed, green, evenly distrubuted along the stem leaves that blooms in the fall and winter on an apical, erect, racemose, 2 to 8 flowered inflorescence arising from a mature cane through a conduplicate, narrowly semi-obovate, obtuse spathe and has non-resupinate, simultaneously opening flowers.
Epidendrum polyanthogastrium is part of GROUP Geminiflorum characterized by the sympodial habit, with new stems arising from the middle node of the previous one, a prominent round to ovate spathe, few non-resupinate flowers and a papillate, excavated disc of the lip. This species is similar to E megagastrium which has a triangular, cordate lip and lateral lobes that do not cover the column, and E amplexigastrium which has a trilobed and cuneate lip and lateral lobes that are semi-obovate and directed towards the front and embracing the column and E polyanthogastrium which has an ovate spathe, up to 8 flowers, with a triangular cordate lip held in a somewhat horizontal position.
CAUTION I cannot be sure of this determination as the photo does not show if the column is covered by the lobes of the lip or not but the type drawing is absolutely correct.
Synonyms
References W3 Tropicos, Kew Monocot list , IPNI ; *I cones Orchidacearum 3 Plate 373 Hagsater 1999 drawing fide; Icones Orchidacearum 4 Plate 417 Hagsater 2001 see recognition section; Icones Orchidacearum 4 Plate 482 Hagsater 2001 see recognition section; Icones Orchidacearum 17(1) Plate 1739 Hagsater & Jimenez 2019 see recognition setion; ; Icones Orchidacearum 18(2) Plate 1853 Hagsater & Jimenez 2021 see recognition section; Icones Orchidacearum 18(2) Plate 1869 Hagsater & Jimenez 2021 see recogntion section; Icones Orchidacearum 18(2) Plate 1889 Hagsater & Jimenez 2021 see recognition section
--------------------------------------------------------------------------------------------------------------------------