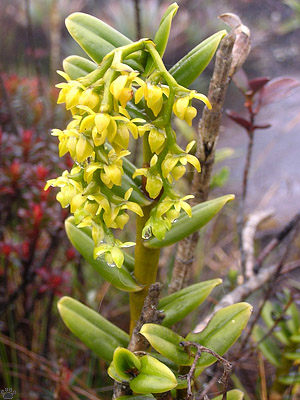 Epidendrum imthurnii Ridl. 1886 GROUP Macrostachyum SUBGROUP Stenophyton Photo by © Vladimir Dinets and his Climbing Mt Roraima Website ***** check it out!


to


Common Name Imthurn's Epidendrum [E. F. in der Thurn, German Orchid Collector in Guyana 1800's]
Flower Size .6" [1.5 cm]
Found in Venezuela, Guyana, Fr. Guiana and Amazonian Brazil on tepui tops or on the slopes at elevations of 1200 to 2900 meters as a medium sized, cool to cold growing terrestrial or lithophyte with erect to slightly curved, terete, few short branched stems carrying towards the apex or all along the stem, coriaceous, patent, distichous, linear-lanceolate to lanceolate, acute, slightly attenuate into the base leaves that blooms in the spring on a terminal, racemose, subdense, 1 to 1.6" [2.5 to 4 cm] long, 4 to 8 flowered inflorescence.
Synonyms
References W3 Tropicos, Kew Monocot list , IPNI ; Repert. Spec. Nov. Regni Veg. Beih. 6: 70 Schlechter 1919; Flora de Venezuela Volumen 15 Parte 3 Foldats 1970 drawing ok; Venezuelan Orchids Illustrated Vol 5 Dunsterville & Garay 1972 drawing ok; Orchidaceae Brasilenses Band 2 Pabst & Dungs 1977 drawing good;l Orchids of Venezuela, An Illustrated Field Guide Vol 1 Dunsterville & Garay 1979 drawing ok; Orchids of Venezuela [An illustrated field guide] Vol. 1 Ramiro and Carnevali 2000 drawing ok; AOS Buletin Vol 71 No 5 2002 photo; Flora of the Venezuelan Guayana Vol 7 Steyermark, Berry, Yatskievych and Holst 2003; Orquideas de Roirama Luz & Franco 2012 photo ok; Orchids of French Guiana Szlachetko, Veyret, etal 2012 drawing ok; Orquideas, Tesoro de Colombia Vol 2 Ortiz & Uribe 2017 Drawing good;
--------------------------------------------------------------------------------------------------------------------------