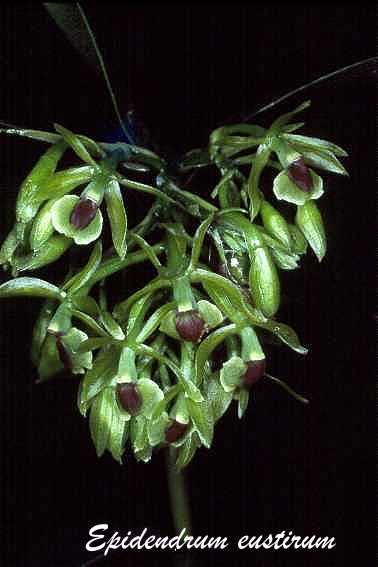 Epidendrum eustirum Ames, F.T. Hubb. & C. Schweinf. 1935 GROUP Fruticosum
Photo by © Robert Weyman Bussey.
Drawing by © Jimenez, Hágsater & E.Santiago and The AMO Herbario Website






EARLIER

Common Name or Meaning The Well Keeled Epidendrum [refers to the carinate sepals]
Flower Size .8" [2 cm]
Found from Puebla, Oaxaca, Vera Cruz and Chiapas states of Mexico, Guatemala, Honduras and Nicaragua in wet montane forests at elevations of 360 to 1700 meters as medium sized, hot to cool growing epiphyte with terete, slender, cane-like stems enveloped by several, scarious, tubular sheaths and carrying towards the apex, a few to several, linear-lanceolate, mostly purplish, acute, basally clasping leaves and blooms in the fall through earlier spring on a terminal, to 2" [5 cm] long, arcuate, several to many flowered, sub-umbelliform inflorescence with simultaneously opening, slightly citrus scented flowers.
"Epidendrum eustirum belongs to the GROUP Fruticosum characterized by the caespitose to creeping habit, a few subcoriaceous leaves, the racemose to rarely paniculate inflorescence with green to purple tinged flowers and a very fleshy reddish purple disc on the lip consisting of 3 fleshy, thick, rounded keels. The species is recognized by the caespitose, unbranched habit, relatively narrow leaves .16 to .68" [4-17 mm] wide, the green flowers, the disc purple, and narrow, oblanceolate petals .48 to .6"[1.2 to 1.5 mm] wide. It is florally very similar to Epidendrum fruticosum Sessé & Mociño ex Lindl. which has a creeping, bush-like habit, heteromodular, ascending stems by substitution, distal stems diminishing markedly in size, relatively wide leaves, .4 to 1.2" [10 to 30 mm] wide, greenish yellow to intense wine-purple flowers, partly spreading floral segments, apex rounded, widely oblanceolate petals .128 to .192" [3.2 to 4.8 mm] wide, and the reniform lip, the disc with a thickened, fleshy, 5-lobed structure." Hagsater etal 2013
Synonyms Epidendrum carinatum Lindl. 1853
References W3 Tropicos, Kew Monocot list , IPNI ; The Genus Epidendrum Ames 1936; Ceiba Vol 5 No 1 L O Williams 1956; AOS Bulletin Vol 49 No 5 1979; Orquídea (Mexico City), n.s., 7[3]: 1979; Icones Planetarum Tropicarum plate 716 Dodson 1982 drawing fide; Selbyana Vol 10 Orchids of Central America Hamer 1988 drawing fide; Icones Orchidacearum 1 Plate 28 Hagsater & Sanchez 1990 see recognition section; Orchids of Mexico Hagsater, Soto, Salazar, Jimenez, Lopez and Dressler 2005; Icones Orchidacearum 11 Plate 1126 Hagsater 2008 see recognition section; Icones Orchidacearum 13 Plate 1329 Hagsater 2010 drawing fide; Algunas Orquideas de Mexico Tomo 1 Suarez 2013 photo fide; Orchid Genera and Species in Guatemala Archila, Szlachchetko, Chiron, Lipinska, Mystkowska and Bertolini 2018
--------------------------------------------------------------------------------------------------------------------------