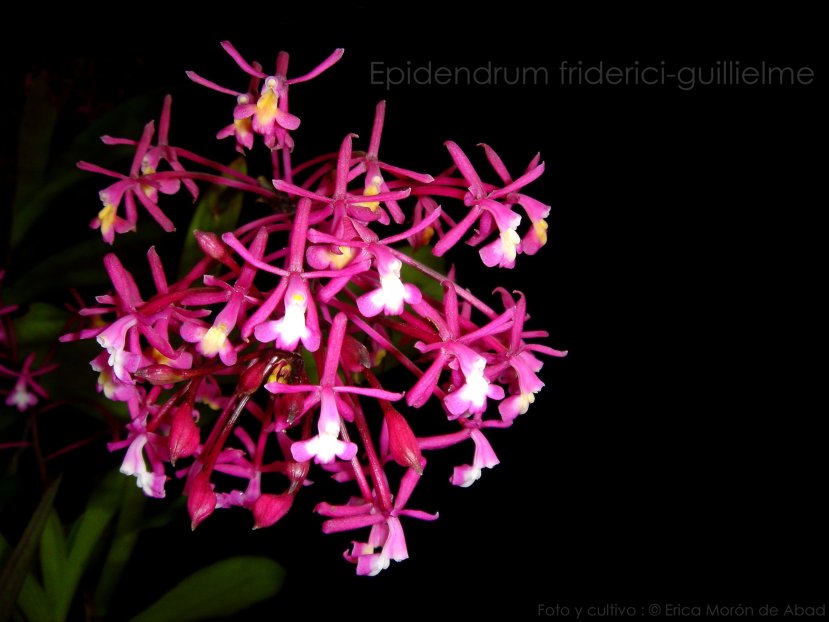 Epidendrum friderici-guilielmi [Lindley] Rchb.f & Warsc. 1854 GROUP Excisum SUBGROUP Friederici-guilielmii type
Photo by © Erica Moron de Abad © and Her Biorquidtropic Peru Lab Web Page
Photo by © Carlos Hajek and his Peruvian Orchid Page



Common Name Kaiser Fredrich Wilheim II Epidendrum [German Leader 1800's]
Flower Size to almost 4" [10 cm]
Found in Peru and Bolivia as a large sized, caespitose, cold growing epiphyte and lithophyte, found in cloud forest, at elevations of 2000 to 3000 meters with erect, cane-like, clumped stems enveloped basally by scarious, tubular bracts carrying 4 to 5, towards the apex, graduating in size, oblong-lanceolate, basally conduplicate, acute, coriaceous leaves that blooms in the summer on a terminal, erect to pendant, to 10" [25 cm] long, densely several to many flowered raceme with showy flowers arising on a mature cane, subtended by a spathe and minute inconspicuous floral bracts.
"E. friderici-guillielmi Warsc. ex Rchb.f. is the type for the GROUP Excisum SUBGROUP Friederici-guilielmii type, characterized by the caespitose plants with cane-like, erect stems, fleshy leaves, the base of the inflorescence with 1 to 2, spathe-like bracts, star-shaped flowers with narrow sepals and pctals, and a prominent, acuminate, lip. The species has intensely fuchsia-colored, smaller flowers, with sepals .52 to 1" [13 to 25 mm] long). Epidendrum leucochilum of the GROUP Excisum SUBGROUP Leucochilum has large plants, coriaceous leaves, prominent spathaceous bract at the base of an erect, raceme of large, star-shaped, green flowers with white, column and 3-lobed lip. E. lehmannii Schltr., the sister species of E leucochilum from the eastern slopes of the Andes in Ecuador and Peru has wider leaves 2:1 to 5:1, smaller flowers with sepals 1.2" [3 cm] long and floral fragrance of papaya." Adapted from Plate 1260 Hagsater etal 2009
Synonyms Epidendrum huacapistanae Kraenzl. 1905; *Spathium friederici-guilelmi Lindley ?
References W3 Tropicos, Kew Monocot list , IPNI ; *Bonplandia Rchb.f 1854; Xenia Orchidaceae Rchb.f 1854 drawing fide; Die Orchideen Schlechter 1915; Atlas des Orchidees Cultivees Constantin 1920 drawing good; Repert. Spec. Nov. Regni Veg. Beih. 10: 70 Schlechter 1922; Orchids of Peru Vol 2 Fieldiana Schweinfurth 1959; Encyclopedia of Cultivated Orchids Hawkes 1965; Die Orchideen 3 Auflage Bd 1 Sonderabdruck aus Schlechter Lieferung 9 513 - 576 Brieger, Maatsch and Senghas 1977; AOS Bulletin Vol 49 No 12 1980 photo fide; Manual Of Orchids Stewart 1995; Icones Orchidacearum Peruviarum Plate 242 Bennett & Christenson 1995 drawing fide; Icones Orchidacearum 4 Plate 485 Hagsater & Sanchez 2001 see recognition section; Icones Orchidacearum 12 Plate 1260 Hagsater 2009 see recognition section; Orchids of Bolivia Vol 2 Laelinae Vasquez and Ibisch 2004
--------------------------------------------------------------------------------------------------------------------------