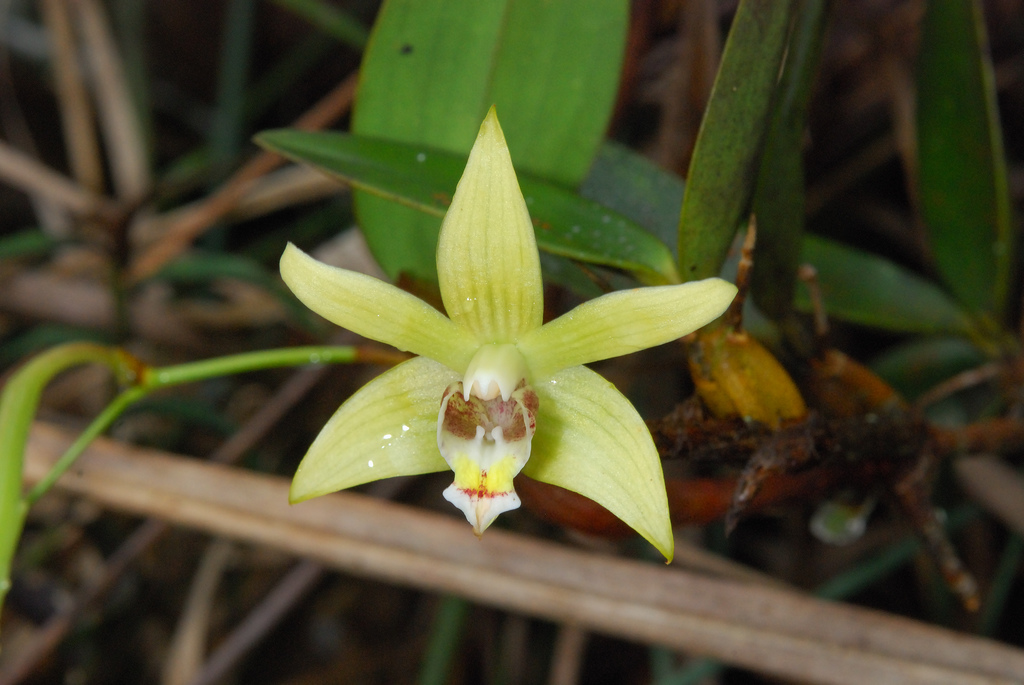 Epigeneium kinabaluense (Ridl.) Summerh. 1957 SECTION Racemosum Photo courtesy of Eric Hunt.






Common Name The Kinabalu Epigeneium
Flower Size 2" [5 cm]
Found in Sabah and Sarawak, Borneo in lower to upper montane forests at elevations of 1200 to 3400 as a very large sized scrambling, cool to cold growing epiphyte, lithophyte or terrestrial, with a creeping rhizomeand giving rise to erect, elongate, branching, scrambling stems with small, conical to ovoid, 4 angled, obtuse pseudobulbs carrying 2 to rarely 3, oblong elliptic, equally or unequally retuse apically, thick, leathery, dark green often flushed purple, abruptly narrowing below into the petiolate base leaves that blooms in the winter and spring on a subapical, erect, or porrect, racemose, yellow green to red, very variable in length, .4 to 8" 1 to 20 cm] long, laxly 1 to 8 flowered inflorescence carrying fragrant flowers.
Synonyms Dendrobium kinabaluense Ridl. 1894; Dendrobium suberectum (Ridl.) Masam. 1942; Epigeneium suberectum (Ridl.) Summerh. 1957; Katherinea kinabaluensis (Ridl.) A.D.Hawkes 1956; Sarcopodium kinabaluense (Ridl.) Rolfe 1910; Sarcopodium suberectum Ridl. 1914
References W3 Tropicos, Kew Monocot list , IPNI ; Orchidaceae Monandre-Dendrobiinae Fr. Kraenzlin 1910 as Sarcopodium kinabaluense; The Plants of Mount Kinabalu Vol 2 Orchids Beaman, Wood, Beaman & Beaman 1993 photo hmm; A Checklist of the Orchids of Borneo Wood & Cribb 1994; Orchids of Borneo Vol 1 Chan, Lamb, Shim & Wood 1994 drawing/photo fide; Orchids of Sarawak Beaman & Wood 2001; The Dendrobiums Wood 2006; The Orchids of Mount Kinabalu Vol 1 Wood, Beaman, Lamb, Chu Lun and Beaman 2011 drawing/photo fide; The Orchids of Mount Kinabalu Vol 2 Wood, Beaman, Lamb, Chu Lun and Beaman 2011 drawing fide; Genera Orchidacearum Vol 6 Epidendroidee Pt 3 Pridgeon, Cribb, Chase and Rasmussen 2014 as Dendrobium kinabaluense drawing fide;
--------------------------------------------------------------------------------------------------------------------------