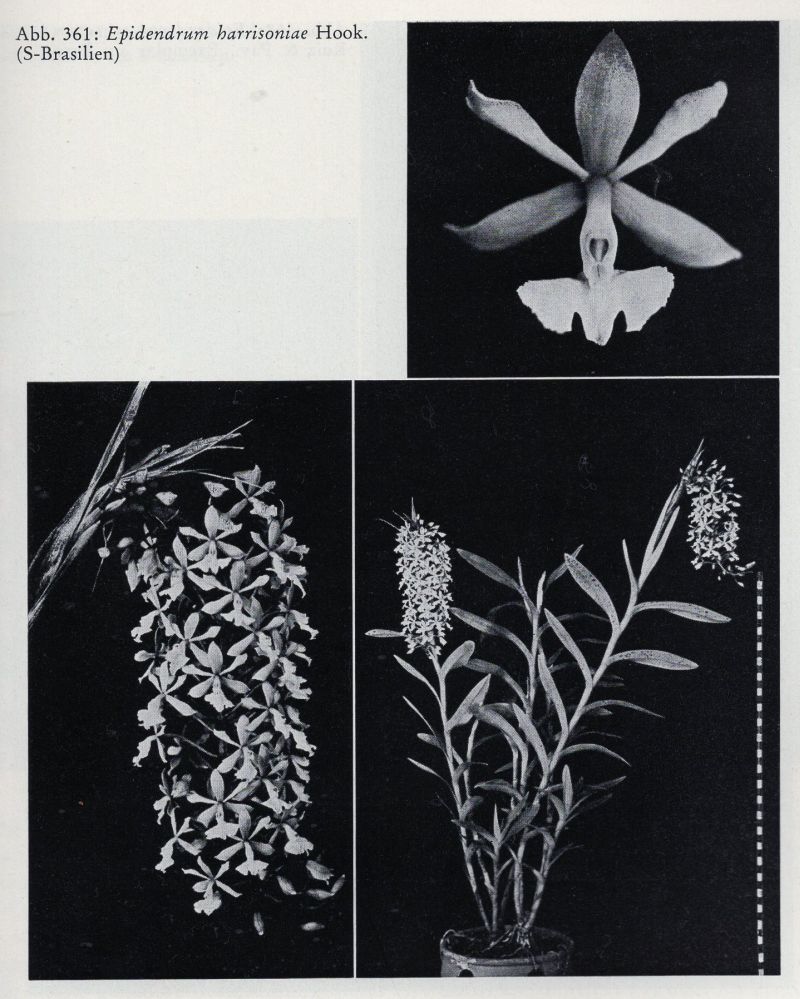 Epidendrum harrisoniae Hook.1833 GROUP Mutelianum
Photo by © Brieger
Drawing by © Curtis's Botanical Magazine and the Botanicus website





Common Name Harrison's Epidendrum [English Orchid Enthusiast 1800's]
Flower Size 1 1/4" [3.2 cm]
Found in Rio de Janiero state of Brazil as a medium sized, hot to warm growing epiphyte with erect to ascending, rather slender, terete, ancipitous stems carrying a few distichous, towards the apex, rigid, coriaceous, ovate to elliptic to ovate-elliptic, rarely oblong-elliptic, obtuse leaves that blooms in the late winter and spring on a terminal, paniculate, distinctly long-pedunculate, very rarely abbreviated, racemose, ancipitous, many flowered inflorescence with a few remote, prominent bracts and acuminate floral bracts.
"Epidendrum harrisoniae Hook. from the Organ Mountains in eastern Brazil belongs to the GROUP Mutelianum , recognized by the cane-like stems, numerous large, narrow leaves, apical inflorescence subtended by several large, acute, imbricating bracts, racemose, nutant inflorescence with fleshy flowers, the three-lobed lip with entire margins. The species is recognized by the green and white flowers, but the obcuneate midlobe has lobes about the same size as the lateral lobes and are similarly shaped. Epidendrum gualaquicense of the GROUP Cristatum SUBGROUP Cnemidophorum has green and white flowers, sepals .84" [21 mm] long and the midlobe of the lip obcuneate, shallowly sinuate at the apex, the corners rounded. It is somewhat similar to Epidendrum oraion Hágsater from northern Colombia which has fuchsia and white colored flowers, the basal lobes semi-orbicular, and the lobes of the bilobed midlobe strongly divaricate, leaves .8 to 1.2" [2 to 3 cm] wide." Adapted from E gualaquicense Icones Plate 442 Hagsater etal 2001
CAUTION The two Groups mentioned above may be one in the same, I need better references to be sure.
Synonyms Epidendrum aeridifolium Rchb.f. 1865; Epidendrum aeridiforme Booth 1845
References W3 Tropicos, Kew Monocot list , IPNI ; Die Orchideen Schlechter 1915; Atlas des Orchidees Cultivees Constantin 1920 drawing fide; Orchidaceae Brasilense Band 1 Pabst & Dungs 1975 drawing fide; Die Orchideen 3 Auflage Bd 1 Sonderabdruck aus Schlechter Lieferung 9 513 - 576 Brieger, Maatsch and Senghas 1977 photo fide; Icones Orchidacearum 4 Plate 442 Hagsater 2001 see recognition section; Orchids of Bolivia Vol II Laelinae Vasquez & Ibisch 2004
--------------------------------------------------------------------------------------------------------------------------