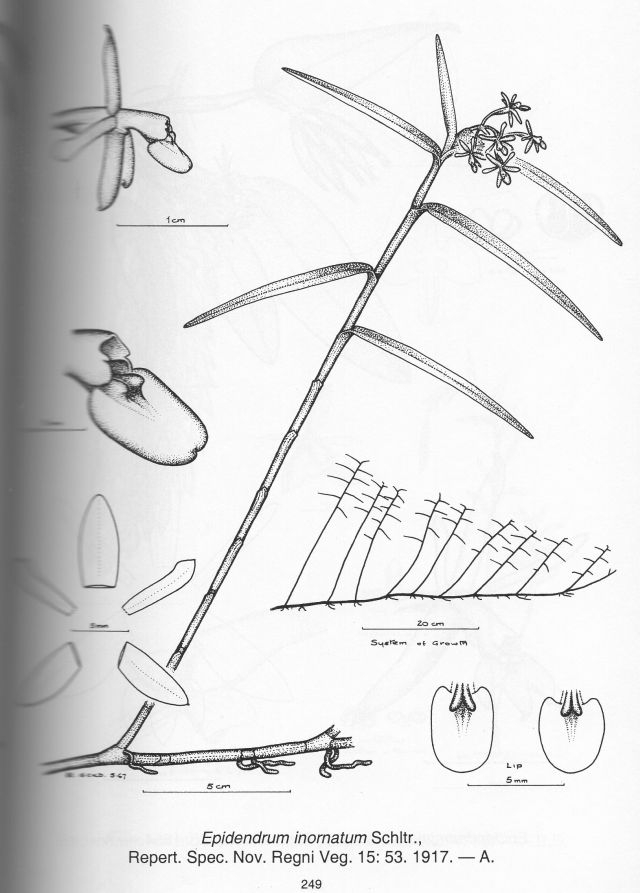 Epidendrum inornatum Schltr. 1917 GROUP Elleanthoides SUBGROUP Pilcuense
Drawing by © Dunsterville and Garay
Drawing by © Foldats


LATE

Common Name The Unornamented Epidendrum
Flower Size .6" [1.5 cm]
Found in Venezuela and Ecuador in cloud forests at elevations of 2450 to 2550 meters as a small sized in height, large in length, epiphyte with a repent, elongate rhizome from which arise suberect, terete, slender, leafy in the upper half to upper third stems carrying linear, carinate, sulacte mid-nerve, shortly mucronate apically leaves that blooms in the late spring on a terminal, arising through a compressed, membraneous spathe, peduncle short, compressed, nutant, racemose, 1 to 1.6" [2.5 to 4 cm] carrying yellow green flowers.
!!!CAUTION!!!! The illustrations above by Dunsterville (1976) and Foldats (1970) represent another, undescribed species." Plate 1417 Hagsater etal 2013. So although close the drawings representing this species here[above] are WRONG!!! I await Hagsater's treatment of this species to be able to show the correct species photo/drawing.
"E. inornatum Schltr. belongs in the GROUP Elleanthoides SUBGROUP Pilcuense characterized by the thin, monopodial stems, branching above when mature, sheaths rugose, inflorescence apical, erect, paniculate, lax-flowered, lacking any spathe, small flowers, and sub-entire to deeply 3-lobed, fleshy lip embracing the apex of the column, 1-callose, the disc of the lip and floor of the nectary opposite the stigmatic cavity pilose. The species has an elongate rhizome giving rise to simple stems carrying in the upper half to 1/3 of the stem, linear, carinate, sulacte mid-nerve, shortly mucronate apically leaves 4 to 5 simultaneous flowers.
Epidendrum rubioi in contrast has scandent, branching stems with grass-like, narrow leaves with the margins erose-dentate, the apical nutant raceme with 2 to 3 successive, lemon green, odorless flowers, and the lip completely embracing the column and ending in an abruptly apex. It is closely related to E. guacamayense Hágsater & Dodson, being distinguished by the short racemose inflorescence and the suborbicular, not reniform lip." Adapted from E ruboi Icones plate 184 Hagsater etal 1993
Synonyms
References W3 Tropicos, Kew Monocot list , IPNI ; *Fedde Repert. 15: 53 Schlechter 1917; Flora de Venezuela Vol 15 part 3 Foldats 1970 drawing no = another undescribed species [Icones plate 1417 Hagsater]; Venezuelan Orchids Illustrated Vol 6 Dunsterville & Garay 1976 drawing no = another species [Icones plate 1417 Hagsater]; Orchids of Venezuela, an Illustrated Field Guide Vol 1 Dunsterville and Garay 1979 no = another undescribed species [Icones plate 1417 Hagsater]; Icones Orchidacearum 2 Plate 184 Hagsater & Dodson 1993 see recognition section; Orchids of Venezuela [An illustrated field guide] Vol. 1 Ramiro and Carnevali 2000 drawing fide; Orquideas Nativas del Tachira Fernandez 2003 as E inornathum; Icones Orchidacearum 14 Plate 1417 Hagsater & Santiago 2013 See recognition section; Orquideas, Tesoro de Colombia Vol 2 Ortiz & Uribe 2017; Icones Orchidacearum 17(2) Plate 1779 Hagsater & Jimenez 2019 see recognition section;
--------------------------------------------------------------------------------------------------------------------------