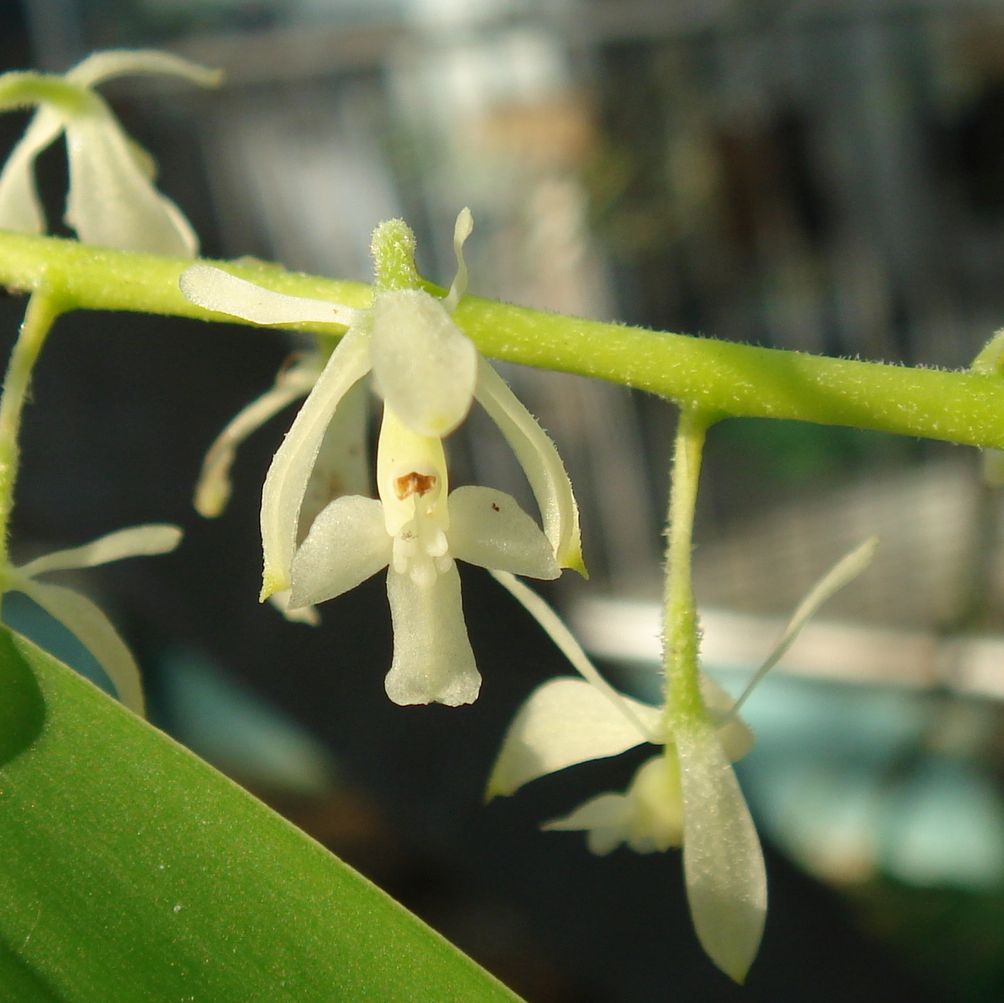 http://orchids.la.coocan.jp/

Epidendrum lanipes Lindl. 1853 GROUP Amblostoma SUBGROUP Amblostomioides Photo by © Professor Summer and his Web Garden Page

Plant and Inflorescence Photos by © Ed Merkle .



to



Common Name The Wooly Column Foot Epidendrum
Flower Size .6" [1.5 cm]
Found from Ecuador, Peru and Bolivia at elevations of 700 to 1500 [3000?] meters as a large sized, warm to cool [cold?] growing epiphyte with spindle shaped, basally swollen stems enveloped by close, tubular sheaths, scarious below the middle and leaf bearing above and carrying variable sized, ligulate to oblong-lanceolate to narrowly elliptic, obtuse to minutely bilobed apically, basally clasping below leaves that blooms in the winter and spring on a rigid panicle of divaricate, arcuate, each pubescent branch, 6" [15 cm] long, densely many flowered, 6" [15 cm] long, erect inflorescence and carrying fragrant [citrus] flowers.
Similar to E caurense but E lanipes has a different shape to the midlobe of the lip and has a different callus.
Synonyms
References W3 Tropicos, Kew Monocot list , IPNI ; Repert. Spec. Nov. Regni Veg. Beih. 10: 70 Schlechter 1922; Repert. Sp. Nov. Regni. Veg. Beih. 27:136 Colombia Schlechter 1924 ; Orchids of Peru Vol 2 1959; Icones Planetarum Tropicarum Series II Orchids of Peru Plate 0064 Dodson & Bennett 1989 drawing fide; Manual Of Orchids Stewart 1995; Orchids of Bolivia Vol 2 Laelinae Vasquez and Ibisch 2004; Icones Orchidacearum 7 Plate 704 Hagsater 2004 see recognition section; Icones Orchidacearum 7 Plate 734 Hagsater 2004 see recognition section; Icones Orchidacearum 7 Plate 749 Hagsater 2004 see recognition section; Orquideologia 24: 3 Ortiz & Hagsater 2005; Orchids of the Department of Valle De Cauca Colombia Vol 2 Kolanowska, Hagsater etal. 2014 drawing/photo fide; Orquideas, Tesoro de Colombia Vol 2 Ortiz & Uribe 2017 photo fide
--------------------------------------------------------------------------------------------------------------------------