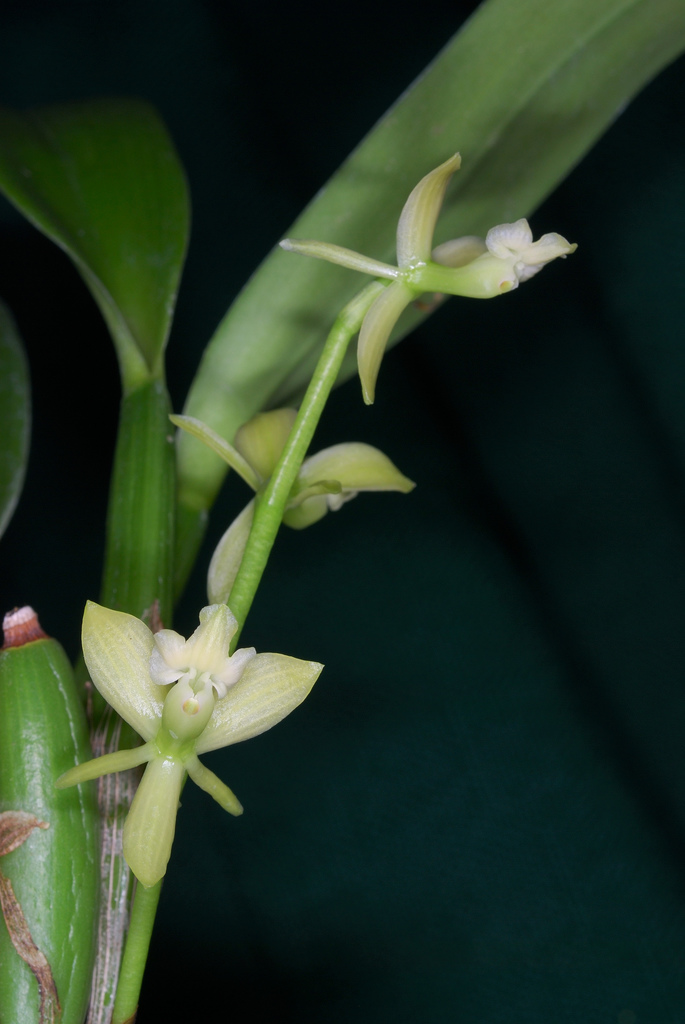 Epidendrum laterale Rolfe 1912 GROUP Laterale
Photo by © Eric Hunt
Photo by © Ray Barkalow and First Rays Orchids.



to


Common Name The Lateral Epidendrum [refers to the inflorescence arising basally and appearing lateral, a rarity in the genus]
Flower Size 1" [2.5 cm]
Found in Costa Rica, Panama and Colombia as a miniature sized, hot to warm growing epiphytic herb at elevations of around 1000 meters with close set, ovoid, smooth pseudobulbs carrying a single, apical, erect, coriaceous, elliptic, obtuse, basally clasping leaf that blooms in the spring and is different in that it has a basal, erect, lateral, 2" [5 cm] long, simultaneously 2 to 6 flowered, inflorescence with prominent, slightly longer than the ovary, widely triangular-ovate, subacute, amplexicaul, margin crenulate floral bracts and carrying fragrant, resupinate flowers occuring in the winter.
Known by its stems that form fusiform pseudobulbs, the single apical leaf, the lateral inflorescence arising from the base of the stem, that is shorter than the leaf, carrying 5 to 10, green flowers with the sepals .4 to .48" [1 to 1.2 cm] long, and a trilobed lip with long calli.
"Epidendrum laterale belongs to the GROUP Laterale which is characterized by the sympodial, caespitose plants with fusiform, single leaved pseudobulbs, and a simple, distichous, apical inflorescence, from a rudimentary pseudobulb, the flowers, fleshy, pale green. The species is recognizcd by the 1.54 to 2.4" [3.8 to 6 cm] long inflorescence with 2 to 6 flowers, the elliptic sepals .6 x .22 to .28" [15 x 5.5 to 7 mm], the midlobe of the lip narrowly obovate, cuneate at the base and rounded at lhe apex, the ovary .4" [10 mm] long. It is generally very similar to Epidendrium rousseausae Schltr. from Panama and Colombia, which has a longer inflorescence, 2.2 to 5.2" [5.5 to 13 cm] long, with 4 to 8 flowers which are smaller, the sepals being .36 to .48 x .08 to .16" [9 to 12 x 2 to 4 mm], the midlobe of lhe lip oblong at the base, and suborbicular towards the apex, and lhe ovary shorter, .2 to .24" [5 to 6 mm] long." Hagsater etal 2008
Synonyms Auliza laterale (Rolfe) Brieger 1977; Auliza rousseauae (Schltr.) Brieger 1977; Epidendrum rousseauae Schltr. 1918
References W3 Tropicos, Kew Monocot list , IPNI ; The Genus Epidendrum Ames 1936; Ceiba Vol 5 No 1 L O Williams 1956; Die Orchideen 3 Auflage Bd 1 Sonderabdruck aus Schlechter Lieferung 9 513 - 576 Brieger, Maatsch and Senghas 1977 as Auliza lateralis photo fide; Orchids Travel By Air A Pictoral Safari Mulder, Mulder-Roelfsema and Schuiteman 1990 photo fide;Manual de las Plantas de Costa Rica Vol 3 Hammel, Grayum, Herrera and Zamora 2003; Vanishing Beauty, Native Costa Rican Orchids Vol 1 Pupulin 2005 photo fide; Icones Orchidacearum Vol 11 Plate 1136 Hagsater & Sanchez 2008 drawing fide; Icones Orchidacearum Vol 11 Plate 1175 Hagsater & Sanchez 2008 see recognition section; Orchids of Costa Rica Vol 3 Morales 2009 photo fide; Orquideas, Tesoro de Colombia Vol 2 Ortiz & Uribe 2017 photo fide
--------------------------------------------------------------------------------------------------------------------------