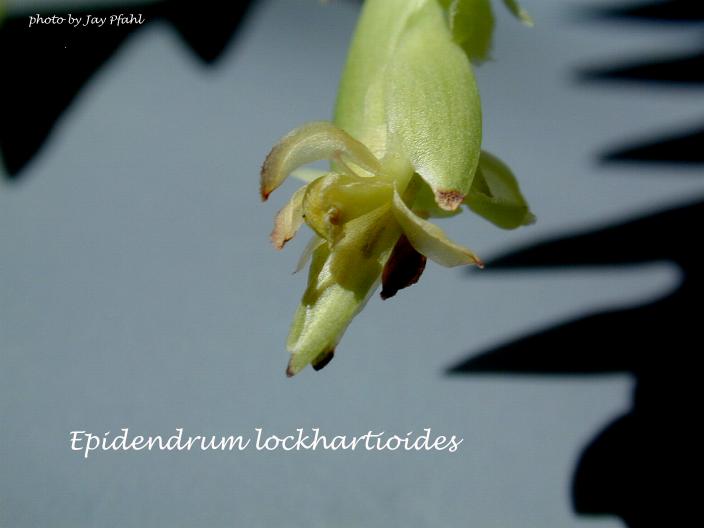 Epidendrum lockhartioides Schltr. 1923 GROUP Spathiger SUBGROUP Lockhartioides type Photo by © Jay Pfahl.
Another Clone Photo by © Eric Hunt.
Plant and Flowers in situ Ecuador Photo by © Lourens Grobler.





Flower Size 3/16" [.5 cm]
Common Name The Lockhartia Like Epidedndrum [refers to the similar plant forms]
Found in Costa Rica, Panama, Colombia and Ecuador at elevations of 50 to 750 meters as a smaller sized, pendant hot to warm growing epiphyte with imbricating triangular, conduplicate basally clasping leaves that somewhat resembles a Lockhartia in plant form but blooms terminally with a short. 2" [5 cm] imbricating inflorescence with a few, succulent, simultaneously opening, fleshy flowers that face down, appearing out of the elliptic, strongly compressed bracts all along the spike.
Best to grow mounted to accomodate the pendant growth habit.
Separated from others by its 6 to 8 equitant, triangular leaves similar to the floral bracts, and a lip with a wide, prominent keel at the apex.
Synonyms Epidendrum aporum Garay 1969
References W3 Tropicos, Kew Monocot list , IPNI ; *Repert. Sp. Nov. Regni. Veg. Beih. 19: 39. Costa Rica Schlechter 1923; The Genus Epidendrum Ames 1936; The Orchids of Panama L.O. Williams & P Allen 1946; Ceiba Vol 5 No 1 L O Williams 1956; AOS Bulletin Vol 27 No 6 1958; Encyclopedia of Cultivated Orchids Hawkes 1965; Die Orchideen 3 Auflage Bd 1 Sonderabdruck aus Schlechter Lieferung 9 513 - 576 Brieger, Maatsch and Senghas 1977 photo fide; Miniature Orchids Northen 1980; Field Guide to the Orchids of Costa Rica and Panama Dressler 1993; Field Guide to the Orchids of Costa Rica and Panama Dressler 1993 as E aporum; Native Colombian Orchids Vol 5 COS 1994 as E aporum photo fide; Manual de las Plantas de Costa Rica Vol 3 Hammel, Grayum, Herrera and Zamora 2003; Vanishing Beauty, Native Costa Rican Orchids Vol 1 Pupulin 2005 photo fide; Orquideas de la Serrania del Baudo Misas Urreta 2005 drawing/photo fide; Icones Orchidacearum Vol 11 Plate 1139 Hagsater & Sanchez 2008 drawing fide; Las Orquideas del Peru Izerskyy & Bezverhov 2011 photo not!?; Orquideas, Tesoro de Colombia Vol 2 Ortiz & Uribe 2017 as E aporense photo/drawing good; Orquideas, Tesoro de Colombia Vol 2 Ortiz & Uribe 2017 Photo good;
--------------------------------------------------------------------------------------------------------------------------