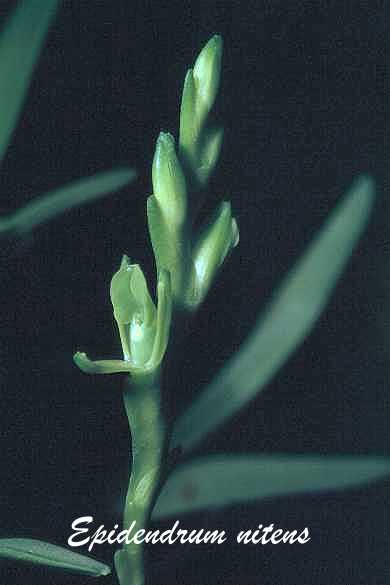 Epidendrum nitens Rchb. f. 1866 GROUP Spathiger SUBGROUP Rigidum Photo by © Noble Bashor.


to


Common Name The Bright Epidendrum [refers to the glossy brilliant leaves]
Flower Size 1" [2.5 cm]
Found in Oaxaca Mexico as well as Belize and Guatemala at elevations of 800 to 1320 meters on oaks or in humid rainforests as a small to just medium sized, warm to cool growing epiphyte with erect, simple, cane-like, laterally compressed towards the apex stems carrying 2 to 3, on the apical 1/2 of the stem, elliptic to narrowly elliptic, unequally bilobed apically, subcoriaceous, smooth, entire marginally, articulate below into the petiolate base leaves that blooms in the fall on a terminal, short, erect, few flowered inflorescence with 1 to 2 conduplicate bracts and nearly perpendicular to the rachis, ovate, rounded, conduplicate, longer than the ovary, progressively shorter floral bracts giving rise to 5 to 12 successive opening flowers with 4 to 7 open at any one time.
Synonyms Epidendrum johannis Schltr. 1920
References W3 Tropicos, Kew Monocot list IPNI ; The Genus Epidendrum Ames 1936; Ceiba Vol 5 No 1 L O Williams 1956; Selbyana Vol 10 Orchids of Central America Hamer 1988 drawing fide; Field Guide to the Orchids of Costa Rica and Panama Dressler 1993; Icones Orchidacearum 3 Plate 357 Hagsater 1999 see recognition section; AOS Bulletin Vol 77 No 11 2008 photo; Orchid Digest Vol 74 #2 2010 photo fide; Icones Orchidacearum 13 Plate 1311 Hagsater & Sanchez 2010 see recognition section; Icones Orchidacearum 13 Plate 1361 Hagsater & Sanchez 2010 drawing fide; Algunas Orquideas de Mexico Tomo 1 Suarez 2013 photo fide
--------------------------------------------------------------------------------------------------------------------------