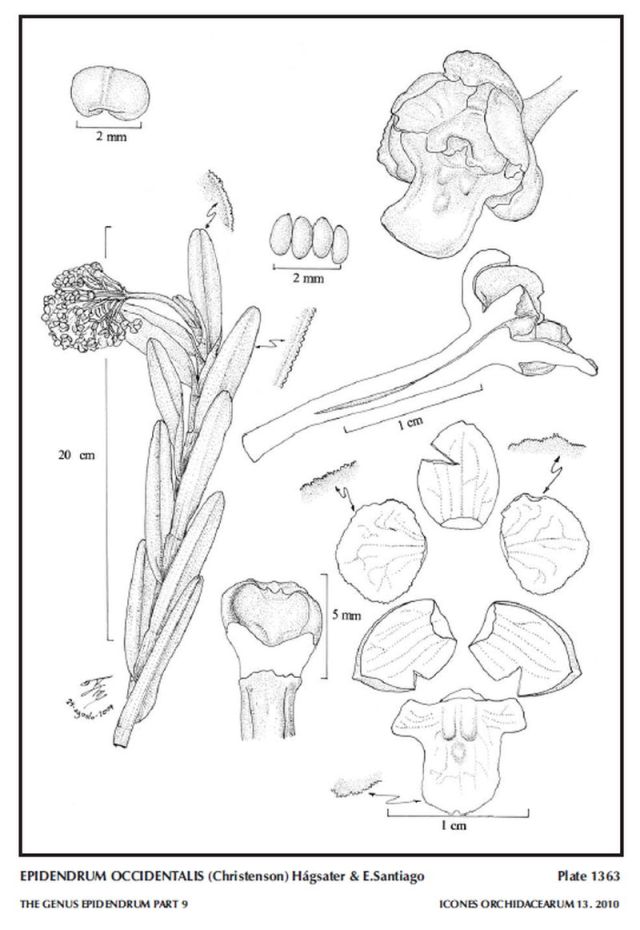 Epidendrum occidentale (Christenson) Hágsater & E.Santiago 2010 GROUP Hemiscleria
TYPE Drawing by © Jimenez and The AMO Herbaria Website


LATE


Common Name The Narrowly Obovate Petal Epidendrum
Flower Size 1.2" [3 cm]
Found in Loja Ecuador in the extreme south of the country on the border with Peru at elevations of 3300 to 3400 meters as a large sized, cold growing epiphyte with simple, cane-like, terete, arching pendent stems carrying 10 to 18, all along the apical 2/3's of the stem, altermnate, articulate, suberect, coriaceous, rigid, unequal in size, the basal and apical leaves are shorter, oblong-lanceolate, rounded, minutely apiculate, margin crenulate leaves that blooms in the late spring and summer on a terminal, racemose, without a spathe, subglobose, peduncle terete, thick, straight, erect to arching, bright red, a single small, widely triangular, acuminate median bract, rachis thickened, dense, erect, to rarely arching, produced in a fascile around the thickened rachis, simultaneously 30 to 40 flowered inflorescence with very small, widely triangular, acute, amplexicaul floral bracts and carrying resupinate, very fleshy, the segments rigid, hard, brilliant yellow to orange flowers.
"The species is recognized by the arching-pendent stems, the inflorescence generally erect, the peduncle bare, without spathaceous bracts, is brilliant red, lateral sepals elliptic, 7.5 mm long, the mid-lobe of the lip entire, not apically emarginate, the lateral lobes sub-quadrate, and the disc of the lip has only 2 wide, short, and low, oblong-rectangular keels at the base of the lip with a circular, fleshy hump in front of the keels.Epidendrum hemiscleria Rchb.f. has erect stems, the peduncle of the inflorescence dark purple, with a pair of short, tubular, spathaceous bracts at the base; the lateral sepals widely triangular, 5-6.7 mm long, the disc of the lip with 3 narrow, parallel keels, and the lateral lobes sub-orbicular, the apex short-emarginate. Christenson described the subspecies as having larger plants, with the inflorescence erect, however, we have found that both species are variable in these features." Hagsater 2010
Synonyms Epidendrum hemiscleria Rchb. f. subsp. occidentalis Christenson 2005.
References W3 Tropicos, Kew Monocot list , IPNI ; *Icones Orchidacearum 13 Plate 1363 Hagsater & Dodson 2010 drawing fide;
--------------------------------------------------------------------------------------------------------------------------