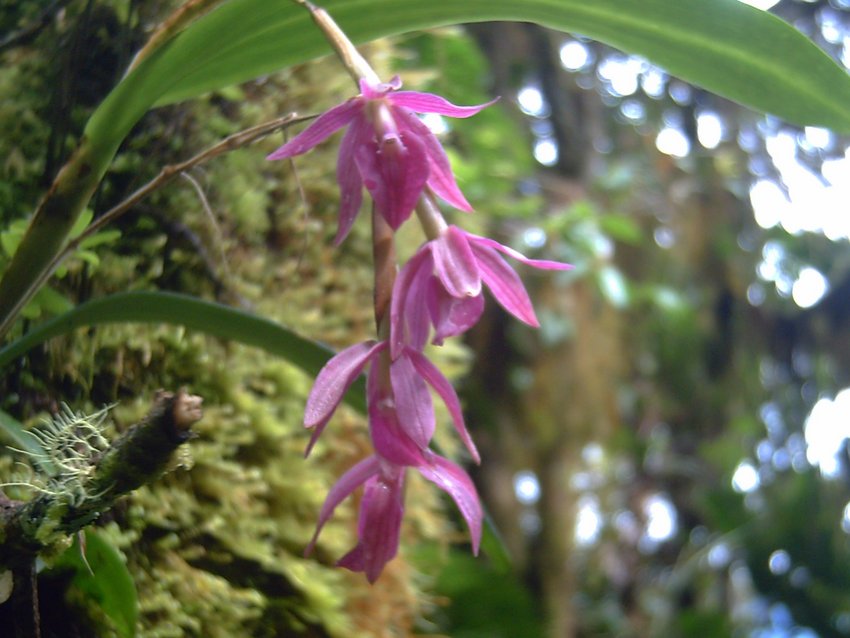 Epidendrum pallens Rchb.f. 1866 GROUP Bracteosum SUBGROUP Pallens
Photo by © Denis Elizondo Delaru and his Flickr Photo Website.
Drawing by © Atwood and The Swiss Orchid Foundation at the Jany Renz Herbarium Website
TYPE Drawing by © Jimenez, Hágsater & E.Santiago and The AMO Herbario Website




LATE

THROUGH LATE

Common Name The Pale Epidendrum
Flower Size 1.2" [3 cm]
Found in Costa Rica and Panama in montane forests at elevations of 1400 to 3400 meters as a small to just medium sized, cool to cold growing epiphyte or rarely terrestrial with erect, simple, canelike, laterally compressed, ancipitose, thin at the base, thickening towards the apex, slightly arching stems enveloped almost completely by scarious, non-foliaceous, ancipitose, slightly inflated towards the apex sheaths and carrying 1 to 2, aggregate at the apex of the stem, articulate, alternate, ascending, coriaceous, narrowly lanceolate to oblong elliptic, acute, margin entire leaves that blooms in the later spring through the late summer on a terminal, racemose, occuring only once, alternate, arching, peduncle, thin, ancipitose, straight, with one to 2, scarious, tubular, acute bracts, lax, 3.6 to 8" [9 to 20 cm] long, simultaneously 2 to 6 flowered, inflorescence with prominent, longer than the ovary, tubular at the base, acute, amplexicaul floral bracts.
Epidendrum pallens belongs to the GROUP Bracteosum which is characterized by the sympodial, caespitose habit with laterally compressed, ancipitose, few-leaved stems covered by tubular, scarious sheaths, a racemose to paniculate, arching, 3 to 11 flowered inflorescence with prominent, acute floral bracts, the floral segments partly spreading, lip entire, generally auriculate at the base, the disc tricarinate and 4-cuniculate (on each side of the calli), and with fleshy-laminar thickenings beneath the calli; GROUP Bracteosum SUBGROUP Pallens which has 1 to 2 leaved stems, the leaves aggregate at the apex of the stem, inflorescence racemose, generally longer than the apical leaf, with the pedunde covered by 1 to 4 tubular, scarious, fibrous bracts, the floral bracts tubular, nearly parallel to the rachis. The species is recognized by the large, olive-green to pink-lilac flowers with sepals .72 to .96" [18 to 24 mm] long, the segments partly spreading and acute, the lip triangular ovate, twice as long as it is wide. Epidendrum paucifolium Schltr. has bright, fuchsia, orchid-colored flowers, with shorter, rounded floral segments, the sepals .56 to .64" [14 to 16 mm] long, the lip about as long as it is wide, and the column with a pair of prominent, acute, apical teeth. Epidendrum pitalense Salazar, Hágsater & Linares has smaller, purple-brown flowers with sepals .56 to .68" [14 to 17 mm] long, the column green, lip pandurate-ovate, slightly longer than wide, with six laminar, very short thickenings below the calli." Hagsater etal 2008
Synonyms
References W3 Tropicos, Kew Monocot list , IPNI ; Repert. Sp. Nov. Regni. Veg. Beih. 19: 122. Costa Rica Schlechter 1923; The Genus Epidendrum Ames 1936; Ceiba Vol 5 No 1 L O Williams 1956; Icones Plantarum Tropicarum Plate 1322 Atwood 1989 drawing fide; Manual de las Plantas de Costa Rica Vol 3 Hammel, Grayum, Herrera and Zamora 2003; Icones Orchidacearum 11 Plate 1153 Hagsater & Sanchez 2008 drawing fide; Icones Orchidacearum 11 Plate 1155 Hagsater 2008 see recognition section; Icones Orchidacearum 11 Plate 1161 Hagsater 2008 see recognition section; Orchids of Costa Rica Vol 3 Morales 2009 photo ok;
--------------------------------------------------------------------------------------------------------------------------