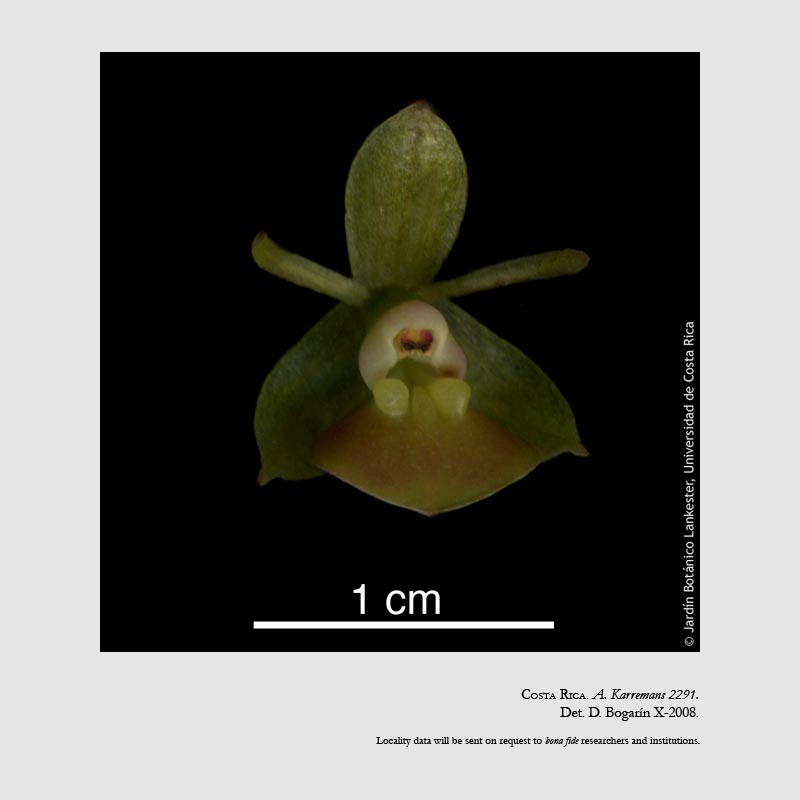 Epidendrum physodes Rchb.f. 1873 GROUP Physinga Photos by © Karremans, Used under permission of Epidendra Website CR
Flower with concave lipPhoto by © Eric Hagsater and The AMO Herbaria Website
Inflorescence Photo by © Daniel Jimenez and his Flickr Orchid Photo Webpage



JUST


Common Name The Bellow-Like Epidendrum
Flower Size .6" [1.5cm]
Found in Guatemala, Costa Rica and Panama at elevations of 1400 to 2100 meters as a small sized, cool to just cold growing epiphyte with simple, cane-like, basally terete, laterally compressed above, erect to prostrate, straight stems carrying 9 to 11, evenly distributed along the stem, alternate, articulate, lanceolate, long-acuminate, minutely apiculate, fleshy-succulent, gray-green above, purple tinged below, margin entire leaves that blooms in the fall on a terminal, racemose, producing more than one over time, flowering over several years, laxly 3 to 12 per raceme to 50 flowered overall, laterally compressed, straight to slightly sinuous, terete inflorescence with 5 to 8, tubular, acuminate bracts and shorter than the ovary, widely infundibular floral bracts and carrying successively single per racemse, nocturnally fragrant flowers scented of calcium hydrochloride.
This species and Epidendrum macroclinium are said to be synomonous but I feel that there are several differences that ensure separation so I do.
The elongate peduncel on the pluriannual inflorescence, the floral bracts that form a cup, the lip that is transversly elliptic, the column with a fleshy, short, entire clinandrium and a very prominewnt vesicule just behind the perianth.
Synonyms Physinga physodes (Rchb. f.) Brieger 1977; Physinga physodes (Rchb.f.) Brieger & Bicalho 1978
References W3 Tropicos, Kew Monocot list , IPNI ; Lankester's Epidendra Website CR ; The Genus Epidendrum Ames 1936; The Orchids of Panama L.O. Williams & P Allen 1946; Ceiba Vol 5 No 1 L O Williams 1956; Rudolf Schlechter Die Orchideen 3 Auflage Bd 1 Sonderabdruck aus Schlechter Lieferung 9 513 - 576 Brieger, Maatsch and Senghas 1977 as Physinga physodes; Icones Planetarum Tropicarum plate 1074 Dodson 1984 as Physinga physodes drawing fide; Icones Planetarum Tropicarum plate 1526 Dodson 1984 See Notes; ORQUIDEA (Méx.) 9(2): 1984 photo fide; ORQUIDEA (Méx.) 10 (2) 1987 drawing/photo fide; Icones Orchidacearum 4 Plate 464 Hagsater & Sanchez 2001 see recognition section; Rudolf Schlechter Die Orchideen Band 1C lieferung 42 - 43 pg 2626 - 2762 Brieger 2001 2001 as Physinga physodes; Manual de las Plantas de Costa Rica Vol 3 Hammel, Grayum, Herrera and Zamora 2003; Vanishing Beauty; Native Costa Rican Orchids Vol 1 Pupulin 2005 photo fide; Icones Orchidacearum Vol 11 Plate 1159 Hagsater & Sanchez 2008 drawing fide; Icones Orchidacearum Vol 11 Plate 1184 Hagsater & Sanchez 2008 see recognition section; Icones Orchidacearum 13 Plate 1325 Hagsater 2010 see recognition section; Icones Orchidacearum 13 Plate 1353 Hagsater see recognition section; Orquideas, Tesoro de Colombia Vol 2 Ortiz & Uribe 2017;
--------------------------------------------------------------------------------------------------------------------------