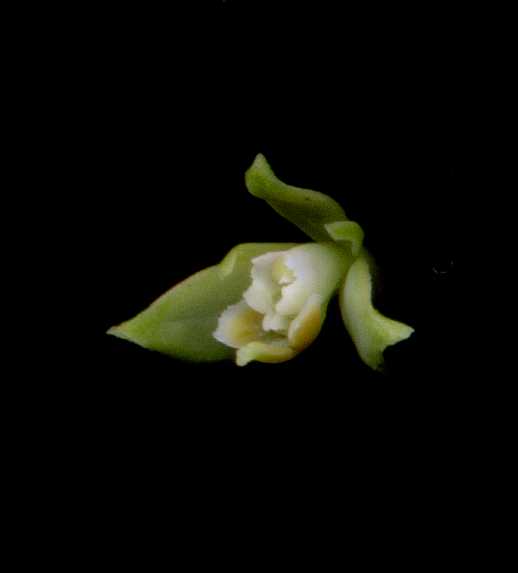 Epidendrum powellii Schltr. 1922 GROUP Alpicolum Photo by © The Digital Flora of Las Cruces Website
Type drawing Type Drawing by © Blanche Ames and Epidendra Website





Common Name Powell's Epidendrum [American Botanist in Central America 1900's]
Flower Size .16" [4 mm]
Found in Costa Rica and Panama in wet forests at elevations around 600 to 1200 meters as a small to just medium sized, warm to cool growing epiphyte with simple, cane-like, thin, terete basally, becoming compressed towards the foliose part, sinuous stem enveloped basally by tubular, non-foliar, scarious sheaths and carrying 3 to 6, along the apical 2/3 of the stem, distichous, articulate, suberect, linear-elliptic to linear-lanceolate, acute, minutely apiculate leaves that blooms in the summer and fall on a terminal, erect to slightly arching, 6" [15 cm] long overall, ancipitous, straight, densely many flowered inflorescence with the 2" [5 cm] long, laterally compressed peduncle almost completely hidden by the spathaceous bracts.
Many references cite E arcuiflorum as a synonym of E powellii but Epidendrum arcuiflorum Ames & C.Schweinf. 1930 differs in having a totally different, truncate, slightly arching column with a short, entire clinandrium-hood covering the anther, the lateral lobes of the lip are dolabriform and the mid-lobe ensiform and longer than the lateral lobes.
The peduncle that is completely enveloped by 2 long, imbricate spathes, the dense, cylindrical, generally arcuate, racemose inflorescence carrying small flowers distinguish this species.
Synonyms
References W3 Tropicos, Kew Monocot list , IPNI ; *Repert. Spec. Nov. Regni Veg. Beih. 17: 38. 1922; The Genus Epidendrum Ames 1936; The Orchids of Panama L.O. Williams & P Allen 1946; Ceiba Vol 5 No 1 L O Williams 1956; Field Guide to the Orchids of Costa Rica and Panama Dressler 1993; Manual de las Plantas de Costa Rica Vol 3 Hammel, Grayum, Herrera and Zamora 2003; Vanishing Beauty, Native Costa Rican Orchids Vol 1 Pupulin 2005 photo fide; Icones Orchidaceaerum 11 Plate 1163 Hagsater & Sanchez 2007 drawing fide;
--------------------------------------------------------------------------------------------------------------------------