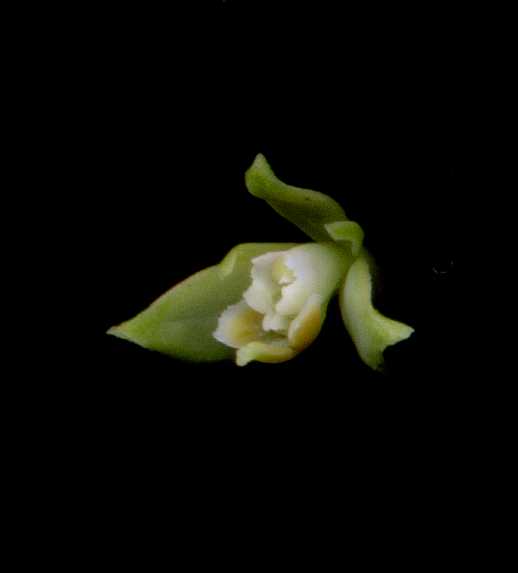 Epidendrum powellii Schltr. 1922 GROUP Alpicolum
Photo by © The Digital Flora of Las Cruces Website
Type Drawing by © Blanche Ames and Epidendra Website
Drawing by © Jimenez, Hágsater & E.Santiago and The AMO Herbario Website





Common Name Powell's Epidendrum [American Botanist in Central America 1900's]
Flower Size .16" [4 mm]
Found in Costa Rica and Panama in wet forests at elevations around 600 to 1200 meters as a small to just medium sized, warm to cool growing epiphyte with simple, cane-like, thin, terete basally, becoming compressed towards the leafy part, sinuous stem enveloped basally by tubular, non-foliar, scarious sheaths and carrying 3 to 6, along the apical 2/3 of the stem, distichous, articulate, suberect, linear-elliptic to linear-lanceolate, acute, minutely apiculate leaves that blooms in the summer and fall on a terminal, erect to slightly arching, 6" [15 cm] long overall, ancipitous, straight, densely many flowered inflorescence with the 2" [5 cm] long, laterally compressed peduncle almost completely hidden by the spathaceous bracts.
The peduncle that is completely enveloped by 2 long, imbricate spathes, the dense, cylindrical, generally arcuate, racemose inflorescence carrying small flowers distinguish this species.
" Epidendrum powellii belongs to the GROUP Alpicolum which is characterized by the simple, cane-like stems, long, narrow 1 to 2 spathaceous bracts, fox-tail-like inflorescence and numerous flowers with fleshy lip, triangular midlobe and roundish lateral lobes. The species is recognized by the l veined sepals, column truncate, the body and clinandrium hood even, margin of clinandrium hood slightly crenulate, totally covering the anther, lateral lobes of the lip small, dolabriform, midlobe longer than the lateral lobes, ensiform. It has been confused with Epidendrum arcuiflorum Ames & c. Schweinf. which is vegetatively very similar, but florally distinct, the sepals 3-veined, column with a pair of very prominent, rounded lateral wings, much reduced, bifid clinandrium-hood which leaves the anther totally exposed, lateral lobes of the lip ovate, midlobe lanceolate, subtriangular, shorter than the lateral lobes." Hagsater etal 2007
Many references cite E arcuiflorum as a synonym of E powellii but Epidendrum arcuiflorum Ames & C.Schweinf. 1930 differs in having a totally different, truncate, slightly arching column with a short, entire clinandrium-hood covering the anther, the lateral lobes of the lip are dolabriform and the mid-lobe ensiform and longer than the lateral lobes.
Synonyms
References W3 Tropicos, Kew Monocot list , IPNI ; *Repert. Spec. Nov. Regni Veg. Beih. 17: 38. 1922; The Genus Epidendrum Ames 1936; The Orchids of Panama L.O. Williams & P Allen 1946; Ceiba Vol 5 No 1 L O Williams 1956; Field Guide to the Orchids of Costa Rica and Panama Dressler 1993; Manual de las Plantas de Costa Rica Vol 3 Hammel, Grayum, Herrera and Zamora 2003; Vanishing Beauty, Native Costa Rican Orchids Vol 1 Pupulin 2005 photo fide; Icones Orchidacearum 11 plate 1103 Hagsater & Soto 2008 see recognition section; Icones Orchidaceaerum 11 Plate 1163 Hagsater & Sanchez 2007 drawing fide;
--------------------------------------------------------------------------------------------------------------------------