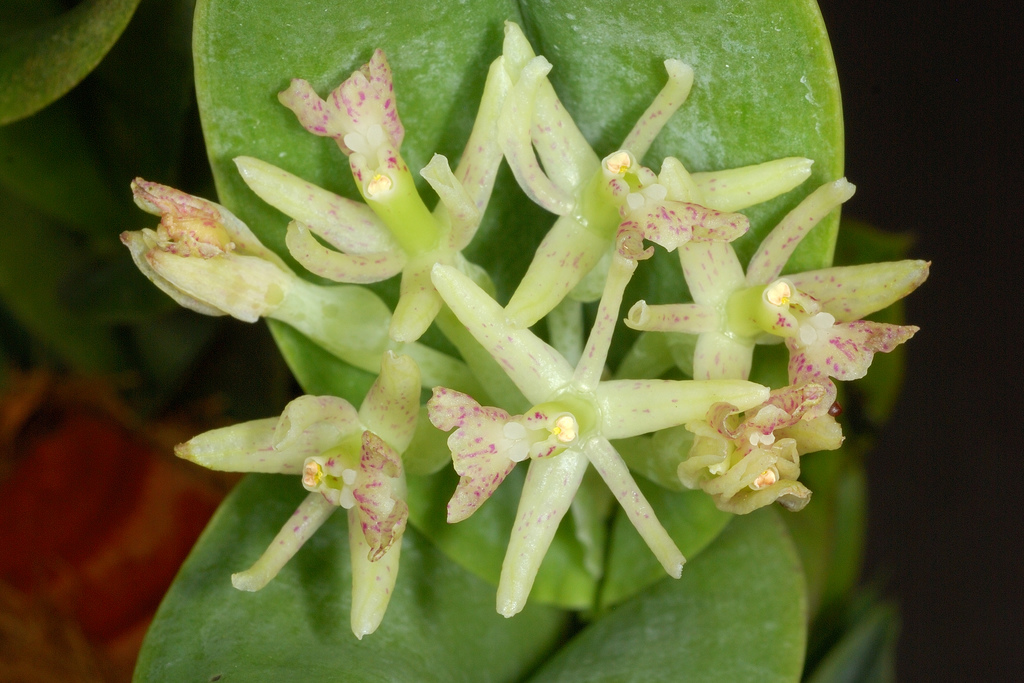 Epidendrum vesicatum Lindl. 1838 GROUP Equitantes Pabst Photo by © Eric Hunt and his Orchid Species Photo Website
Another Color Form Photo by © Dale and Deni Borders.
Plant and Flowers Photo by © Dalton Holland Baptista and
Flower Closeup Photo by © Luiz Filipe Varella.
Plant Photo by © Danny Lentz plant grown by the Atlanta Botanical Garden



LATER

Common Name The Bladder Epidendrum?
Flower Size 3/4" [.6 cm]
Found in Espirito Santo state of Brazil as a miniature to small sized, hot to warm growing, pendent epiphyte with an ancipitous stem enveloped completely by alternate, imbricating sheaths and carrying longly oblong, acute, equitant, articulate to the leaf base leaves that blooms in the later spring on a terminal, arcuate to pendant, several flowered inflorescence arising through a spathe and often hidden within the leaves.
Synonyms Epidendrum vesicatum var. roseum Barb.Rodr. 1882
References W3 Tropicos, Kew Monocot list , IPNI ; Iconografia de Orchidaceae Do Brasil Hoehne 1949 drawing fide; Die Orchideen #1 1-4 tafel 1&2 Rudolph Schlechter 1971 photo fide; Orchidaceae Brasilense Band 1 Pabst & Dungs 1975 drawing fide; Die Orchideen 3 Auflage Bd 1 Sonderabdruck aus Schlechter Lieferung 9 513 - 576 Brieger, Maatsch and Senghas 1977 photo fide; Orchids Travel By Air A Pictoral Safari Mulder, Mulder-Roelfsema and Schuiteman 1990 photo fide; The Illustrated Encyclopedia of Orchids Pridgeon 1992 photo fide; Manual Of Orchids Stewart 1995; Orchid Digest Vol 71 No 1 2007 photo; The Organ Mountain Range Its History and its Orchids Miller, Warren, Miller & Seehawer 2008 as E rodrigueesii drawing/Photo fide; Orchidees Du Bresil As Orchideas da Serra Do Castello Vol 3 Chiron & Bolsanello 2013 drawing/photo fide;
--------------------------------------------------------------------------------------------------------------------------