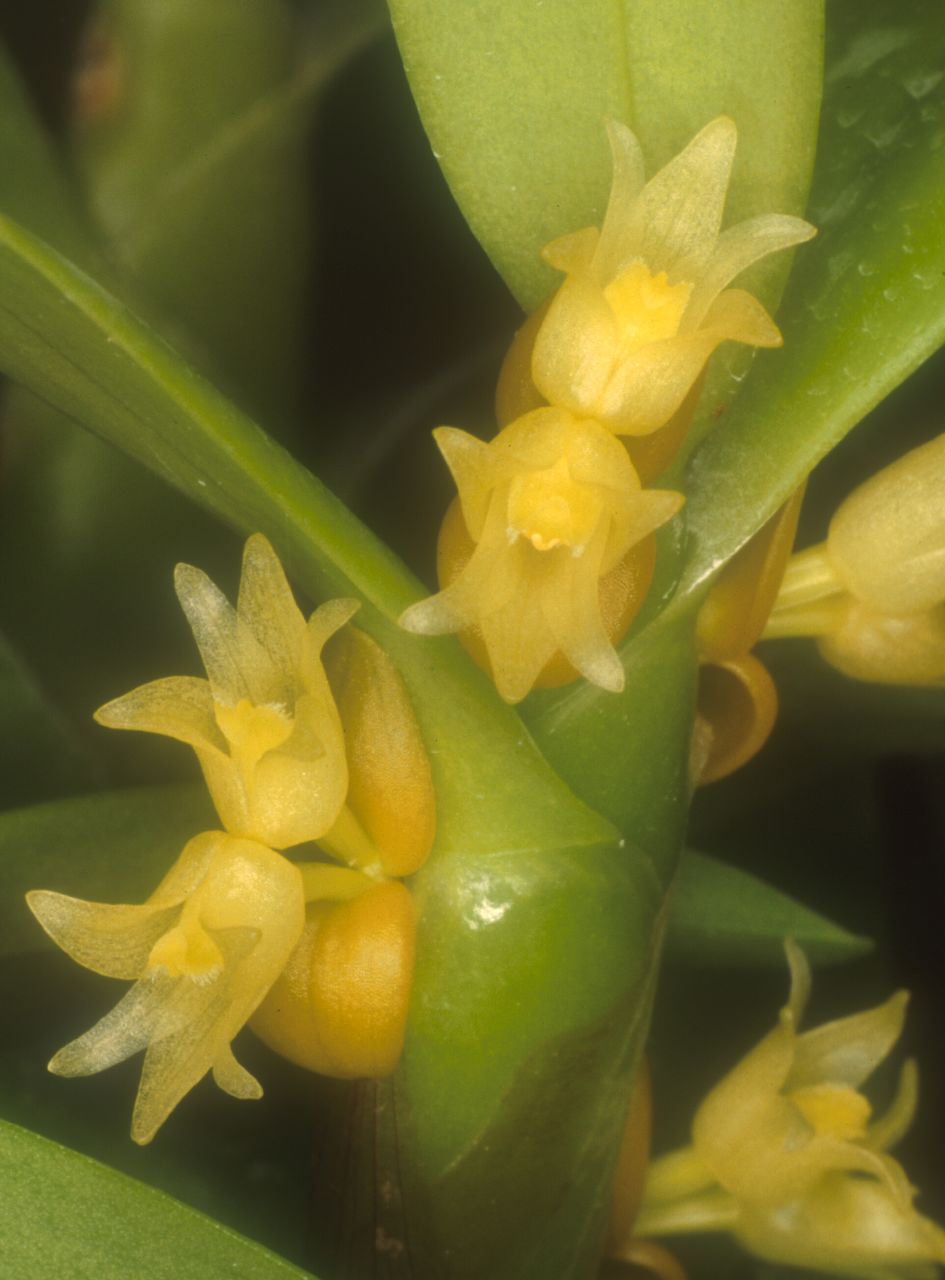 Eria biflora Griff 1851 SECTION Cylindrolobus
Photo © Lourens Grobler
Photos by Manorot Tangsaveepha Copyright ©,


to


Common Name The Two Flowered Eria
Flower Size 1/3" [1 cm]
Found from Assam atate of India, eastern Himalayas, Nepal, Bhutan, Myanmar, Thailand, Laos, Vietnam, Malaysia, Lesser Sunda Islands, Borneo, Java and Sumatra in primary montane forests at elevations of 300 to 1700 meters as a miniature, hot to cool growing epiphyte with swollen apically pseudobulbs carrying 3 to 5, elliptic lanceolate, subacute to acute, gradually tapering below into the short, grooved petiolate base leaves and blooms in the fall on an axillary, extremely short, compressed, 2 to 3 flowered, racemose inflorescence with elliptic recurved, yellow petaloid floral bracts .
CAUTION I have misgivings about this determination as some of the references do not mention the hairs on the margins of the lip, so use with caution. It fits in all other respects.
Synonyms Cylindrolobus biflorus (Griff.) Rauschert 1983; Cylindrolobus biflorus (Griff.) A.N.Rao 2010; Eria choneana Kraenzl. 1887; Pinalia biflora [Griff] Kuntze 1891
References W3 Tropicos, Kew Monocot list , IPNI ; The Orchids of Burma Grant 1895/95; The Orchids of Sikkim-Himalaya Part 1 King & Pantling 1898 drawing hmm; Die Orchideen Von Java J.J.Sm. 1905; Die Orchideen Von Java Figuren Atlas J.J.Smith 1908 drawing fide; Die Orchideen Schlechter 1915; Flora of Malaya Vol 1 Holttum 1953 drawing fide; The Orchids of Thailand Seidenfaden & Smitinand 1960; The Orchids of Thailand Seidenfaden & Smitinand 1965 corrections photo ; Encyclopedia of Cultivated Orchids Hawkes 1965; Contribution to a Revision of the Orchid Flora of Cambodia, Laos and Vietnam Seidenfaden 1975; Indian Orchids: A Guide to Identification Vol 2 Pradhan 1979 drawing good; Die Orchideen lieferung 11/12 Schlechter/Brieger 1981; Opera Botanica #62 Orchid Genera in Thailand X Seidenfaden 1982 Drawing/photo fide; Orchids of Java Comber 1990; The Orchids of Penninsular Mayasia and Singapore Seidenfaden & Wood 1992 drawing fide; The Plants of Mount Kinabalu Vol 2 Orchids Beaman, Wood, Beaman & Beaman 1993; A Checklist of the Orchids of Borneo Wood & Cribb 1994; Identification of the Orchids [Orchidaceae Juss.] Vietnam Averyanov 1994; Beautiful Orchids of Nepal Rajbhandari & Bhattarai 2001 photo good; Orchids of Sumatra Comber 2001; A field Guide to the Wild Orchids of Thailand Vaddhanaphuti 2001 photo fide; Botanica's Orchids Lauren Glen 2002 photo good; Orchids of Bhutan Pearce & Cribb 2002; A field Guide to the Wild Orchids of Thailand Vaddhanaphuti 2005 photo good; Genera Orchidacearum Vol 4 part 1 Pridgeon, Cribb, Chase and Rasmussen 2005; Malesian Orchid Journal Vol 5 2010 as Cylindrolobus biflorus; The Orchids of Mount Kinabalu Vol 2 Wood, Beaman, Lamb, Chu Lun and Beaman 2011 as Cylindrolobus biflorus photo ok; Harvard Pap. Bot. 19: 79; A Synopsis of Eria Lindl. section Cylindrolobus (Blume) Lindl. (Orchidaceae: Eriinae) in Malesia Ormerod 2014; Malesian Orchid Journal Vol 17 2016 as Cylindrolobus biflorus; A Century of New Orchid Records in Bhutan Royal Government of Bhutan 2017 drawing/photo fide;
--------------------------------------------------------------------------------------------------------------------------