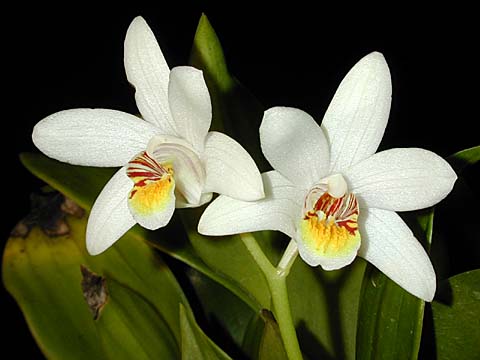 Eria coronaria (Lindl.) Rchb. f. 1861 SECTION Trichosma
Photo courtesy of Andy's Orchids Copyright © 2002 All rights reserved.
Photo by © Karl Senghas and The Swiss Orchid Foundation at the Jany Renz Herbaria Website



to


Common Name The Crowned Lip Eria - In China Zu Jing Mao Lan
Flower Size about 2" [about 5 cm]
Found in the eastern Himalayas, Assam, Nepal, Bhutan, Myanmar, Thailand, southern China and Vietnam in semi-deciduous and evergreen forests at elevations of 500 to 2300 meters as a miniature to medium sized, warm to cold growing epiphyte or lithophtye on mossy limestone rocks with fleshy, naked, narrowly cylindric pseudobulbs that are pea-green becoming ash-gray and blackening with age carrying a few, lax, pubescent, basal sheaths and 2 apical, broadly lanceolate, coriaceous to fleshy, smooth, pale green leaves all arising from a subterranean soft rhizome. The 2, towards the apex, ovate-lanceolate, acuminate, coriaceous leaves give rise to a terminal, erect or arching, 6" [15 cm] long, loosely 3 to 6 flowered inflorescence with large, narrowly lanceolate floral bracts and several [2 to 6] fragrant, waxy, slightly nodding flowers that blooms in the spring.
Synonyms *Coelogyne coronaria Lindl.1841; Eria cylindripoda Griff. 1851; Eria medogensis S.C.Chen & Z.H.Tsi 1987; Eria suavis (Lindl.) Lindl. 1859; Trichosma coronaria (Lindl.) Kuntze 1891; Trichosma cylindropoda Griff. 1851; Trichosma suavis Lindl. 1842
References W3 Tropicos, Kew Monocot list , IPNI ; The Orchids of Sikkim-Himalaya Part 1 King & Pantling 1898 drawing fide; Die Orchideen Schlechter 1915; Orchid Culture in Ceylon and The East Price 1918/2003; Atlas des Orchidees Cultivees Constantin 1920 as Trichosma suavis drawing fide; AOS Bulletin Vol 27 No 1 1958 drawing ok; AOS Bulletin Vol 27 No 5 1958 as Trichosma suavis drawing ok; The Orchids of Thailand Seidenfaden & Smitinand 1960; Encyclopedia of Cultivated Orchids Hawkes 1965; AOS Bulletin Vol 47 No 7 1978; Indian Orchids: A Guide to Identification Vol 2 Pradhan 1979; Die Orchideen lieferung 11/12 633 - 752 Brieger 1981 as Trichosma coronaria photo plant only; Opera Botanica #62 Orchid Genera in Thailand X Seidenfaden 1982 drawing/photo fide; Orchids of Arunachal Pradesh Hegde 1984; Orchids Travel By Air A Pictoral Safari Mulder, Mulder-Roelfsema and Schuiteman 1990 photo fide; Orchids of Kumaun Himalayas Pangtey, Samant and Rawat 1991; The Illustrated Encyclopedia of Orchids Pridgeon 1992 photo fide; The Manual of Cultivated Orchids Bechtel, Cribb and Launert 1992 photo fide; Identification of the Orchids [Orchidaceae Juss.] Vietnam Averyanov 1994; Manual of Orchids Stewart 1995 drawing fide; The Wild Orchids of China Tsi, Chen & Mori 1997 photo fide; Native Orchids of China in Colour Singchi, Zhanhuo and Yibo 1999 photo fide; Oasis Vol 1 No 4 2000; Lindleyana Vol 15 No 4 2000; Beautiful Orchids of Nepal Rajbhandari & Bhattarai 2001 photo fide; Australian Orchid Review Vol 67 No 3 2002 photo; Orchids of Bhutan Pearce & Cribb 2002 photo fide; Hainan Island Wild Orchid illustrations 2005 photo fide; Genera Orchidacearum Vol 4 part 1 Pridgeon, Cribb, Chase and Rasmussen 2005 as Trichosma suavis; 100 Sikkim Himalayan Orchids Pradhan 2005 photo fide; Australian Orchid Review Vol 72 No 4 2007 photo; The Orchids of India A Glimpse Misra 2007 drawing ok; Native Orchids From Gaoligongshan Mountains, China Xiaohua, Xiaodong and Xiaochun 2009 photo fide; A Field Guide to the Orchids of China Singchi, Zhongjian, Yibo, Xiaohua and Zhanhuo 2009 photo fide; Flora of China Vol 25 Zhengyi, Raven & Deyuan 2009; Flora of China Vol 25 Illustrations Zhengyi, Raven & Deyuan 2010 drawing ok; The Atlas of Wild Orchids in Hainan Island, China Shenyan and Junmei 2010 photo hmm; The Wild Orchids in Yunnan Xu Xiang Ye & Liu 2010 photos fide; Turczaninowia 16(4):26-46 NEW AND RARE ORCHIDS (ORCHIDACEAE) IN THE FLORA OF CAMBODIA AND LAOS Averyanov 2013 as Trichosma suavis; Wild Orchids of Myanmar Taunggyi 2014 photo fide; Wild Orchids in Thailand 2 Vadhanaphuti 2014 photo fide; Orchid Digest Vol 77 #3 2013 photo fide; LANKESTERIANA 15(1): 7—50. Jeewan Singh Jalal & J. Jayanthi 2015; AOS Bulletin Vol 85 #2 2016 drawing/photo fide; Atlas of Native Orchids of China Vol 2 Jin Xiaohua, Li Jianwu and Ye Deping 2019 photo fide;
--------------------------------------------------------------------------------------------------------------------------
---------------------------------------------------------------------------------------------