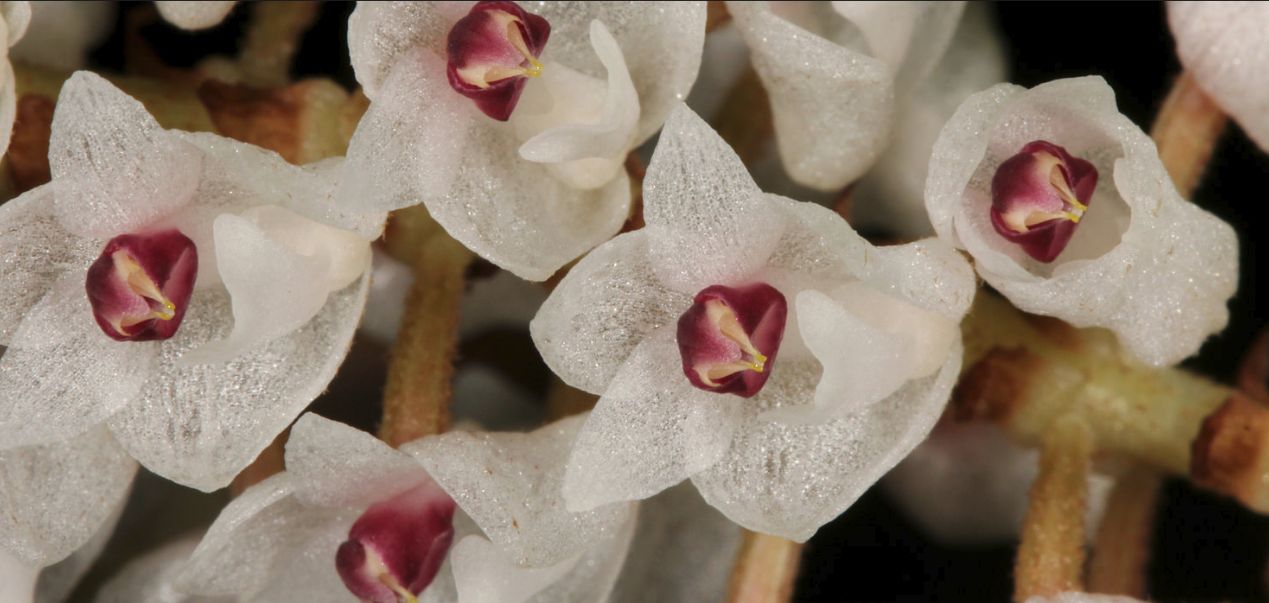 Eria floribunda Lindl. 1828 SECTION Urostachya TYPE for the Section
Inflorescence Photos by © John Varigos



LATE


Common Name Floriferous Eria - In China Ni Mao Lan
Flower Size 1/4" [55 mm]
Found in Myanmar, penninsular Thailand, Vietnam, Malaysian penninsula, Sumatra, Java, Borneo and the Philippines in primary montane forests as a small to medium sized, warm to cold growing epiphyte on large trees along streams at elevations of 500 to 2400 meters with erect, stem-like, narrowly ellipsoid pseudobulbs carrying 2 to 5, apical, linear-lanceolate to elliptic, acute, soft leaves that blooms in the spring on an axillary, 8" [20 cm] long, densely many flowered, racemose inflorescence that arise, several at a time, from the nodes on the upper half of the pseudobulb.
The three species, E floribunda, E densa and E pachystachya are often confused, I am sure that these three species are now correct on the site and each one match Seidenfaden's drawings exactly.
Plant in a pot with medium fine bark and treefern mix and give bright shade with a regular weekly fertilizing while growing and a lessening when not.
Synonyms Eria euryantha Schltr. 1911; Eria giungii Guillaumin 1953; Eria leucostachya Lindl. 1848; Eria subaliena Gagnep. 1930; Pinalia floribunda (Lindl.) Kuntze 1891; Trias floribunda (Lindl.) Mason, Burmah 1860; Urostachya euryantha (Schltr.) Brieger 1981; Urostachya floribunda (Lindl.) F.G.Brieger 1981
References W3 Tropicos, Kew Monocot list , IPNI ; Bonplandia Rchb.f 1857; Orchids of Burma Grant 1895/1995; Die Orchideen Von Java J.J.Sm. 1905; Die Orchideen Von Java Figuren Atlas J.J.Smith 1908 drawing fide; Flora of the Malayan Penninsula Ridley 1908; Studies in the Family Orchidaceae Vol 5 Ames 1915; Studies in the Family Orchidaceae Vol 6 Ames 1920; Die Orchideen Schlechter 1915; Flora of Malaya Vol 1 Holttum 1953 drawing fide; The Orchids of Thailand Seidenfaden & Smitinand 1960 drawing good; The Orchids of Thailand Seidenfaden & Smitinand 1965 corrections; Encyclopedia of Cultivated Orchids Hawkes 1965; Contribution to a Revision of the Orchid Flora of Cambodia, Laos and Vietnam Seidenfaden 1975; The Orchids of Papua New Guinea An Introduction Millar 1978 photo ok; The Complete Writings on Philippine Orchids Vol 1 Quisumbing 1981; Die Orchideen lieferung 11/12 633 - 752 Brieger 1981 as Urostachya floribunda photo good; Die Orchideen lieferung 11/12 633 - 752 Brieger 1981 as E euryanthedrawing fide; Opera Botanica #62 Orchid Genera in Thailand X Seidenfaden 1982 drawing/photo fide; Die Orchideen lieferung 11 Schlechter/Brieger 1981 as Urostachya euryantha drawing good; Orchidiana Philipiniana Vol 1 Valmayor 1984; Orchids Travel By Air A Pictoral Safari Mulder, Mulder-Roelfsema and Schuiteman 1990 photo ok; The Orchids of Penninsular Malaysia and Singapore Wood & Seidenfaden 1992 drawing/photo ok; The Illustrated Encyclopedia of Orchids Pridgeon 1992; The Plants of Mount Kinabalu Vol 2 Orchids Beaman, Wood, Beaman & Beaman 1993; A Checklist of the Orchids of Borneo Wood & Cribb 1994; Identification of the Orchids [Orchidaceae Juss.] Vietnam Averyanov 1994; Manual of Orchids Stewart 1995 ; Orchids of Sumatra Comber 2001; Orchids of the Philippines Cootes 2001 photo fide; A to Z of South East Asian Orchid Species Vol 1 O'Byrne 2001 photo fide; Orchids of Sarawak Beaman & Wood 2001; Flora Malesiana Orchids of the Philippines Vol I Agoo, Shuiteman and de Vogel 2003; AOS Bulletin Vol 73 No 3 2004; A field Guide to the Wild Orchids of Thailand Vaddhanaphuti 2005 photo ok; Genera Orchidacearum Vol 4 part 1 Pridgeon, Cribb, Chase and Rasmussen 2005 as Urostachya floribunda; Wild Orchids of the Cameron Highlands REACH 2009 photo good; Flora of China Vol 25 Zhengyi, Raven & Deyuan 2009 as Mycaranthes floribunda; Flora of China Vol 25 Illustrations Zhengyi, Raven & Deyuan 2010 as Mycaranthes floribunda drawing hmm; The Wild Orchids in Yunnan Xu Xiang Ye & Liu 2010 as Mycaranthes floribunda photos fide; The Orchids of Mount Kinabalu Vol 2 Wood, Beaman, Lamb, Chu Lun and Beaman 2011; Native Philippine Orchid Species Cootes 2011 as Pinalia floribunda photo good; AOS Bulletin Vol 86 #3 2017 as Pinalia floribunda photo fide; AOS Bulletin Vol 86 #8 2017 as Pinalia floribunda photo fide;
--------------------------------------------------------------------------------------------------------------------------
--------------------------------------------------------------------------------------------------------------------------