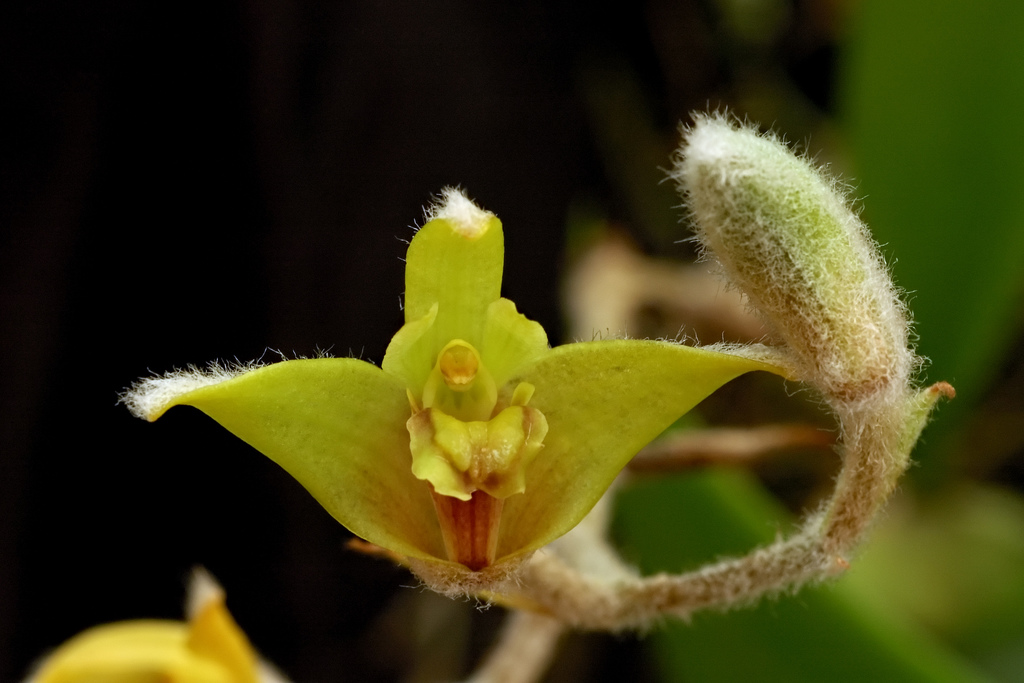 Eria lasiopetala (Willd.) Ormerod 1995 SECTION Dendrolirium Photo by © Eric Hunt and His Orchid Website.
Another Flower Photo by Jay Pfahl




EARLY

Common Name The Shaggy Petaled Eria - In China Bai Mian Rong Lan
Flower Size 1/2" [1.25 cm]
Found in the eastern Himalayas, Assam, India, Nepal, the western Himalayas, Bangladesh, Guangdong, Hong Kong and Hainan China, Myanmar, Thailand, Laos, Cambodia, Vietnam, Penninsular Malaysia, Java and Sumatra at elevations of 390 to 2100 meters in primary montane forests as a medium sized, hot to cool growing lithophyte or occasional terrestrial with a woody rhizome that has 1.6 to 2" betweeen each fusiform-ellipsoid, laterally compressed, furrowed pseudobulb enveloped basally by membraneous sheaths and carrying 2 to 5, lanceolate-oblong, acute to acuminate, grooved petiolate base leaves that blooms in northern hemisphere in April on a lateral, basal, erect, pubescent, racemose, 4 to 8" [10 to 20 cm] long, subdensely 7 to 12 flowered inflorescence with imbricate, ovate, acute sheaths and lanceolate, persistent, acute floral bracts.
This species and E albidotomentosa are closely related and may be synomonous but I have left them apart at this time.
Synonyms *Aerides lasiopetala Willd. 1805; Dendrobium pubescens Hook. 1824; Dendrolirium lasiopetalum (Willd.) S.C.Chen & J.J.Wood 2009; Epidendrum flos-aeris J.König 1791; Epidendrum lasiopetalum (Willd.) Poir. 1810; Eria flava Lindl. 1830; Eria lanata Griff. 1851; Eria polystachya Wight 1851; Eria pubescens (Hook.) Lindl. ex Loudon 1830; Eria pubescens var. lanata (Griff.) Karth. 1989; Octomeria flava Wall. ex Steud. 1841; Octomeria pubescens (Hook.) Spreng. 1827; Pinalia pubescens (Hook.) Kuntze 1891; Trias flava Mason 1860; Trias lanata (Griff.) Mason 1860
References W3 Tropicos, Kew Monocot list , IPNI ; The Orchids of Burma Grant 1895/1995 as E elongata; Orchids of Burma Grant 1895/1995 as E flava var lanata; The Orchids of Sikkim-Himalaya Part 1 King & Pantling 1898 as E flava drawing good; The Orchids of North-Western Himalaya Vol IX Part II Duthie 1906 as E flava; Contribution to a Revision of the Orchid Flora of Cambodia, Laos and Vietnam Seidenfaden 1975 as E flava; Contribution to a Revision of the Orchid Flora of Cambodia, Laos and Vietnam Seidenfaden 1975 as E pubescens; Indian Orchids: A Guide to Culture and Identification Vol 2 1979 as E flava drawing ok; Die Orchideen lieferung 11 Schlechter/Brieger 1981 as Dendrolirium flavum photo plant only; Opera Botanica #62 Orchid Genera in Thailand X Seidenfaden 1982 as E pubescens drawing/photo fide; Opera Botanica #62 Orchid Genera in Thailand X Seidenfaden 1982 as E lanata drawing fide; AOS Bulletin Vol 54 No 3 1985 as E pubescens; Orchids of Kumaun Himalayas Pangtey, Samant and Rawat 1991 as E pubescens; The Orchids of Penninsular Mayasia and Singapore Seidenfaden & Wood 1992 as E pubescens drawing fide; The Manual of Cultivated Orchids Bechtel, Cribb and Launert 1992 as E pubescens photo fide; ; The Wild Orchids of China Tsi, Chen & Mori 1997 as E flava; Orchid Flora Of Kamrup District Assam Iswar Chandra Barua 2001 as E pubescens drawing fide; A to Z of South East Asian Orchid Species Vol 1 O'Byrne 2001 as E pubescens photo fide; Orchids of Sumatra Comber 2001 photo good; Orchids of Bhutan Pearce & Cribb 2002 photo fide; Flora's Orchids Nash & La Croix 2005 as Eria mysorensis not = Eria lasiopetala; 100 Sikkim Himalayan Orchids Pradhan 2005 photo fide; Hainan Island Wild Orchid illustrations 2005 photo fide; Genera Orchidacearum Vol 4 part 1 Pridgeon, Cribb, Chase and Rasmussen 2005 as Dendrolirium lasiopetalum; Orchids of India A Glimpse Misra 2007 photo fide; Flora of China Vol 25 Zhengyi, Raven & Deyuan 2009 as Dendrolirium lasiopetalum; Flora of China Illustrations Vol 25 Zhengyi, Raven & Deyuan 2010 as Dendrolirium lasiopetalum drawing fide; The Atlas of Wild Orchids in Hainan Island, China Shenyan and Junmei 2010 photo ok; The Wild Orchids in Yunnan Xu Xiang Ye & Liu 2010 as Dendrolirium lasiopetalum photos fide; The Wild Orchids of Hong Kong Barretto, Cribb and Gale 2011 as Dendrolirium lasiopetalum drawing/photo fide; A Guide to Orchids of Myanmar Kurzweil & Lwin 2014 photo good;
--------------------------------------------------------------------------------------------------------------------------
--------------------------------------------------------------------------------------------------------------------------------------------------------