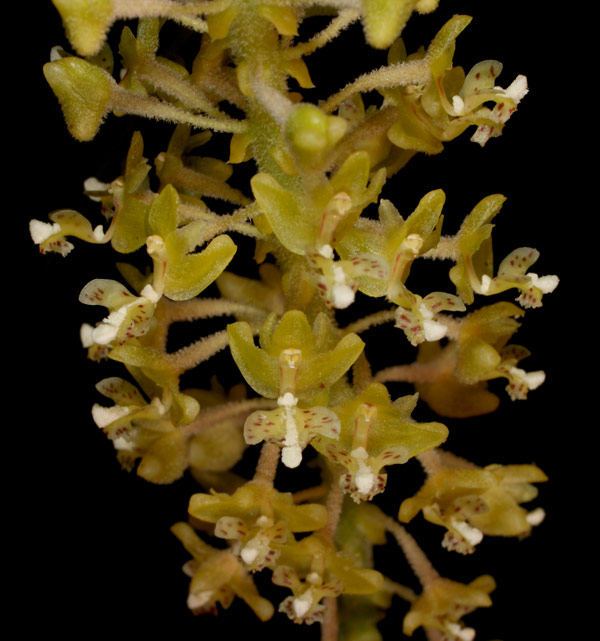 Eria monostachya Lindl. 1859 SECTION Mycaranthes
Photoby © Peter O'Byrne and The Swiss Orchid Foundation at the Jany Renz Herbaria
Drawing by © J.J.Sm.
Photos by © Dian Rahardjo and her Orchid Photo Page




Common Name or Meaning The Single Inflorescence Eria
Flower Size 3/8" [9.5mm]
Found in Java and Sumatra at elevations of 1200 to 1800 meters as a medium sized, cool growing epiphyte with an elongate stem carrying 13 to 14, strap-shaped, narrowing towards the unequal apex leaves that blooms on 1 to 3, apical, 8 to 16" [20 to 40 cm] long, many flowered inflorescence with ovate floral bracts
CAUTION This species has been confused with E paniculata ever since Reichenbach erroneously described it as such in 1859 from a plant of Eria monostachya. They are definitely 2 different species with this one confined to Java and Sumatra. Eria paniculata Lindley 1830 comes from the Himalayas through all of Southeast Asia.
Synonyms Eria monostachya var. pleiostachya Beck 1914; Eria paniculata Rchb.f. ex Lindl. 1859; Mycaranthes monostachya (Lindl.) Rauschert 1983; Pinalia monostachya (Lindl.) Kuntze 1891
References W3 Tropicos, Kew Monocot list , IPNI ; Die Orchideen Von Java J.J.Sm. 1905; Die Orchideen Von Java Figuren Atlas J.J.Smith 1908 drawing fide; Die Orchideen lieferung 11 Schlechter/Brieger 1981; Orchids of Java Comber 1990 photo ok; Orchids of Java Comber 1990 as E monostachya var grandiflora; Orchids of Java Comber 1990 as E monostachya var caniculata; The Manual of Cultivated Orchids Bechtel, Cribb and Launert 1992; Orchids of Sumatra Comber 2001; Orchids of Sarawak Beaman & Wood 2001; Wild Orchids of the Cameron Highlands REACH 2009 photo good; A to Z of South East Asian Orchid Species Vol 2 O'Byrne 2011 photo fide
--------------------------------------------------------------------------------------------------------------------------