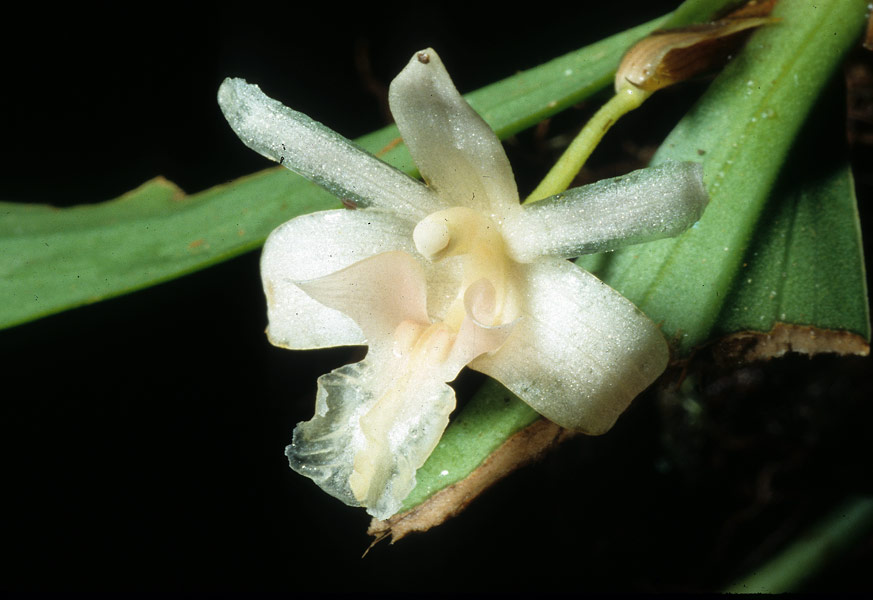 Eria neglecta Ridl1896 SECTION Cylindrolobus Photo by © J B Comber and the The Swiss Orchid Foundationsat he Jany Renz Herbaria Website
Another Flower with a differnt lip Photo by © Tun Jang and The Orchids of Penninsular Malaysia Website
Plant and Flower? Photo by Dian Rahardjo ©,





Common Name The Neglected Eria
Flower Size .6" to .88" [1.5 to 2.2 cm]
Found in Thailand, Borneo, Malaysia and Sumatra in mossy forests on mossy limestone rocks or on trees by rivers and old mangroves at elevations of sealevel to 1400 meters as a miniature sized, hot to cool growing epiphyte and occasional lithophyte with erect, basally terete, higer up swollen and flattened stems enveloped by 3 brown sheaths and carrying 2 apical, erect, lanceolate to narrowly lanceolate leaves that blooms in the summer and fall on short, single flowered inflorescence arising towards the apex of the stem.
The first photo by J B Comber matches Seidenfadens drawing almost exactly, Dian's photos may represent another species as not anly the flowers differ but the plant as well, Seidenfaden's Drawing shows the the pseudobulbs are fairly clavate.
Synonyms Trichosma neglectum (Ridl.) Rauschert 1983
References W3 Tropicos, Kew Monocot list , IPNI ; Flora of the Malayan Penninsula Ridley 1908; The Flora Of Malaya Vol 1 Holttum 1957 drawing fide; Encyclopedia of Cultivated Orchids Hawkes 1965; Tidsskrift bd 68 hft 1 Contributions to the Orchid Flora of Thailand V Seidedenfaden 1973 drawing fide; Opera Botanica #62 Orchid Genera in Thailand X Seidenfaden 1982 drawing fide; The Orchid Of Penninsular Malaysia and Singapore Seidenfaden & Wood 1992 drawing fide; A Checklist of the Orchids of Borneo Wood & Cribb 1994; The Orchids of Borneo Vol 1 Chan, Lamb, Shin & Wood 1994; Orchid Of Sumatra Comber 2001 photo ok; Orchids of Sarawak Beaman & Wood 2001; Wild Orchids of Penninsular Malaysia Ong, O'Byrne, Yong & Saw 2011 photo fide; A to Z of South East Asian Orchid Species Vol 2 O'Byrne 2011 photo fide
----------------------------------------------------------------------------------------------------------