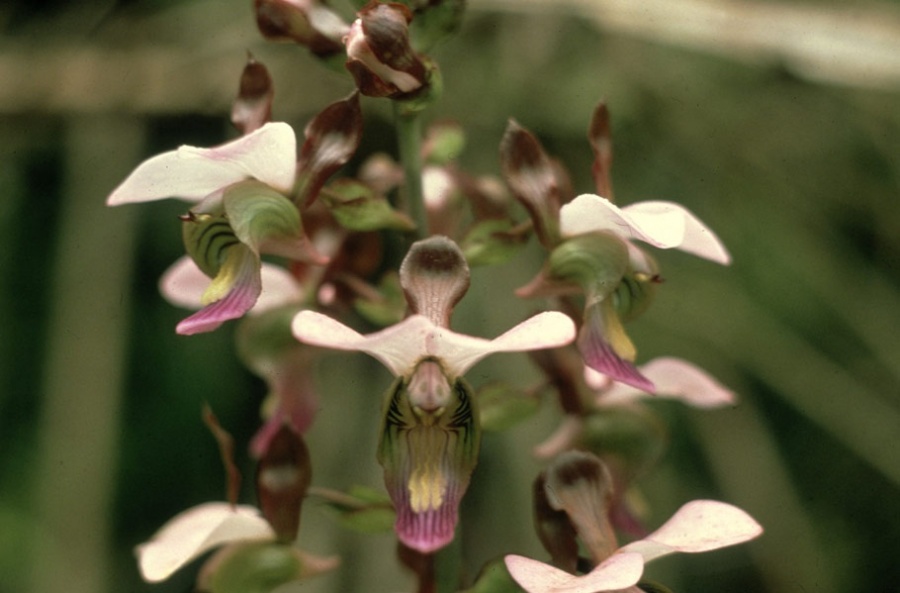 Eulophia horsfallii [Batem.] Summerh. 1936
Inflorescence Photo courtesy of © Swiss Orchid Foundation at the Herbarium Jany Renz and their Website
Flower Closeup Photo by © Lourens Grobler
Another Color Form Photo by © Leon van Eck and His Orchid Blogspot.






Common Name Horsfall's Eulophia - The Swamp Orchid
Flower Size 2" [5 cm]
Found in Benin, Ghana, Guinea-Bissau, Ivory Coast, Liberia, Nigeria, Senegal, Sierra Leone, Togo, Burundi, Central African Republic, Cameroon, Congo, Equatorial Guinea, Gabon, Gulf of Guinea Islands, Rwanda, Zaire, Ethiopia, Sudan, Kenya, Tanzania, Uganda, Angola, Malawi, Mozambique, Zambia, Zimbabwe, Botswana, Natal and Transvaal South Africa by streams, rivers, dams, swamps, marshes and in open grasslands and forests in deep shade at elevations of sealevel to 2500 meters as a large to giant sized, hot to cool growing terrestrial with a fleshy underground rhizome giving rise to 3 to 5, erect, lanceolate to oblanceolate, acute, narrowing below into an elongate petiolate base leaves that blooms in the spring and fall on an erect, terminal, stout, laxly 5 to 50 flowered inflorescence with large, fleshy, fragrant flowers
Almost all references give this epiteth as Eulophia horsfallii, I am still trying to sort out if Eulophia rosea is a valid separate species. Kew says that Hawkes did not give a type so the name is invalid and E horsfallii reigns.
Synonyms Eulophia alexandri (Rchb.f.) Butzin 1975; Eulophia dybowskii (God.-Leb.) Butzin 1975; Eulophia eleogena (Schltr.) Butzin 1975; Eulophia huillensis Butzin 1975; Eulophia keiliana (Kraenzl.) Butzin 1973; Eulophia magnicristata Szlach. & Olszewski 2001; Eulophia mahonii (Rolfe) A.D.Hawkes 1964; Eulophia multicolor (Kraenzl.) Butzin 1975; Eulophia porphyroglossa [Rchb.f] Bolus 1889; Eulophia rosea A.D.Hawkes 1964; Eulophia sandersonii [Rchb.f] Hawkes 1964; Eulolphia sceptrum (Schltr.) Butzin 1975; Eulophia scottii Butzin 1975; Lissochilus alexandri Rchb.f. 1882; Lissochilus dybowskii God.-Leb. 1892; Lissochilus eleogenus Schltr. 1915; Lissochilus elliotii Rendle 1895; *Lissochilus horsfallii Bateman 1865; Lissochilus keilianus Kraenzl. 1909; Lissochilus mahonii Rolfe 1905; Lissochilus multicolor Kraenzl.1902; Lissochilus porphyroglossus Rchb.f. 1878; Lissochilus sandsersonii Rchb.f 1878; Lissochilus sceptrum Schltr. 1915; Lissochilus transvaalensis Rolfe 1912; Lissochilus welwitschii Rchb.f. 1865
References W3 Tropicos, Kew Monocot list , IPNI ; Otia Botanica Hamburgensia Rchb.f 1878 as Lissochilus porphyroglossum; Otia Botanica Hamburgensia Rchb.f 1878 as Lissochilus sandersoni; Die Orchideen Schlechter 1915 as Lissochilus horsfallii; Die Orchideen Schlechter 1915 as Lissochilus mahoni; Die Orchideen Schlechter 1915 as Lissochilus roseus; Die Orchideen Schlechter 1915 as Lissochilus sandersoni; Die Orchideen Schlechter 1915 as lissochilus alexandri; Die Orchideen Schlechter 1915 as Lissochilus porphyroglossus; Atlas des Orchidees Cultivees Constantin 1920 as Lissochilus horsfallii drawing fide; AOS Bulletin Vol 26 No 5 1957 drawing as Lissochilus horsfallii; AOS Bulletin Vol 27 No 5 1958 drawing as Lissochilus roseus; West African Lilies and Orchids Morton 1961 drawing fide; AOS Bulletin Vol 32 No 10 1963 as E porphyroglossa; Encyclopedia of Cultivated Orchids Hawkes 1965; Encyclopedia of Cultivated Orchids Hawkes 1965 as E rosea; Encyclopedia of Cultivated Orchids Hawkes 1965 as E mahoni; Encyclopedia of Cultivated Orchids Hawkes 1965 as E porphyroglossa; Encyclopedia of Cultivated Orchids Hawkes 1965 as E sandersonii; An Introduction to the South African Orchids Schelpe 1966; Orchids of East Africa Piers 1968 as E porphyroglossa photo good; AOS bulletin Vol 38 No 1 1969 photo as E rosea; AOS Bulletin Vol 39 No 8 1970 photo; AOS Bulletin Vol 39 No 10 1970; The Orchids of South Central Africa Williamson 1977 drawing fide; Wild Orchids of Southern Africa Stewart, Linder, Schelpe & Hall 1982 photo ok; Flora of Tropical East Africa Orchidaceae Part 3 Cribb 1989 as E horsfalii photo fide/drawing fide; Rudolf Schlechter Die Orchideen Band 1B lieferung 24 1457 - 1520 Brieger 1991 drawing/photo good; Rudolf Schlechter Die Orchideen Band 1B lieferung 24 1457 - 1520 Brieger 1991 as E porphyroglossa; Manual Of Orchids Stewart 1995 drawing fide; Orchids of Kenya Stewart 1996 photo ok; African Orchids in the Wild and Cultivation La Croix 1997 photo good; Flora Zambesiaca Vol 11 Orchidaceae Part 2 Pope 1998 drawing/photo fide; Orchids of Southern Africa Linder & Kurzweil 1999 photo fide; Field Guide to the Ethiopian Orchids Demissew, Cribb & Rasmussen 2004 photo/drawing ok; Field Guide to the Orchids of Northern South Africa and Swaziland McMurty, Grobler, Grobler & Burns 2008 photos fide; Terrestrial African Orchids, A select Review John S. Ball 2009 as E rosea drawing fide
----------------------------------------------------------------------------------------------------------