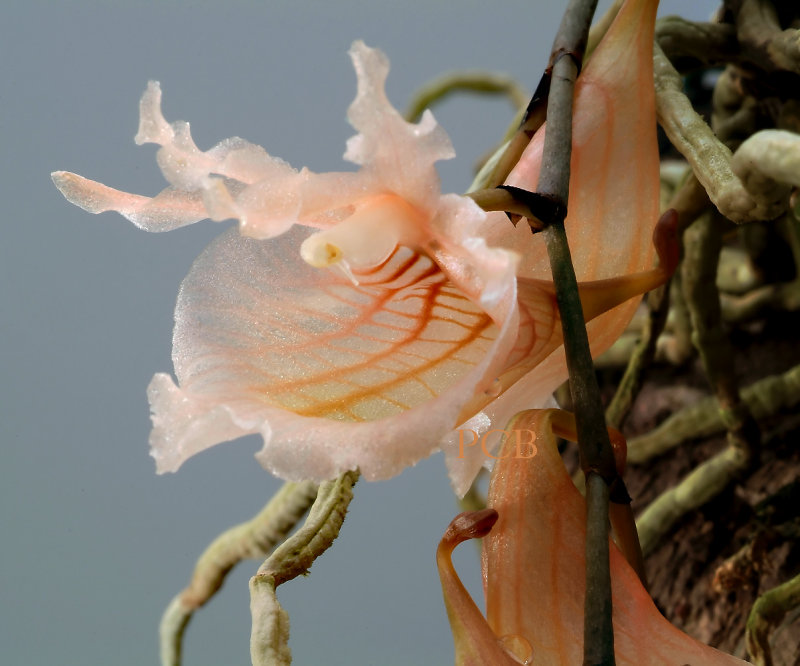 Eurychone galeandrae (Rchb. f.) Schltr. 1918
Another Angle Photo by © Pieter C. Brouwer and his Nature Photo Website
Inflorescence Photo by © Lourens Grobler.



to

LATE

EARLY

Common Name The Galeandra-Like Eurychone [refers to the lip similarities]
Found in Zaire, Ivory Coast, Gabon, Central African republic and Angola as a miniature sized, hot to cool growing, monopodial epiphyte found in forests and woodlands at elevations around 600 to 700 meters with a short stem, carrying several ligulate, narrolwy elliptical or oblanceolate, unequally and obtusely bilobed apically, thick textured, dull olive green leaves that blooms in the winter on a pendant, 3 to 6" [7.5 to 15 cm] long, few to several [3 to 12] flowered inflorescence with large, fragrant flowers. This species is best mounted on tree fern or cork to accomodate the pendant inflorescence and given shade and high humidity. Keep a special watch out for pests as this species seems to attract them more than others.
Synonyms Angorchis galeandrae (Rchb.f.) Kuntze 1891 ; *Angraecum galeandrae Rchb. f. 1865; Angraecum lujae De Wild. 1903; Rhaphidorhynchus galeandrae (Rchb.f.) Finet 1907
References W3 Tropicos, Kew Monocot list , IPNI ; AOS Bulletin Vol 27 No 11 1958; Encyclopedia of Cultivated Orchids Hawkes 1965; AOS Bulletin Vol 48 No 2 1979; Rudolph Schlechter Die Orchideen Band 1B lieferung 16/17/18 945-1128 Brieger 1985; AOS Bulletin Vol 66 No 5 1997 photo; African Orchids in the Wild and Cultivation La Croix 1997 drawing fide; Angraecoid Orchids Stewart, Hermans, Campbell 2006
--------------------------------------------------------------------------------------