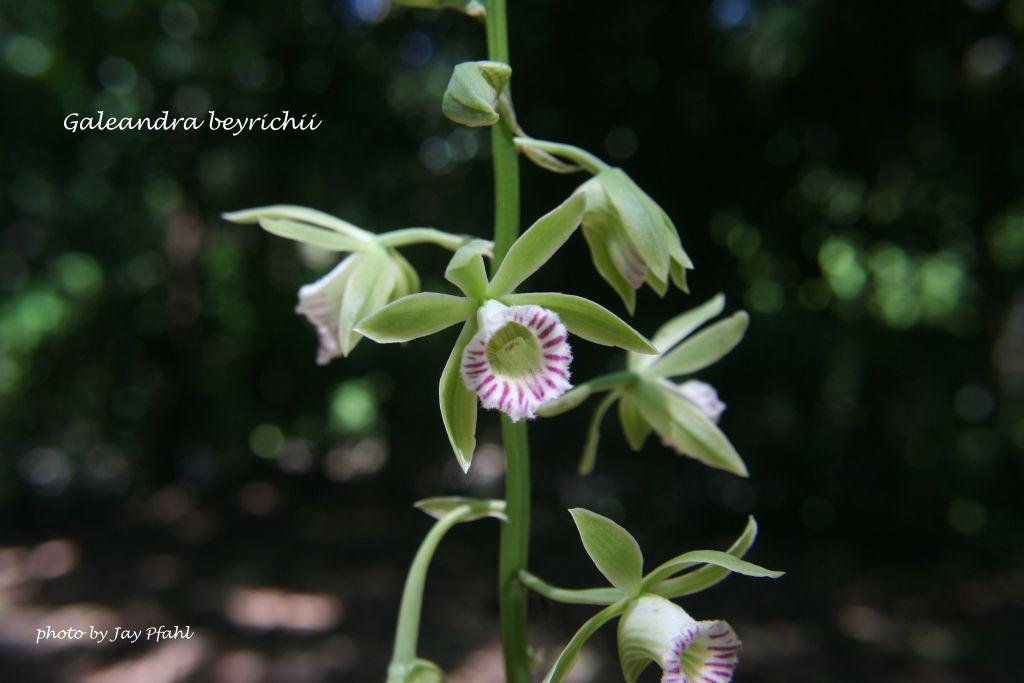 Galeandra beyrichii Rchb.f. 1850 SECTION Campestridae
Inflorescence Photos courtesy of Jay Pfahl.
Another FlowerPhoto courtesy of Dalton Holland Baptista



to


LATE

Common Name Beyrich's Galeandra [German Plant Collector in Brazil 1800's]
Flower Size 1 3/4" [4.2 cm]
Found in Costa Rica, Panama, Cuba, Dominican Republic, Haiti, Jamaica, Puerto Rico, French Guiana, Guyana, Surinam, Venezuela, Colombia, Ecuador, Peru, Bolivia, Brazil, Argentina and Paraguay in open wet forests at elevations of 70 to 1500 meters as a large sized [4' - 120 cm], hot to cool growing terrestrial orchid with subterranean roots and carrying, erect, articulate to the leaf sheaths, oblong-lanceolate, acute, deciduous leaves that are not visible while blooming in the summer through late fall on an erect, terminal, stout, laxly several flowered, to 4' [120 cm] tall, racemose, green inflorescence.
The flowers have no discernable to a faint delicate fragrance. This plant is very rare and appears in old river washes, most often only noticed while in bloom when it has no leaves. It also may have several older green inflorescence with capsules standing with it as well as old, brown, empty inflorescence from previous years. A beautiful find. The featured plant was photographed in Villeta, Colombia on Arturo Carillo's finca and has flowered at least over the last 5 years. We have not been able to find it when it is in leaf, but I should be able to obtain photos within this year. A real treat to find!!!
Synonyms Galeandra coxipoensis Hoehne 1912; Galeandra fiebrigii Schltr. 1922; Galeandra viridis Barb.Rodr. 1881; Tupacamaria beyrichii (Rchb.f.) Archila 2008
References W3 Tropicos, Kew Monocot list , IPNI ; Bonplandia Rchb.f 1854; Symbolae Antillanae Vol VI Orchidaceae Urban 1909; Flora of Jamaica Fawcett & Rendle 1910 drawing fide; Die Orchideen der Sudamerikanischen Kordillerenstaaten V Bolivia Schlechter 1922 as G fiebrigii; Iconografia de Orchidaceae Do Brasil Hoehne 1949 as G coxinnensis drawing fide; Encyclopedia of Cultivated Orchids Hawkes 1965; AOS Bulletin Vol 38 No 6 1969; Venezuelan Orchids Illustrated Vol 3 Dunsterville & Garay 1965 drawing fide; Flora de Venezuela Foldats Volumen XV Part 3 1970 drawing fide; The Native Orchids Of Florida Luer 1972 Drawing/photo fide; Orchidaceae Brasilenses Band 1 Pabst & Dungs 1975 drawing fide; The Orchids Of Venezuela, An Illustrated Field Guide Vol 2 Dunsterville & Garay 1979 drawing fide; Orquideologia Vol 15 #2-3 1982 photo fide; Icones Planetarum Tropicarum Palte 434 Dodson 1982 drawing fide; AOS Bulletin Vol 54 No 3 1985 photo fide; Rudolf Schlechter Die Orchideen Band 1B lieferung 23 1393 - 1456 Brieger 1990 drawing fide; Native Orchids of Colombia Vol 2 # 206 COS 1991 photo fide; The Orchids of Puerto Rico and Virgin Isl. Castillo & Ackerman 1992; Orchids of the High Mountain Atlantic Rainforest in SE Brazil Warren & Miller 1994; An Orchid Flora Of Puerto Rico and the Virgin Islands Ackerman 1995; Orchidaceae Antillanae Nir 2000; Orchids of Venezuela [An illustrated field guide] Vol. 1 Ramiro and Carnevali 2000 drawing fide; Native Ecuadorian Orchids Vol 2 Dodson 2001 drawing fide; Flora of the Venezuelan Guayana Vol 7 Steyermark, Berry, Yatskievych and Holst 2003; Orchids of The Brazilian Central Plateau Menezes 2004 photo fide; Vanishing Beauty, Native Costa Rican Orchids Vol 1 Pupulin 2005 photo fide; Orchids of Costa Rica Vol 2 Morales 2009 photo fide; An Illustrated Field Guide to the Orchids of the Yotoco Forest Reserve Colombia Kolanowska, Escobar, Sanchez & Szlachetko 2011 drawing fide
--------------------------------------------------------------------------------------------------------------------------