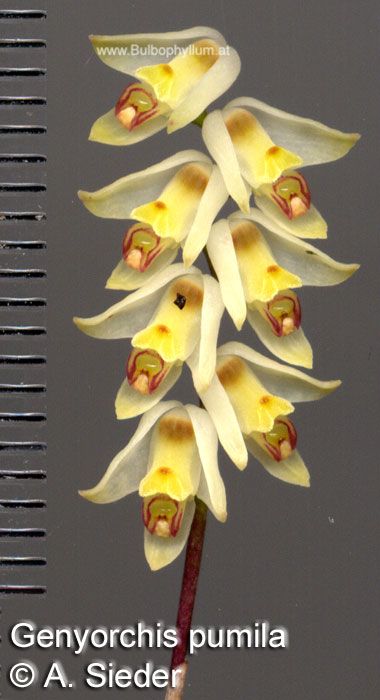 !Genyorchis apetala [Lindley] Senghas 1989
Plant and Flowers Photos by Anton Seider and The Bulbophyllum A to Z Website


to

Common Name The Petal-Less Genyorchis
Flower Size 1/8"
Found in Nigeria, Ivory Coast, Sierra Leone, Ghana, Cameroon, Gabon, Gulf of Guinea Islands, Congo, Zaire and Uganda in rainforests, mangroves and lowland forests at elevations of sealevel to 1400 meters as a small sized, hot to cool growing epiphyte with ovoid or oblong, 4 angled pseudobulbs arising from a woody rhizome and carrying 2, spreading, oblong-elliptic, apically bilobed, fleshy or leathery leaves that blooms on a 2" [5 cm] long, basal, several flowered, racemose inflorescence.
This species was known as Genyorchis pumila, it and Bulbophyllum pumilum are confused by many authorities and B pumilum is said to be a syn of Genyorchis pumila but Bulbophyllum pumillum has two leaves and is white flowered while the latter is single leafed and most often green, red or white flowered. Since Schlechter made his accepted genus Genyorchis and made Genyorchis pumila as the type, he erroneously assumed that Dendrobium pumilum was the basionym but that name was invalid and so Genyorchis apetala was created and is now the type species of the genus Genyorchis with Bulbophyllum apetala Lindley as the basionym.
CAUTION This is a confusing genus and the species have not been well sorted in common literature. I do not have the proper references to be sure of any of the determinations for this genus so please use with caution!
Synonyms *Bulbophyllum apetalum Lindl. 1862; Genyorchis pumila [Sw.] Schltr. 1901; Polystachya bulbophylloides Rolfe 1891;
References W3 Tropicos, Kew Monocot list , IPNI ; AOS Bulletin Vol 32 # 10 1963 as Bulbophyllum flavidum; AOS Bulletin Vol 32 # 10 1963 as G pumilum; Encyclopedia of Cultivated Orchids Hawkes 1965 as G pumila; Orchids of East Africa Piers 1968 as G pumila photo good; Die Orchideen lieferung 13 753 - 816 1983 as B flavidum photo good; Flora of Tropical East Africa Orchidaceae Part 2 Cribb 1984 as Genyorchis pumila; Orchid Monographs Vol 2 - A Taxonomic Revision of the Continental African Bulbophyllinae Vermeullen 1987 as B apetalum Lindl.; Rudolf Schlechter Die Orchideen Band 1B lieferung 24 1457 - 1520 Brieger 1991 drawing/photo fide; The Manual Of Cultivated Orchid Species Bechtel, Cribb & Launert 1992 drawing fide; African Orchids in the Wild and Cultivation La Croix 1997 as Genyorchis pumila; Bulbophyllum and Their Allies Siegerist 2001 as Genyorchis pumila; AOS Bulletin Vol 85 #12 2016 photo fide;
--------------------------------------------------------------------------------------------------------------------------