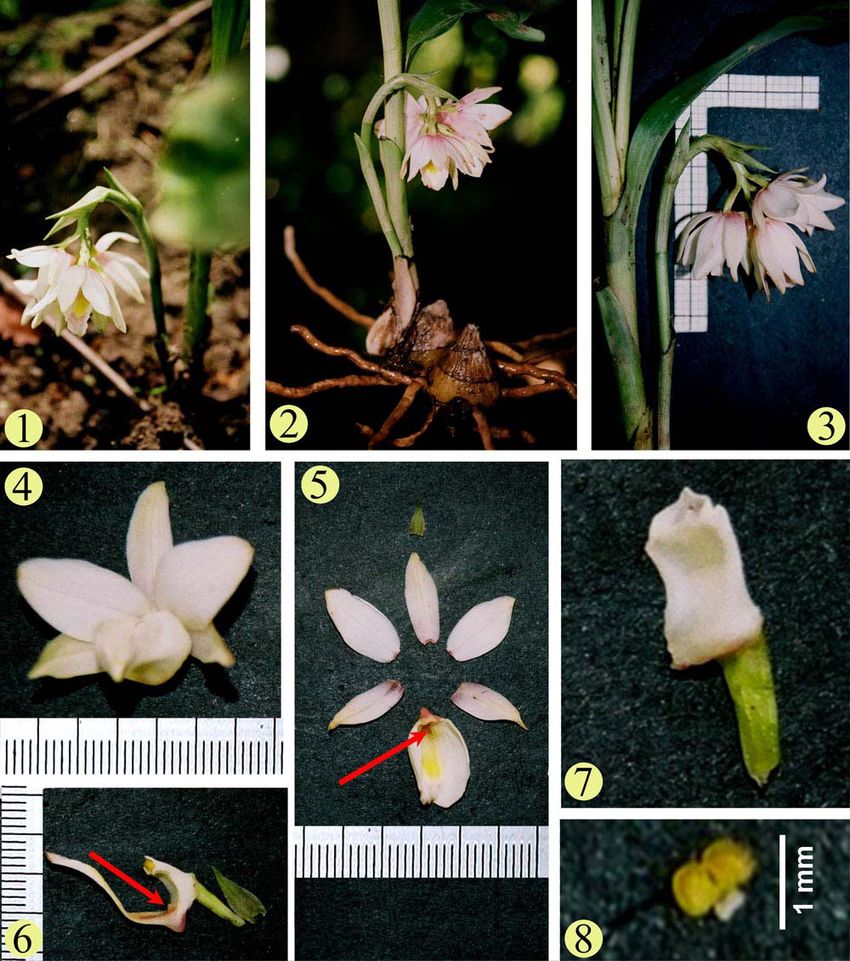 Geodorum attenuatum Griff. 1845
Photos by Pankaj Kumar and Kumar, P., J. S. Jalal and G. S. Rawat. 2008. Geodorum attenuatum Griff. (Orchidaceae): A new record from India. Richardiana, 8 (2): 80 – 87.
Photo by David Kuehn
Drawing by Seidenfaden





Common Name or Meaning The Pointed Geodorum - In China Da Hua Di Bao Lan
Flower Size 3/4" [2 cm]
Found in Myanmar, northern Thailand, Laos, southern China and Vietnam in humid, semi-deciduous and deciduous dry lowland forests and savana-like woodlands in shady habitats on rocky substrates at elevations of sealevel to 1000 meters as a medium sized, hot to warm growing terrestrial species with conical pseudobulbs carrying 3 to 4, broadly elliptic-lanceolate, plicate, acuminate, basally clasping leaves that blooms in the summer on an erect, basal, shorter than the leaves, several [10], rather densely flowered inflorescence arising with a newly developing leafy pseudobulb.
Synonyms Geodorum candidum (Roxb.) Lindl. 1855; Geodorum cochinchinense Gagnep. 1932; Geodorum laoticum Guillaumin 1965; Geodorum regnieri Gagnep. 1932; Limodorum candidum Roxb 1832
References W3 Tropicos, Kew Monocot list , IPNI ; The Orchids of Burma Grant 1895/95 as G candidum; Die Orchideen Schlechter 1915 as G candidum; Encyclopedia of Cultivated Orchids Hawkes 1965 as G candidum; Thai Orchid Species Rakpaibulsombat 1992 as G citrinum not photo fide; Identification of the Orchids [Orchidaceae Juss.] Vietnam Averyanov 1994; The Wild Orchids of China Tsi, Chen & Mori 1997; Native Orchids of China in Colour Singchi, Zhanhuo and Yibo 1999 photo fide; Lindleyana Vol 15 No 4 2000; A field Guide to the Wild Orchids of Thailand Vaddhanaphuti 2001 photo good; A field Guide to the Wild Orchids of Thailand Vaddhanaphuti 2005 photo good; A Field Guide to the Orchids of China Singchi, Zhongjian, Yibo, Xiaohua and Zhanhuo 2009 photo fide; Flora of China Vol 25 Zhengyi, Raven & Deyuan 2009; The Atlas of Wild Orchids in Hainan Island, China Shenyan and Junmei 2010 photo plant only; Kumar, P., J. S. Jalal and G. S. Rawat. 2008. Geodorum attenuatum Griff. (Orchidaceae): A new record from India. Richardiana, 8 (2): 80 – 87 Photo Fide; Atlas of Native Orchids of China Vol 2 Jin Xiaohua, Li Jianwu and Ye Deping 2019 photo fide;
--------------------------------------------------------------------------------------------------------------------------