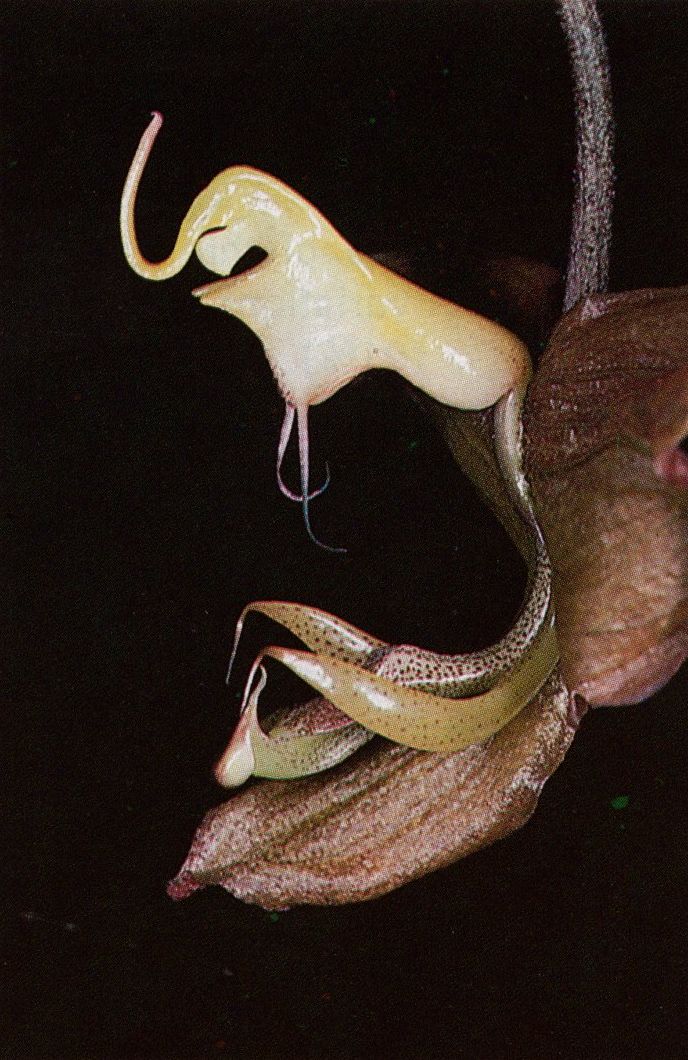 Gongora sanderiana Kraenzl. 1896 SUBGENUS Portentosa Photo courtesy of Andy's Orchids Copyright © 2002 All rights reserved.
Floral Close-up Photos courtesy of Patricia Harding




Common Name Sander's Gongora [English Orchid Nursery Grower 1800's]
Flower Size 2.5" [6 cm]
A Colombian, Ecuadorian and Peruvian, medium sized, cool growing, caespitose epiphyte found at elevations of 1200 meters in hot, wet montane forests with ovoid to ovoid-conical , sulcate, obtuse angled pseudobulbs subtended by a few scarious sheaths with a single, apical, broadly elliptic, acuminate, plicate, conduplicate below into an elongate, terete, channeled petiole leaf that blooms on a basal, 18" [45 cm] long, pendant, few to several [6 to 10] flowered, scapose, fragrant, racemose, red-brown inflorescence that has waxy, fragrant [chocolate and vanilla] flowers occuring in the winter in the wild. The inflorescence arises on a mature pseudobulb as a new growth arises.
References W3 Tropicos, Kew Monocot list , IPNI ; Orquideologia Vol 12 No 3/4 1977/8 drawing; Icones Planetarum Tropicarum plate 435 Dodson 1982 drwaing fide; Orchid Digest Vol 49 No 6 1985 photo fide; AOS Bulletin Vol 60 No 5 1991; Native Colombian Orchids Vol 2 COS 1991 photo = G escobariana; Icones Orchidacearum Peruviarum Plate 066 Bennett & Christenson 1993 drawing fide; Manual Of Orchids Stewart 1995; AOS Bulletin Vol 65 No 11 1996 photo; Native Colombian Orchids Vol 6 COS 1998 errata = G escobariana; Rudolf Schlechter Die Orchideen Band 1C lieferung 37/38 pg 2309 - 2436 Brieger 1999 photo fide; Orchid Species of Peru Zelenko Bermudez 2009 photo fide
--------------------------------------------------------------------------------------------------------------------------