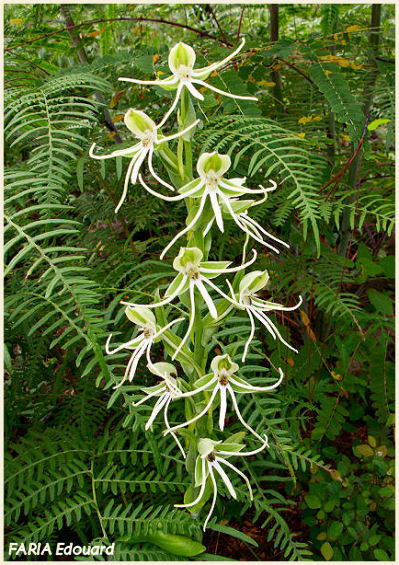 !Habenaria quinqueseta (Michx.) Eaton 1829 SECTION Macroceratitae Kraenzl.
In situ Flower Closeup Photos courtesy of Edouard Faria ©





and EARLY

Common Name The Five Bristled Habenaria - Longhorn False Reinorchid
Flower Size
Found in Mexico, Guatemala, El Salvador, Costa Rica, Cuba and Jamaica on hillsides and open slopes, grasslands, tropical deciduous forests or oak forests as a at elevations of 150 to 1750 meters as a large sized, hot to cool growing terrestrial orchid with a small basal tuber giving rise to a stout stem that is leafy at or above the middle with the lower leaves diminishing in size and carrying several, ovate or elliptic, acute or short-acuminate, basally clasping, articulate to the sheaths leaves that blooms in the summer and early fall on a rather loosely few to 35 flowered inflorescence with ovate-lanceolate, acuminate floral bracts and carrying fragrant flowers.
Synonyms Habenaria macroceratitis var. brevicalcarata Ames 1910; Habenaria michauxii Nutt. 1818; Habenaria simpsonii Small 1903; Mesicera michauxii (Nutt.) Raf. 1837; Mesicera quinqueseta (Michx.) Raf. 1825; Orchis michauxii (Nutt.) Alph.Wood 1870; *Orchis quinqueseta Michx. 1803; Platanthera michauxii (Nutt.) Alph.Wood 1861
References W3 Tropicos, Kew Monocot list , IPNI ; ; Encyclopedia of Cultivated Orchids Hawkes 1965; Las Orquedias De El Salvador Vol 1 Hamer 1974 drawing fide/photo ok; Las Orquedias de El Salvador Vol 3 Hamer 1981 drawing hmm; Icones Planetarum Treopicarum Plate 769 Hamer 1982 drawing ok lateral lobes of the lip curled; AOS Bulletin Vol 54 No 3 1985 photo; Flora Novo Galaciana McVaugh 1985; AOS Bulletin VOl 55 No 3 1986 photo; Fairchild Tropical Garden Bulletin Vol 47 No 2 1992 photo; AOS Bulletin Vol 62 No 10 1993 photo; AOS Bulletin Vol 65 No 3 1996 photo; AOS Bulletin Vol 69 No 4 2000 photo; Flora of the Venezuelan Guayana Vol 7 Steyermark, Berry, Yatskievych and Holst 2003
~Habenaria quinqueseta var. macroceratitis (Willd.) Luer 1972 - See Habenaria macroceratitis Willd. 1805

Photo by Mark Larocque.
Plant in situ Jalisco Mexico Photos courtesy of Edouard Faria ©
Found in Florida, Cuba, the Dominican Republic, Jamaica, Mexico, Belize, Guatemala, El Salvador, Honduras, Nicaragua, Costa Rica, Panama, Colombia, Venzuela, French Guiana, Surinam and Guyana
Synonyms Habenaria habenaria (L.) Small 1903; Habenaria macroceras Spreng. 1826; *Habenaria macroceratitis Willd. 1805; Nemuranthes habenaria (L.) Raf. 1837; Orchis habenaria L. 1759
References W3 Tropicos, Kew Monocot list , IPNI ; Lankester's Epidendra Website CR as H macroceratitis; Syst. Nat. (ed. 10) 2: 1242. 1759 as Orchis habenaria; Sp. Pl. 4(1): 44. 1805 as H macroceratitis; Repert. Sp. Nov. Regni. Veg. Beih. 19: 78. Costa Rica Schlechter 1923 as H macroceratites; Flora de Venezuela Foldats Volumen XV Part 1 1969; *Native Orchids of Florida Luer 1972 as H quinquesta var macroceratitis; Las Orquideas de El Salvador Vol 1 Hamer 1974 drawing fide; Selbyana Vol 10 Orchids of Central America Hamer 1988 drawing fide; Icones Plantarum Tropicarum Plate 769 Hamer 1982 drawing fide;
--------------------------------------------------------------------------------------------------------------------------
--------------------------------------------------------------------------------------------------------------------------