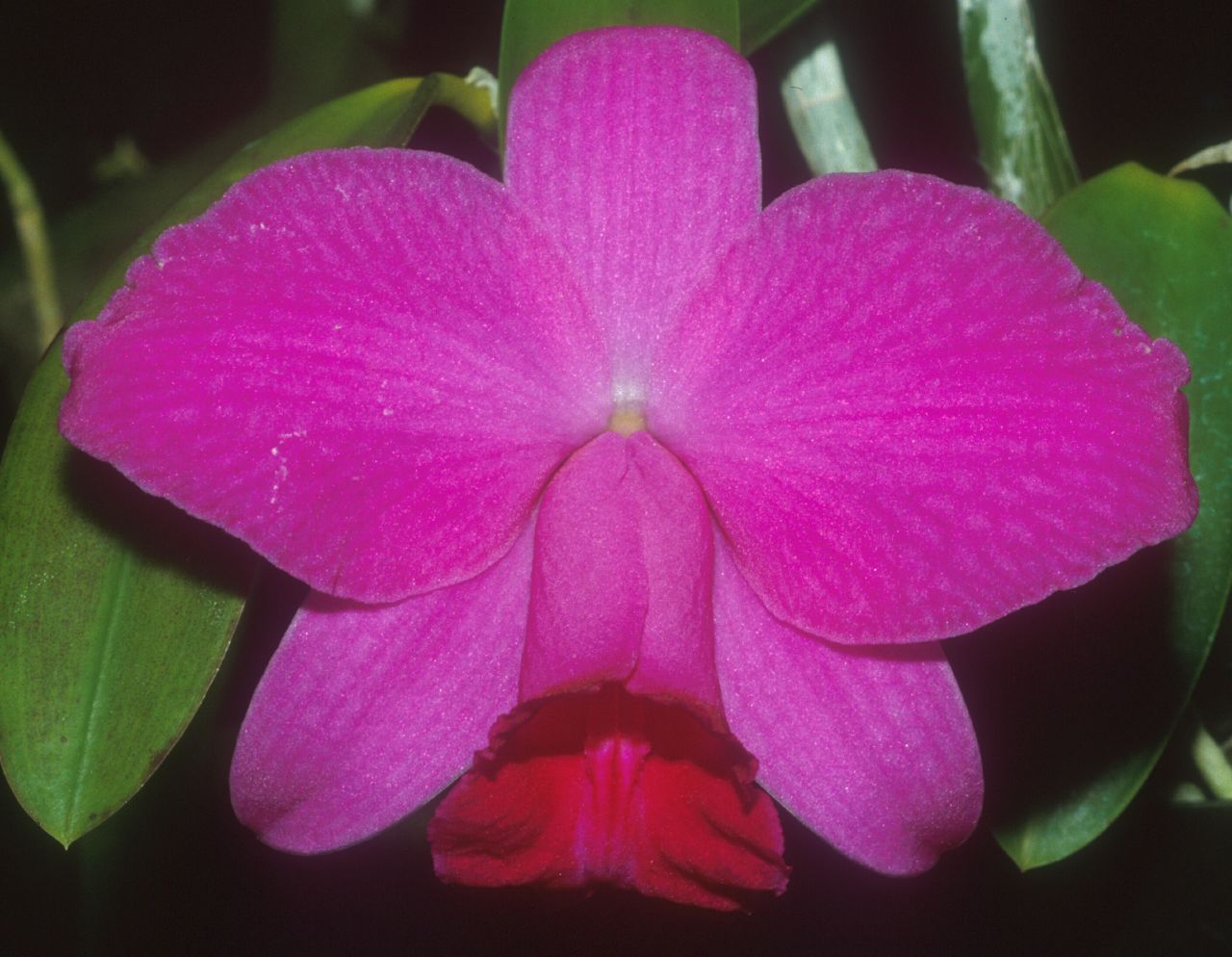 Laelia pumila [Hooker]Rchb.f 1853-4 SUBGENUS Crispae SECTION Hadrolaelia Schlechter Photo by © Lourens Grobler
Another Clone Photo courtesy of Dale and Deni Borders



to


Common Name The Dwarf Laelia
Flower Size 3 to 4" [7.5 to 11 cm]
Another Brazilian, warm to cool growing, miniature, epiphytic species, with a solitary leaf, from elevations of 600 to 1300 meters low down on trees in swampy woods with some shade and high humidity with small, ovoid pseudobulbs carrying a single, apical, narrowly oblong-ligulate, leathery leaf that blooms in the fall with one or 2, long-lasting, showy, fragrant flowers on a 3 3/4" [9 cm] long inflorescence subtended by a membranous sheath that likes some shade and high humidity unlike many others.
A large tree fern mount is required as well as bright light, cool to warm temperatures, and plenty of water while growing followed by a dry winter rest.
This species is often cited as a the same as L spectabilis, I have left them separate at this time pending more information. If they are synomonous this name takes precedence. See the listing for L spectabilis for distinguishing features between the 2 species.
Laelia praestans is often given as a synonym of L pumila but it is separable. The easiest diagnostic is the following. L praestans always has the petals at a right angle to the column while L pumila's petals have a drooping look as the petals are at a greater then 90 degree angle to the column. Other differences include the degree of closure of the petals over the column and the length of the tube of the lip as well as the presence of a "tuft" at the apex of the tip of the central vein of the lip which is only in L pumila.
Synonyms Bletia pumila [Hooker]Rchb.f 1861; Cattleya marginata Paxt. 1843; Cattleya pinelii Lindley 1844; Cattleya pinelii var marginata Beer 1854; *Cattleya pumila Hooker 1838; Hadrolaelia pumila ( Hook. ) Chiron & V.P.Castro 2002; Laelia praestans var noblis Lindley 1898; Sophronitis pumila (Hook.) C. Berg & M.W. Chase 2000
References W3 Tropicos, Kew Monocot list , IPNI ; Xenia Orchidaceae vol 2 Rchb.f 1862 as Bletia pumila drawing fide; Die Orchideen Schlechter 1915 photo fide; Atlas des Orchidees Cultivees Constantin 1920 drawing fide; AOS Bulletin Vol 27 No 9 1958 drawing; AOS Bulletin Vol 27 No 11 1958; AOS Bulletin Vol 29 No 6 1960; Encyclopedia of Cultivated Orchids Hawkes 1965; AOS Bulletin Vol 39 No 5 1970;Orchid Digest Vol 36 No 6 1972 as L pumila var coerulea photo fide; Orchid Digest Vol 37 No 2 1973 photo fide; Orchid Digest Vol 37 No 2 1973 as L pumila var coerulea photo fide; Orchid Digest Vol 37 No 2 1973 as L pumila var nobilis photo fide; Orchidaceae Brasilienses Pabst & Dungs Band I 1975 drawing fide; Die Orchideen 3 Auflage Bd 1 Sonderabdruck aus Schlechter Lieferung 10 576 - 632 Brieger, Maatsch and Senghas 1977 photo fide; AOS Bulletin Vol 47 No 7 1978 photo; AOS Bulletin Vol 48 No 5 1978 photo fide; Orchid Digest Vol 42 no 5 1979 photo; Orchid Digest Vol 44 No 3 1980 photo fide; Orchid Digest Vol 46 No 2 1982 photo fide; AOS Bulletion Vol 51 No 5 1982 photo; Orchid Digest Vol 49 No 1 1985 photo fide; AOS Bulletin Vol 55 No 4 1986 photo; AOS Bulletin Vol 56 No 12 1987 photo; AOS Bulletin Vol 57 No 2 1988 photo; Cattleyas and Their Relatives Vol 2 Withner 1990 photo fide; Orchid Australia Vol 11 No 1 1999 photo; AOS Bulletin Vol 68 No 2 1999 photo; Lindleyana Vol 15 No 2 2000 as Sophronitis pumila; Orchid Australia Vol 13 No 1 2001 photo; AOS Bulletin Vol 74 No 5 2005 photo; AOS Bulletin Vol 76 No 2 2007 photo; AOS Bulletin Vol 76 No 4 2007 photo; Mille et Une Mini Orchideees Roguenant 2009 as Sophronitis pumila photo fide; Orchidees Du Bresil As Orchideas da Serra Do Castello Vol 3 Chiron & Bolsanello 2013 as Hadrolaelia pumila drawing/photo fide

Laelia pumila [Hkr.] Rchb.f var alba 1853-4

SUBGENUS Crispae SECTION Hadrolaelia Schlechter Photo by © Lourens Grobler
An albino color version of the previous species
References W3 Tropicos, Kew Monocot list , IPNI ; Orchid Digest Vol 44 No 3 1980 photo;

Laelia pumila [Hkr] Rchb.f var. delicata 1853-4

SUBGENUS Crispae SECTION Hadrolaelia Schlechter Photo courtesy of Mauro Rosim
A white color version of the previous species
--------------------------------------------------------------------------------------------------------------------------