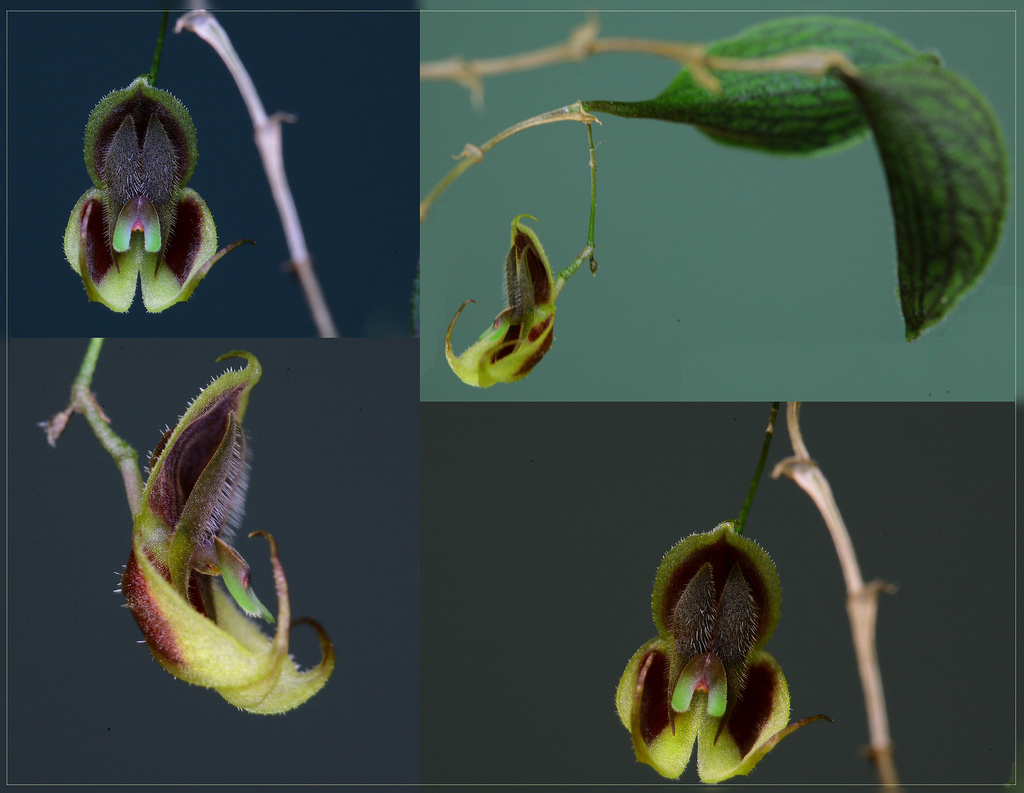 Lepanthes dodsonii Luer 1983 SUBGENUS Lepanthes SECTION Lepanthes SUBSECTION Lepanthes SERIES Lepanthes Novon 1993 Photo by © Jean Marc Pallandre and His Flickr Orchid Website.
Another Flower? NOT Photo courtesy of Eric Hunt and His Orchid Website.



LATE

EARLY

Common Name or Meaning Dodson's Lepanthes [American Botanist in Ecuador current]
Flower Size .2" [5mm]
Found in Colombia and Ecuador at elevations of 900 to 1400 meters as a mini-miniature sized, warm to cool growing epiphyte with slender, erect ramicauls enveloped completely by 8 to 12, ciliate, lepanthiform sheaths with widely dilated ostia and carrying a single, apical, erect, coriaceous, pubescent-ciliate, reticulate rugose, elevated veins red on green, ovate-cordate, obtuse, broadly cordate basally and abruptly contracted into the petiolate base leaf that blooms in the late winter and early summer on a congested, distichous, 1/2" [1.2 cm] long, successively flowered, racemose inflorescence
This species and L aprina are similar but differ most readily by this one being mostly brown, the other is ruby red.
Synonyms
References W3 Tropicos, Kew Monocot list , IPNI ; Icones Pleurothallidianrum Vol XIV Luer 1996 drawing fide; Native Ecuadorian Orchids Vol 2 Dodson 2001 photo good; Flora of Ecuador No 88 Lepanthes and affiliates Dodson & Luer 2011 drawing fide; Icones Pleurothallidinarum Vol XXXII Luer 2012 drawing fide;
--------------------------------------------------------------------------------------------------------------------------