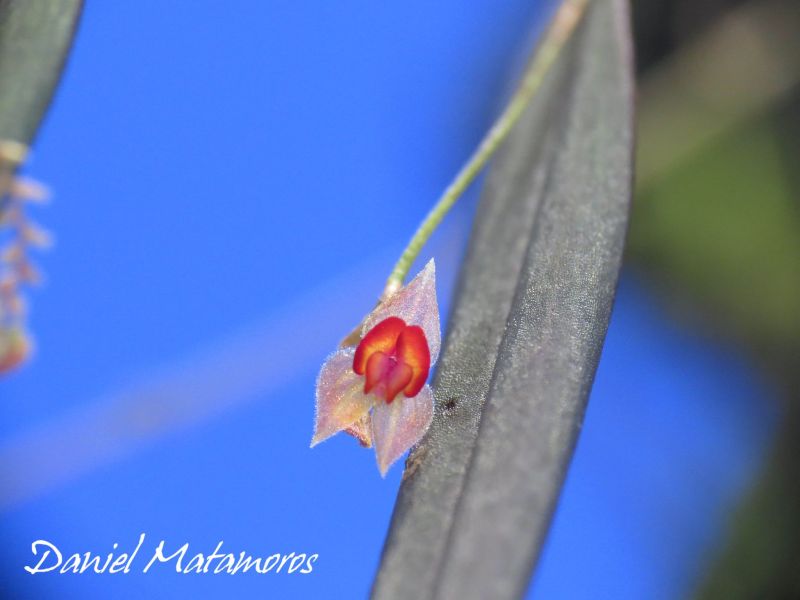 Lepanthes tridens Ames 1923 Photo by © David Matamoros
TYPE Drawing TYPE Drawing and collection sheet by © Ames




Common Name The Three Toothed Lepanthes [refers to the leaf apex]
Flower Size .24" [6 mm]
Found in Costa Rica in pluvial forests at elevations around 1500 to 1700 meters as a mini-miniature to miniature sized, cool growing epiphyte with slender ramicauls enveloped by dilated lepanthiform sheaths with oblique, acuminate, microscopically ciliate ostia and carrying a single, apical, suberect to extended, narrowly ovate, long acuminate, tridentate leaf that blooms in the winter and summer on a congested, distichous, filiform, .2 to .36" [5 to 9 mm] long peduncle, shorter than the leaf, .44" [1.1 cm] long overall, racemose, successively single, few flowered inflorescence.
CAUTION I have my reservations as the the veracity of the photo determination so please use with caution. The Drawing is absolutely correct!!!!
Ames states that this species is similar to L inaequalis which also has a tridenticulate apex but differs in the long acuminate leaf and the overlapping petals.
Synonyms
References W3 Tropicos, Kew Monocot list , IPNI ; Lankester's Epidendra Website CR ; *Schedul. Orchid. 9: 44 Ames 1925 drawing fide; Manual de Plantas de Costa Rica Vol 3 Hammel, Grayum, Herrera and Zamora 2003
--------------------------------------------------------------------------------------------------------------------------