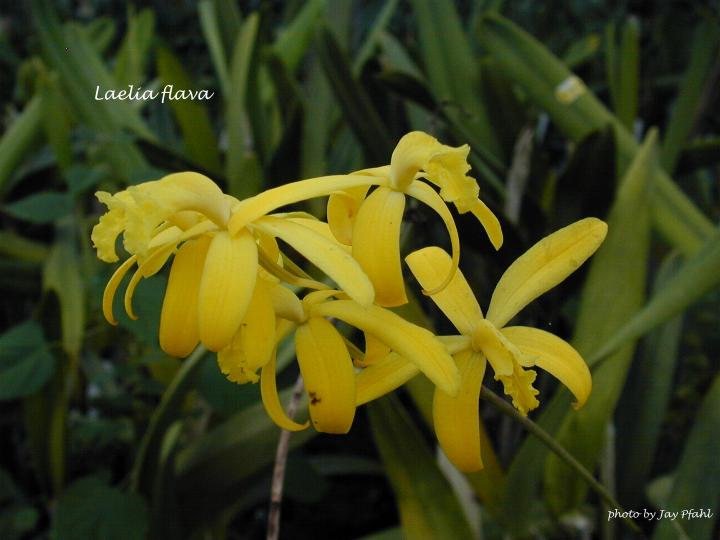 Laelia flava Lindl. 1839 SUBGENUS Parviflorae SECTION Parviflorae Lindley 1990 Photo by Jay Pfahl
Flower Closeup Photo by © Lourens Grobler



EARLY

Common Name The Yellow Laelia
Flower Size 2.4" [6 cm]
Found in Brazil at elevations of 800 to 1000 meters and is a variable species in flowering time, plant size and shape as well as flower size. It is a warm growing rupicolus lithophyte that appreciates a winter rest from water and fertilizer and has narrowly ovoid pseudobulbs carrying a single, apical, elliptic leaf that blooms in the winter to early spring on a racemose, 12 to 20" [30 to 50 cm] long, few to several flowered inflorescence.
Said to be synomonous with L crispata but I have left them apart pending further review. If synomonous then L crispata would take precedence and refer to 2 different color forms.
Synonyms Amalia fulva (Lindl.) Heynh. 1846; Amalia flava (Lindl. ex Heynh.) Heynh. 1846; ; Bletia flava (Lindl.) Rchb.f. 1861; Cattleya flava (Lindl.) Beer 1854; Hoffmannseggella flava (Lindl.) H.G.Jones. 1970; Laelia flava var. micrantha W.Zimm. 1934; Laelia fulva Lindley ex Heyn. 1846
References W3 Tropicos, Kew Monocot list , IPNI ; Xenia Orchidaceae vol 2 Rchb.f 1862 as Bletia flava; Die Orchideen Schlechter 1915; Die Orchideen Schlechter 1915 as L flava var aurantiaca; AOS Bulletin Vol 27 No 11 1958; AOS Bulletin Vol 26 No 2 1957 drawing; Encyclopedia of Cultivated Orchids Hawkes 1965; Orchid Digest No 38 No 2 1974 photo fide; Orchid Digest Vol 38 no 3 1974 photo fide; Orchidaceae Brasilienses Band I Pabst & Dungs 1975 as L luicasiana var alba drawing fide; Die Orchideen 3 Auflage Bd 1 Sonderabdruck aus Schlechter Lieferung 10 576 - 632 Brieger, Maatsch and Senghas 1977 photo ok; Orchid Digest Vol 42 No 2 1978 photo fide; Orchid Digest vol 45 no 3 1981 photo fide; Orchid Digest Vol 48 No 1 1984 photo fide; AOS Bulletin Vol 54 No 7 1985 photo; Cattleya and Their Relatives Vol 2 Withner 1990 photo fide; The Manual Of Cultivated Orchid Species Bechtel, Cribb & Launert 1992 photo fide;
Laelia flava Lindl. 1839 var micrantha

Photo courtesy of Oliver Lenhard
This variety differs by being much smaller and yellower flowers than the original species.
References W3 Tropicos, Kew Monocot list , IPNI ; Atlas des Orchidees Cultivees Constantin 1920 drawing fide; Orchid Digest Vol 45 No 3 1981 photo;
--------------------------------------------------------------------------------------------------------------------------