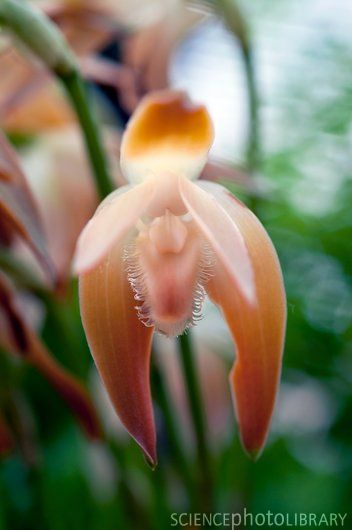 Sudamerlycaste peruviana (Rolfe) Archila 2002 SECTION Fulvecentes Oakley 2008 Photo by © Science Photo Library Website


to


Common Name The Peruvian Sudamerlycaste
Flower Size 2 3/4" [ 6.85 cm]
Found in eastern Ecuador and Peru in very wet montane forests at elevations around 800 to 1100 meters as a medium sized, warm to cool growing epiphyte or terrestrial on steep embankments with a longer rhizome carrying stout, ovate, slightly flattened, furrowed pseudobulbs enveloped basally by several, distichous, imbricating sheaths with the uppermost 1 or 2 being foliaceous carrying 2 apical, plicate, thin, elliptical, acute, conduplicate below intothe petiolate base leaf that is contracted into a channeled basal petiole that blooms in the spring on a basal, single flowered, 4" [10 cm] long, inflorescence with several tubular sheaths and a floral bract. This species is quite remarkable in the fact that it has a movable lip just like Bulbophyllum.
Synonyms Ida peruviana (Rolfe) A.Ryan & Oakeley 2003; Ida peruviana var. pallida Oakeley 2003; Lycaste fimbriata var. peruviana (Rolfe) C.Schweinf. 1944; Lycaste peruviana Rolfe 1910;
References W3 Tropicos, Kew Monocot list , IPNI ; AOS Bulletin Vol 60 No 5 1991 as Lycaste peruviana; Die Orchideen lieferung 29 Schlechter/Brieger 1994 as Lycaste peruviana; Lycaste, Ida and Anguloa The Essential Guide Oakley 2008 photo fide; Orchid Species of Peru Zelenko Bermudez 2009 photo fide; Las Orquideas del Peru Izerskyy & Bezverhov 2011 photo not = S gigantea?
--------------------------------------------------------------------------------------------------------------------------