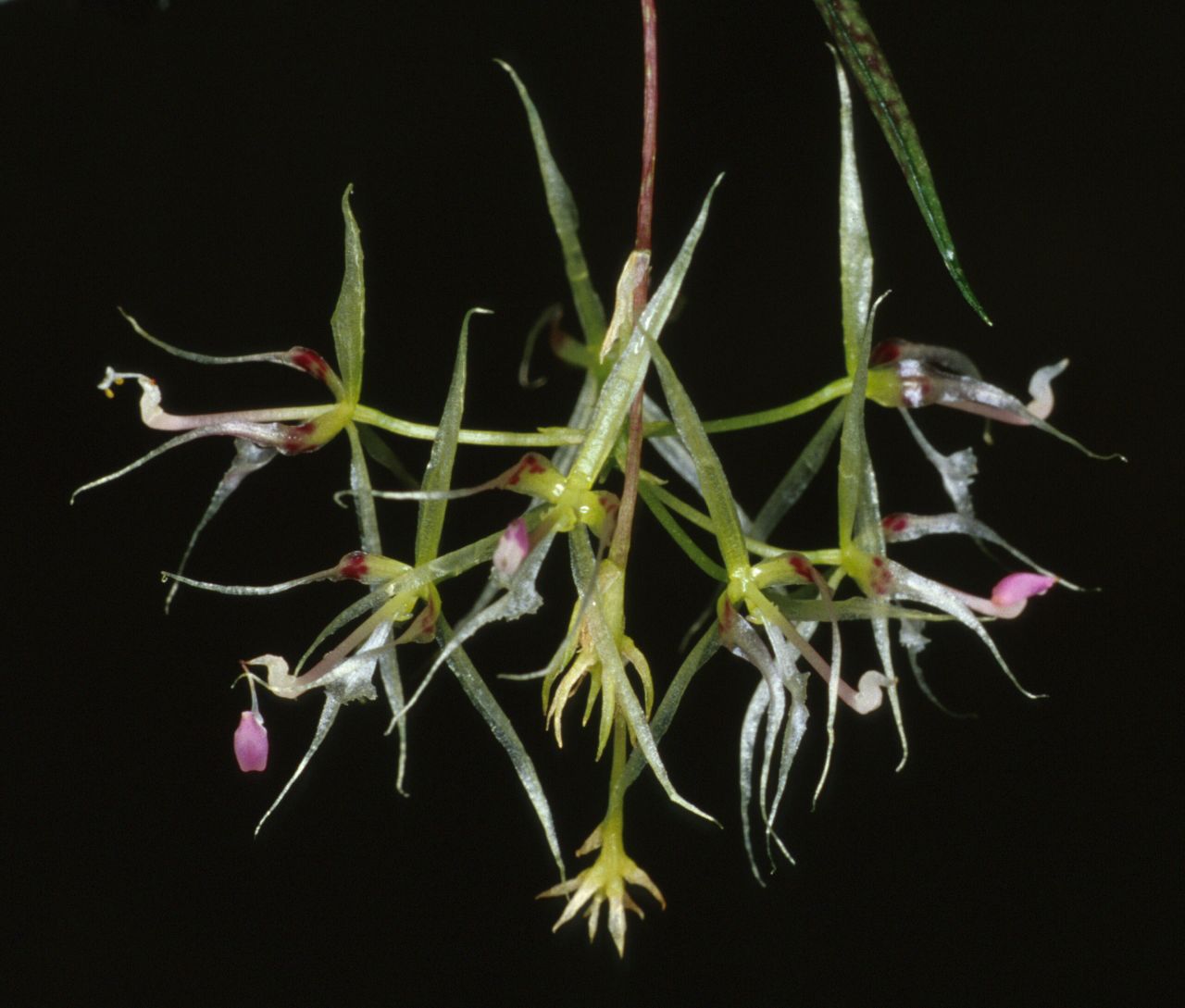 Macroclinium gleicensteinii J.T. Atwood 1987[1988] Photo by © Lourens Grobler.





Common Name or Meaning Gleicenstein's Macroclinium [American Orchid Enthusiast 20th cen]
Flower Size .8" [2 cm]
Found in Costa Rica in wet montane forests around 700 to 1800 meters in elevation as a miniature sized, hot to warm growing twig epiphtye with small egg-shaped pseudobulbs almost completely enveloped by several distichous, imbricating, basal leaf bearing sheaths with blades similar to the single, apical, narrowly elliptic, acute leaf that is lnongitudinally folded for it's entire length that blooms in the winter and spring on a basal, along an axillary sheath, 1.6 to 2" long [4 to 5 cm] long, erect, apically, densely few [5] flowered inflorescence that can rebloom out of the same peduncle.
References W3 Tropicos, Kew Monocot list , IPNI ; Lankester's Epidendra Website CR ; Selbyana 10(1): 60. 1987 [1988]; Orchids Travel By Air A Pictoral Safari Mulder, Mulder-Roelfsema and Schuiteman 1990 photo fide; Flora Costa Ricensis Family #39 Orchidaceae Atwood & Retana 1999; Manual de Plantas de Costa Rica Vol 3 Hammel, Grayum, Herrera and Zamora 2003; Orchid Species Culture: Oncidium, Bakers 2006; AOS Bulletin Vol 86 #9 32017 photo ok;
--------------------------------------------------------------------------------------