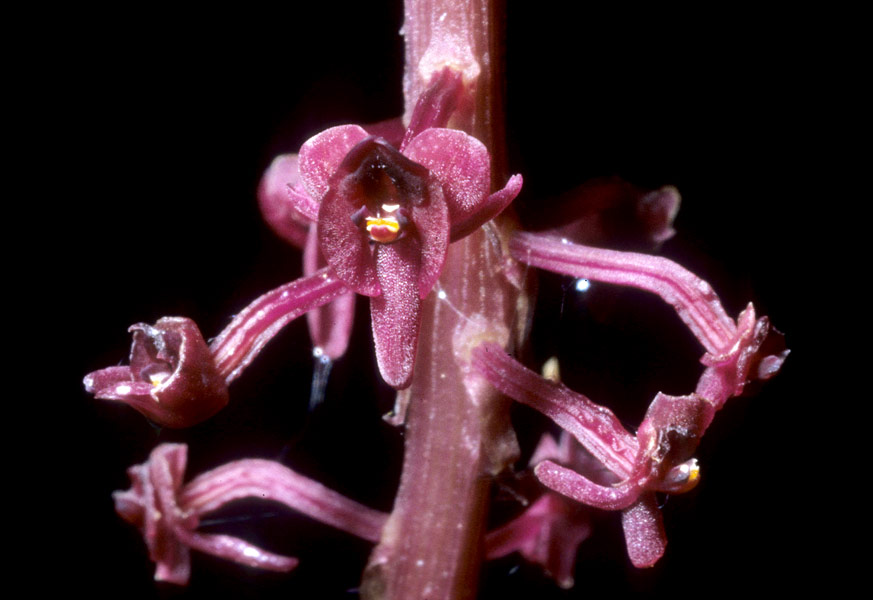 Malaxis punctata J.J.Wood 1987 SECTION Crepidium
Photo by J.B. Comber and The Swiss Orchid Foundation at the Jany Renz Herbaria Website
Photo by Peter Maxwell.
Flower Closeup NOT! has serrations on the lip found in same area but different species
Photo by Eric Hunt.






Common Name or Meaning The Spotted Malaxis [refers to the leaves]
Flower Size .4" [1 cm]
Found in Sabah, Borneo in mixed hill forest and mossy forests and lower montane forests at elevations of 800 to 1800 meters as a miniature sized, warm to cool growing terrestrial with stems that partially form 1 to 2 noded, weak, fleshy, pale green pseudobulbs enveloped completely by leaf-bearing sheaths and carrying leafy, purple spotted, ovate-elliptic, acute, slightly undulate, prominently veined cataphyls and 3, 1 large, 2 smaller, ovate-elliptic, acute to acuminate, thin-textured, plicate, undulate marginally, prominently veined, pale green with purple spots, gradually narrowing below into the petiolate base leaves that blooms in the winter through spring on a terminal, erect, angular, pale green flecked with purple, 7" [17.5 cm] long, densely many flowered, racemose inflorescence with non-resupinate, cucumber scented flowers.
Synonyms Crepidium punctatum (J.J.Wood) Szlach. 1995
References W3 Tropicos, Kew Monocot list , IPNI ; The Plants of Mount Kinabalu Vol 2 Orchids Beaman, Wood, Beaman & Beaman 1993 photos fide; A Checklist of the Orchids of Borneo Wood & Cribb 1994; Orchids of Borneo Wood Vol 3 1997 drawing/photo fide; Malesian Orchid Journal Vol 2 2008 as Crepidium punctatum photo/drawing fide; Malesian Orchid Journal Vol 8 2011 as Crepidium punctatum; The Orchids of Mount Kinabalu Vol 1 Wood, Beaman, Lamb, Chu Lun and Beaman 2011 drawing/photo fide; The Orchids of Mount Kinabalu Vol 2 Wood, Beaman, Lamb, Chu Lun and Beaman 2011; A to Z of South East Asian Orchid Species Vol 2 O'Byrne 2011 photo fide; Orchid Digest Vol 77 #2 2013 photo not see 3rd flower photo above; AOS Bulletin Vol 82 #12 2013 photo fide;
--------------------------------------------------------------------------------------------------------------------------