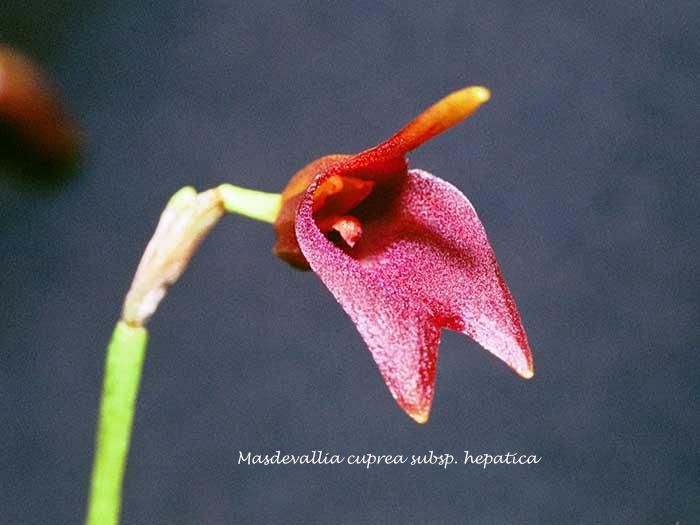 Masdevallia cuprea Lindl.1843SUBGENUS Polyantha SECTION Alaticaules SUBSECTION Alaticaules [Krzl.] Luer 1986 Photo courtesy of Eric Hunt, plant grown by Dan Newman of Hanging Gardens.
Photo courtesy of Patricia Harding.





Common Name The Coppery Masdevallia
Flower Size 3/8" [1 cm]
Found in Ecuador and Peru as a miniature to small sized, warm to cool growing epiphyte at an elevation of 800 to 1500 meters with erect ramicauls enveloped by 2 to 3 tubular sheaths carrying a single, apical, erect, coriaceous, narrowly elliptic, subacute leaf that gradually narrows into an indistinct petiole that blooms in the summer and fall on a congested, successively few flowered, [2 3/8" to 4 3/8" [6 to 11 cm] long, racemose, triquetrous, slender inflorescence arising from low on the ramicaul with imbricating, tubular floral bracts and holding the single flower at mid-leaf height.
Synonyms Alaticaulia cuprea (Lindl.) Luer 2006; Masdevallia cayennensis Rchb.f 1855; Masdevallia cuprea subsp. hepatica (Luer) Luer 1988; Masdevallia hepatica Luer 1979
References W3 Tropicos, Kew Monocot list , IPNI ; Orchidaceae Brasilense Band 1 Pabst & Dungs 1975 drawing fide; Systematics of Masdevallia Vol 2 Luer 1986; Systematics of Masdevallia Vol 2 Luer 1986 as Masdevalllia hepatica; Icones Orchidacearum Peruviarum Plate 288 Bennett & Christenson 1995; Icones Pleurothallidinarum XIX Systematics of Masdevallia Part 1 Luer 2000 drawing ok; Native Ecuadorian Orchids Vol 3 Dodson 2002 photo fide; Icones Pleurothallidinarum XXV Systematics of Masdevallia Part Five Luer 2003; Icones Pleurothallidinarum Vol XXVIII Luer 2006 as Alaticaulia cuprea; Orchid Species of Peru Zelenko Bermudez 2009 photo fide; Orchidaceae Masdevallia and Affiliates Dodson & Luer 2009 as Alaticaulia cuprea drawing fide;
--------------------------------------------------------------------------------------------------------------------------