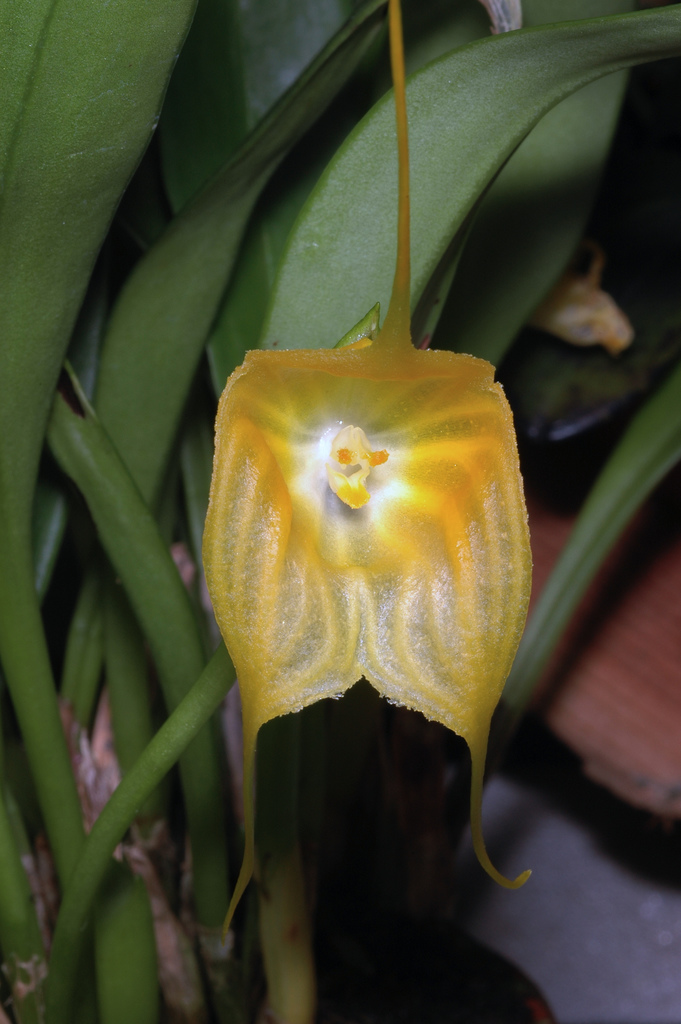 Masdevallia delhierroi Luer & Hirtz 1993 SUBGENUS Cucullatia Luer 2002 Photo courtesy of Eric Hunt plant grown by the San Francisco Conservatory of Flowers.
Another Flower "Eva May"Photo by © Ellis Eyre.
Another Flower Color?Photo by © Jay Pfahl




Common Name del Hierro's Masdevallia [Ecuadorian discoverer of species - Current]
Flower Size 1 1/4" [3.2 cm]
Found in east central Ecuador as a small sized, cool to cold growing epiphyte at elevations of 1500 to 2600 meters with stout, erect, ramicauls enveloped by 2 to 3 loose, tubular sheaths carrying a single, apical, erect, coriaceous, narrowly elliptic, subacute leaf that is narrowly cuneate below into the petiole and blooms in the fall on a stout, erect, 4 3/4" to 5 1/2" [12 to 15 cm] long, single flowered inflorescence arising from low on the ramicaul with a bract near the base and an inflated, broadly ovate, concave floral bract holding the flowers near leaf height. Differs for the other members of this section Cucullatia which have a large, inflated, hood-like floral bract engulfing the pedidel, ovary and base of the sepaline tube. ALso by its consistently pure yellow flowers with sepals that are smooth within
Said to be consistently yellow but the 3rd photo is of a darker colored flower and is close to M dehieroi but differs in the color, shape of flower and in the petals and the apex of the lip. It fits here beter though than within any of the other Ecuadorian members of the section Cucullatia. It very well may be a new species.
Synonyms Megema delhierroi (Luer & Hirtz) Luer 2006
References W3 Tropicos, Kew Monocot list , IPNI ; A Treasure of Masdevallia Vol 23 Luer & Dalstroem 1998 watercolor/drawing fide; AOS Bulletin Vol 68 No 12 1999 drawing fide; Native Ecuadorian Orchids Vol 3 Dodson 2002 photo fide; Icones Pleurothallidinarum XXV Systematics of Masdevallia Part Five Luer 2003 drawing fide; Icones Pleurothallidinarum Vol XXVIII Luer 2006 as Megema delhierroi; Orchidaceae Masdevallia and Affiliates Dodson & Luer 2009 as Megema delhierroi drawing fide;
--------------------------------------------------------------------------------------------------------------------------