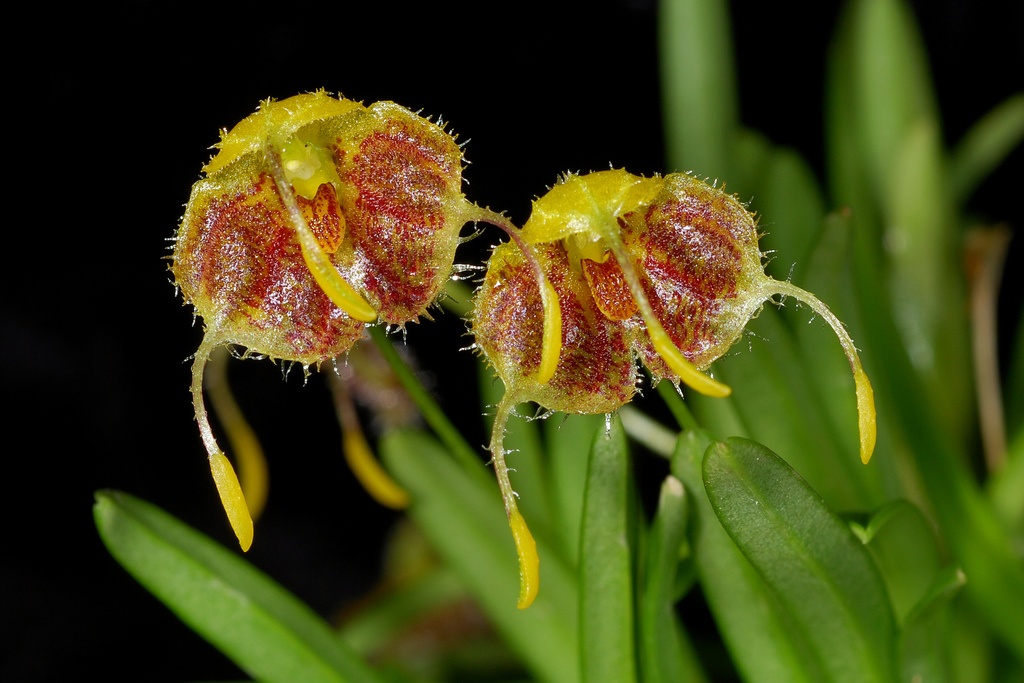 Masdevallia erinacea Rchb.f 1877 SUBGENUS Pygmaeia SECTION Pygmaeae Luer 1986 Photo by © Eric Hunt and His Orchid Website.
Flower Closeup Photo by © Lourens Grobler
Another Clone Photo courtesy of Andy's Orchids Copyright © 2002 All rights reserved.
Plant and Flowers Photo by Patricia Harding


To


Common Name The Hedgehog Masdevallia
Flower Size 5/8" [1.5 cm]
This miniature species hails from Costa Rica, Panama, Colombia and Ecuador in premontane rain forests and is a warm to cool growing epiphyte found at altitudes of 700 to 1400 meters with erect stems covered with tubular bracts and a single, apical subcoriaceous, linear-lanceolate leaf that has single flowered, 1 1/2" to 2 3/4" [4 to 7 cm] long inflorescence occuring in the summer with the flowers held just above the leaves. Can be grown either mounted or in a pot, given humid conditions, good air circulation and never allow it to dry out completely.
Synonyms Diodonopsis erinacea (Rchb. f.) Pridgeon & M.W. Chase 2001; Masdevallia echinocarpa Schltr. 1920; Masdevallia horrida Teusch. & Garay 1960; Scaphosepalum erinaceum (Rchb. f.) Schltr. 1920
References W3 Tropicos, Kew Monocot list , IPNI ; Die Orchideen der Sudamerikanischen Kordillerenstaaten II Colombia Schlechter 1920 as M echinocarpa; AOS Bulletin Vol 29 No 1 1960 as M horrida photo/drawing fide; AOS Bulletin Vol 31 #6 1962 as M horrida photo fide; AOS Bulletin Vol 37 No 2 1968 as M horrida photo fide; AOS Bulletin Vol 37 # 6 1968 as M horridaphoto fide; AOS Bulletin Vol 37 No 9 1968 as M horrida photo fide; Icones Planetarum Tropicarum plate 138 Dodson 1980 drawing fide; AOS Bulletin Vol 51 No 3 1982 photo fide; Systematics of Masdevallia Vol 2 Luer 1986; Orchids Travel By Air A Pictoral Safari Mulder, Mulder-Roelfsema and Schuiteman 1990 photo fide; Native Colombian Orchids Vol 2 COS 1991 photo fide; Icones Planetarum Tropicarum plate 1548 Atwood 1993 drawing fide; Orchid Digest Vol 58 No 4 1994 photo fide; Orchid Digest Vol 61 #2 1997 photo fide; Icones Pleurothallidinarum XXI Systematics of Masdevallia Part 2 Luer 2000 drawing fide; Lindleyana Vol 16 No 4 2001 as Diodonopsis erinacea; Native Ecuadorian Orchids Vol 3 Dodson 2002 drawing/photo fide; Manual de Plantas de Costa Rica Vol 3 Hammel, Grayum, Herrera and Zamora 2003; Vanishing Beauty, Native Costa Rican Orchids Vol 1 Pupulin 2005 as Diodonopsis erinacea photo fide; Icones Pleurothallidinarum Vol XXVIII Luer 2006 as Diodonopsis erinacea ; Orquideas de la Serrania del Baudo Misas Urreta 2006 drawing/photo fide; AOS Bulltin Vol 76 No 4 2007 photo fide; Libro Rojo de Plantas De Colombia Vol 6 Primera Parte Saenz 2007; Orchidaceae Masdevallia and Affiliates Dodson & Luer 2009 as Didionopsis erinacea photo/drawing fide; Mille et Une Mini Orchideees Roguenant 2009 as Didionopsis erinacea photo fide; Orchid Digest Vol 74 #2 2010 photo fide; AOS Bulletin Vol 85 #2 2016 as Diodonopsis erinacea photo fide; AOS Bulletin Vol 86 #8 2017 photo fide;
----------------------------------------------------------------------------------------------------------
--------------------------------------------------------------------------------------