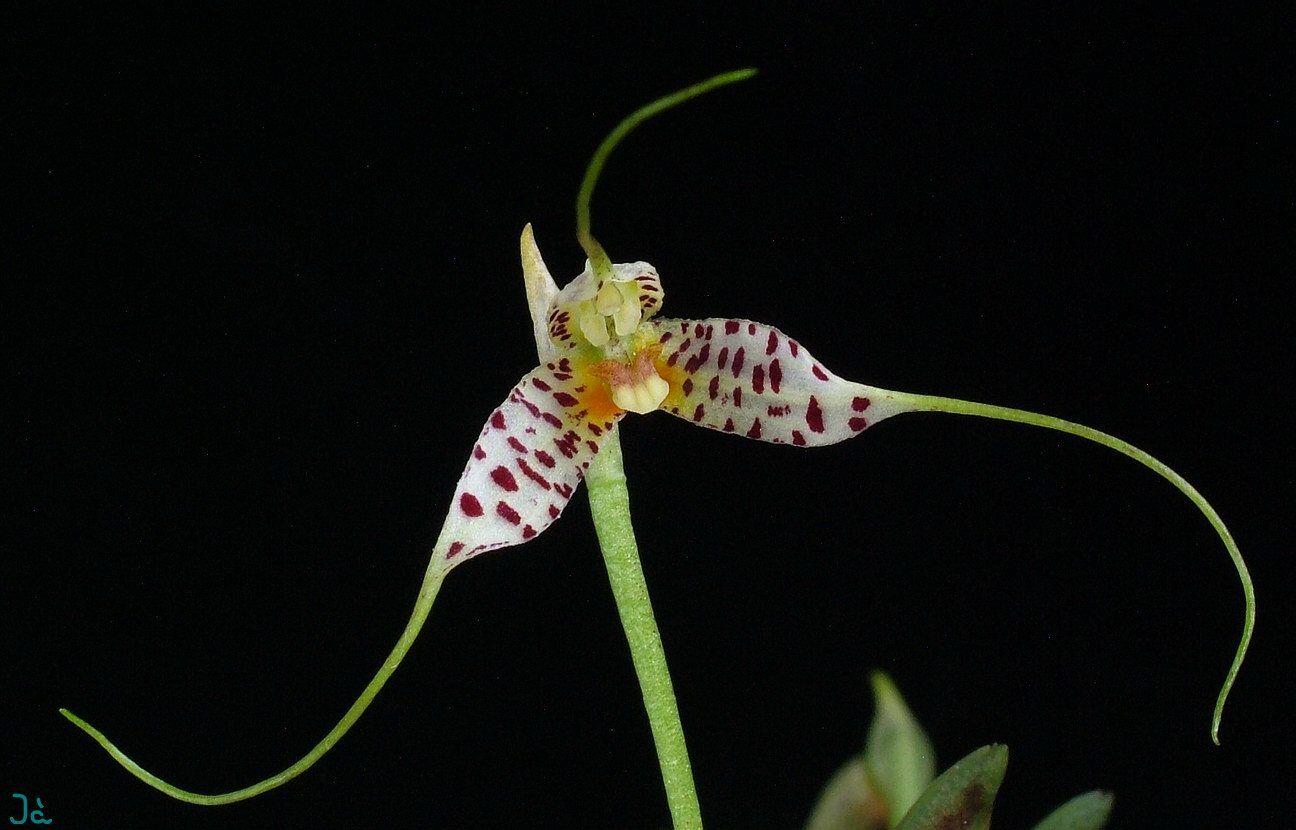 Masdevallia picturata Rchb.f 1878 SUBGENUS Fissae Luer 2002
Photos by © Milan Vágner.
Photo by Patricia Harding.
Plant and Flowers in situ Jardin Colombia 11/18
Plant and Flower in situ Jardin Colombia 11/18
Photos by © Jay Pfahl


to

EARLY


and

Common Name The Striking Masdevallia
Flower Size 1/2" [1.25 cm]
Found in Costa Rica, Panama, Colombia, Ecuador, Guyana, Peru, Bolivia and Venezuela in wet cloud forests on tree trunks and is a mini-miniature sized, cool to cold growing epiphyte found on riverbanks at elevations of 1500 to 2750 meters with short stems enveloped basally by tubular sheaths with a single linear to obovate leaf with a canaliculate petiole at the base that blooms in the fall, winter and early spring on an erect, 1 3/5" [4 cm] long, single flowered inflorescence that is holds the flowers above the leaves. The flowers of this species can vary greatly in color and patterning.
Synonyms Fissia picturata (Rchb.f.) Luer 2006 ; Masdevallia cryptocopis Rchb.f. ex Kraenzl. 1925; Masdevallia meleagris Rchb. f. 1858; Masdevallia ocanensis Kraenzl. 1921; Masdevallia picturata var. minor Cogn. 1896; Masdevallia picturata subsp. minor (Cogn.) Luer 1986; Rodrigoa cryptocopis (Rchb.f. ex Kraenzl.) Braas 1979;
References W3 Tropicos, Kew Monocot list , IPNI ; Epidendra Website CR ; *Otia Bot. Hamburg. 1: 16. Rchb.f 1878; Repert. Sp. Nov. Regni. Veg. Beih. 19: 8. Costa Rica Schlechter 1923; AOS Bulletin Vol 33 #8 1964; Venezuelan Orchids Vol 3 Dunsterville & Garay 1965 drawing fide; AOS Bulletin Vol 36 #9 1967; Flora de Venezuela Foldats Volumen XV Part 3 1970 drawing hmm; Orchids of Venezuela, An Illustrated Field Guide Vol 2 Dunsterville & Garay 1979 drawing fide; Orquideologia Vol 16 No 1 1983; AOS Bulletin Vol 53 #9 1984 photo ok; Systematics of Masdevallia Vol 2 Luer 1986; Systematics of Masdevallia Vol 2 Luer 1986 as Masdevallia meleagris; Native Colombian Orchids Vol 2 COS 1991 photo ok; Icones Planetarum Tropicarum plate 549 Dodson 1982 fide; Icones Planetarum Tropicarum plate 1553 Atwood 1993 drawing fide; Orchids of Venezuela [An illustrated field guide] Vol. 2 Ramiro and Carnevali 2000 drawing fide; Native Ecuadorian Orchids Vol 3 Dodson 2002 photos fide; Orquideas Nativas del Tachira Cesar Fernandez 2003 photo fide; Manual de Plantas de Costa Rica Vol 3 Hammel, Grayum, Herrera and Zamora 2003; Flora of the Venezuelan Guayana Vol 7 Steyermark, Berry, Yatskievych and Holst 2003; Icones Pleurothallidinarum XXV Systematics of Masdevallia Part Five Luer 2003 drawing fide; Icones Pleurothallidinarum Vol XXVIII Luer 2006 as Fissia picturata; Libro Rojo de Plantas De Colombia Vol 6 Primera Parte Saenz 2007; Orchid Species of Peru Zelenko Bermudez 2009 photo fide; Orchidaceae Masdevallia and Affiliates Dodson & Luer 2009 as Fissia picturata photo drawing fide; Orchids of Costa Rica Vol 2 Morales 2009 photo ok; Mille et Une Mini Orchideees Roguenant 2009 photo fide; An Illustrated Field Guide to the Orchids of the Yotoco Forest Reserve Colombia Kolanowska, Escobar, Sanchez & Szlachetko 2011 drawing/photo fide; Lankesteriana 19(1). 31 - 55 2019 photo fide; Orquideas de Farallones de Cali Galindo-Tarazona, Haelterman, Zuluaga Trochez and Sebastian Moreno 2020 photo fide; Vanishing Beauty, Native Costa Rican Orchids Vol 2 Lacaena to Pteroglossa Pupulin 2020 photo fide
--------------------------------------------------------------------------------------------------------------------------
----------------------------------------------------------------------------------------------------------------------