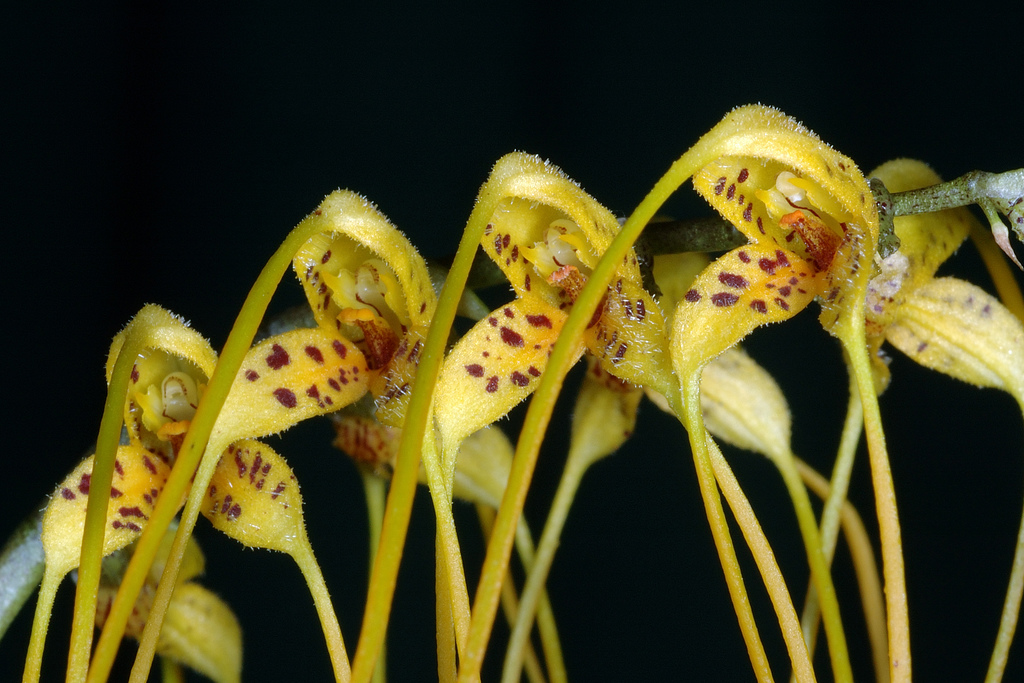 Masdevallia lehmannii Rchb. f. 1877 SUBGENUS Amanda SECTION Amandae Rchb.f 1874
Flower Closeup Photos by © Eric Hunt and His Orchid Website
Another Clone Photo courtesy of Richard Korber.



Common Name Lehmann's Masdevallia [German Orchid Collector South America late 1800's]
Flower Size 1/2" [1.25 cm]
Found in Ecuador and Cauca Colombia in humid valleys of the semi-arid southwest as a small sized, cold growing epiphyte that is found at altitudes of 2000 to 2400 meters with erect, stout ramicauls enveloped basally by 2 to 3 loose, tubular sheaths carrying a single, apcial, erect, coriaceous, petiolate, elliptical, obtuse leaf that is cuneate below into the channeled petiole that blooms in the summer on a suberect to arcuate, slender, racemose, 4" [10 cm ]long, densely and simultaneously many flowered inflorescence arising from low on the ramicaul with 2 distant bracts and inflated floral bracts .
This species is a variation of M polysticha and differs by having a longer and more congested inflorescence that have flowers that are light yellow to yellow orange. The sepals are shortly and densely pubescent towards the edges and less so inward as well as their being spotted with red or red-brown.
Synonyms Masdevallia densiflora Schltr. 1920; Spilotantha densiflora (Schltr.) Luer 2006; Spilotantha lehmannii (Rchb.f.) Luer 2006
References W3 Tropicos, Kew Monocot list , IPNI ; Otia Botanica Hamburgensia Rchb.f 1878; Die Orchideen der Sudamerikanischen Kordillerenstaaten II Colombia Schlechter 1920 as M densiflora; Systematics of Masdevallia Vol 2 Luer 1986; Native Ecuadorian Orchids Vol 3 Dodson 2002 photos fide; Icones Pleurothallidinarum XXV Systematics of Masdevallia Part Five Luer 2003 drawing fide; Icones Pleurothallidinarum Vol XXVIII Luer 2006 as Spilotantha lehmannii ; Libro Rojo de Plantas De Colombia Vol 6 Primera Parte Saenz 2007 as M densiflora; Orchidaceae Masdevallia and Affiliates Dodson & Luer 2009 as Spilotantha lehmannii drawing fide;
----------------------------------------------------------------------------------------------------------