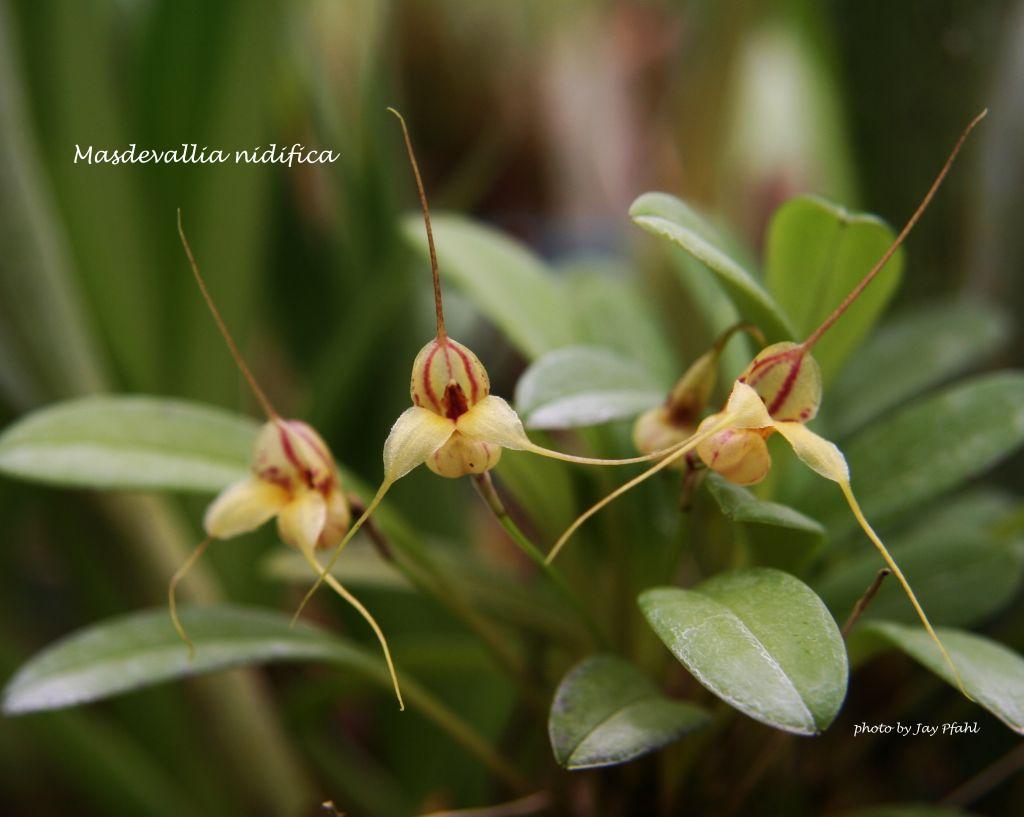 Masdevallia nidifica Rchb.f 1878 SUBGENUS Nidificia Luer 2000
Photo by Jay Pfahl
Photos by Dale and Deni Borders
Photo courtesy of Andy's Orchids Copyright © 2002 All rights reserved.
Photo by Patricia Harding


to


and

Common Name The Nesting Masdevallia
Flower Size 1 1/2" [4 cm]
Found from Costa Rica, Panama, Colombia, Ecuador and Peru as a mini-miniature sized, warm to cold growing epiphytic species that is from windy lower montane cloud forests on slender branches at elevations of 450 to 2500 meters with short ramicauls enveloped basally by 2 to 3 close, tubular bracts and carrying a single, apical, elliptic-lanceolate leaf and has a solitary flowered, arcuate, 5/8" to 2" [1.5 to 5 cm] long, inflorescence arising from low on the ramicaul occuring in the winter and summer with the flower held at or above leaf level.
See also M ventricosa which is often given as a synonym of M nidifica, occuring only in Ecuador with yellow flowers with much shorter, slightly thicker sepaline tails and the epichile is narrowly triangular and not ovate or flabellate.
Synonyms Buccella nidifica (Rchb.f.) Luer 2006 Masdevallia cyathogastra Schltr. 1918; Masdevallia tenuicauda Schltr. 1923;
References W3 Tropicos, Kew Monocot list , IPNI ; Epidendra Website CR ; *Otia Bot. Hamburg. 1: 18. Rchb.f 1878; Repert. Sp. Nov. Regni. Veg. Beih. 19: 13. Costa Rica Schlechter 1923 as M cyathogastra; Repert. Sp. Nov. Regni. Veg. Beih. 19: 15. Costa Rica Schlechter 1923 as M tenuicauda; Repert. Sp. Nov. Regni. Veg. Beih. 19: 170. Costa Rica Schlechter 1923 as M tenuicauda; Repert. Sp. Nov. Regni. Veg. Beih. 19: 277. Costa Rica Schlechter 1923 as M tenuicauda; orquideologia Vol 16 No 1 1983; Systematics of Masdevallia Vol 2 Luer 1986; Icones Planetarum Tropicarum plate 140 Dodson 1980 drawing fide; Icones Planetarum Tropicarum plate 1040 Dodson 1984 drawing ok; Orchids from The Coast Of Ecuador Arosemana, Jurado, Estrada and Konanz 1988 photo fide; Orchids Travel By Air A Pictoral Safari Mulder, Mulder-Roelfsema and Schuiteman 1990 photo fide; The Manual Of Cultivated Orchid Species Bechtel, Cribb & Launert 1992; Icones Planetarum Tropicarum plate 1453 Atwood 1992 drawing ok; Native Ecuadorian Orchids Vol 3 Dodson 2002 photo ok; Icones Pleurothallidinarum XXV Systematics of Masdevallia Part Five Luer 2003 drawing fide; Manual de Plantas de Costa Rica Vol 3 Hammel, Grayum, Herrera and Zamora 2003; Icones Pleurothallidinarum Vol XXVIII Luer 2006 as Buccella nidifica; Libro Rojo de Plantas De Colombia Vol 6 Primera Parte Saenz 2007; Orchid Digest Vol 72 No 4 2008 photo fide; AOS Bulletin Vol 78 #4 2009 photo fide; Orchidaceae Masdevallia and Affiliates Dodson & Luer 2009 as Buccella nidifica drawing ok; Orchids of Costa Rica Vol 2 Morales 2009 photo fide; Mille et Une Mini Orchideees Roguenant 2009 photo fide; Orquideologia Vol 27 #2 2010 photo fide; AOS Bulletin Vol 86 # 1 2017 photo ok; Orchid Genera and Species in Guatemala Archila, Szlachchetko, Chiron, Lipinska, Mystkowska and Bertolini 2018 as Buccella nidifica photo fide; Lankesteriana 19(1). 31 - 55 2019 photo fide; Orquideas de Farallones de Cali Galindo-Tarazona, Haelterman, Zuluaga Trochez and Sebastian Moreno 2020 photo fide; Vanishing Beauty, Native Costa Rican Orchids Vol 2 Lacaena to Pteroglossa Pupulin 2020 photo fide
--------------------------------------------------------------------------------------------------------------------------
-------------------------------------------------------------------------------------------------------