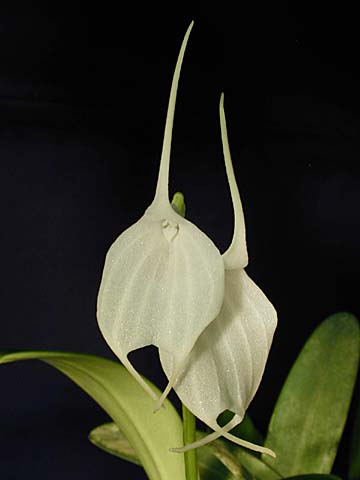 Masdevallia tovarensis Rchb.f 1849 SUBGENUS Polyantha SECTION Alaticaules SUBSECTION Alaticaules [Krzl.] Luer 1986
Photo courtesy of Andy's Orchids Copyright © 2002 All rights reserved.
Photo by Dale and Deni Borders


to


and EARLY

Common Name The Tovar Masdevallia [A town In Venezuela]
Flower Size about 3" [7 to 8 cm]
A cool to cold growing, miniature sized epiphytic species endemic to Venezuela that is found at elevations of 1600 to 2400 meters, with stout, erect ramicauls enveloped by 2 to 3 loose, tubular sheaths carrying a single, apical, erect, thickly coriaceous, glossy green, elliptical, subacute to obtuse leaf that is narrowly cuneate into the stout, basal petiole from which it blooms in the fall and early winter with 2 to 4 flowers that open simultaneously on each, stout, erect, congested, to 3 1/4 to 7 1/4" [8 to 18 cm] long, racemose inflorescence arising from low on the ramicaul with a basal bract and white, tubular, imbricating floral bracts holding the waxy, long-lived flowers well above the leaves.
These inflorescence, after blooming, should be left alone as they will rebloom later or the following year. Even well watered conditions year round suit this miniature orchid fine as long as it has a well draining compost.
Synonyms Alaticaulia tovarensis (Rchb.f.) Luer 2006; Masdevallia candida Klotsch & Karst. 1854
References W3 Tropicos, Kew Monocot list , IPNI ; Bonplandia Rchb.f 1854 as M candida; Bonplandia Rchb.f 1855; Die Orchideen Schlechter 1915 photo fide; Atlas des Orchidees Cultivees Constantin 1920 drawing fide; Venezuelan Orchids Illustrated Vol 1 Dunsterville & Garay 1959 drawing fide; Orchid Digest Vol 24 #5 1960 photo fide; AOS Bulletin Vol 31 No 4 1962 photo fide; Encyclopedia of Cultivated Orchids Hawkes 1965; AOS Bulletin Vol 36 #9 1967; AOS Bulletin Vol 37 # 6 1968; AOS Bulletin Vol 38 #9 1969 photo fide; Flora de Venezuela Foldats Volumen XV Part 3 1970 drawing fide; Die Orchideen 3 Auflage Bd 1 Sonderabdruck aus Schlechter Lieferung 7 385 - 448 Brieger, Maatsch and Senghas 1975; Orchids of Venezuela, An Illustrated Field Guide Vol 2 Dunsterville & Garay 1979 drawing fide; Thesarus Masdevalliarum Vol 1 Luer & Treschslin 1983 watercolor fide; AOS Bulletin Vol 53 #3 1984 photo fide; Systematics of Masdevallia Vol 2 Luer 1986; Orchids Travel By Air A Pictoral Safari Mulder, Mulder-Roelfsema and Schuiteman 1990 photo fide; The Manual Of Cultivated Orchid Species Bechtel, Cribb & Launert 1992 photo fide; AOS Bulletin Vol 62 No 12 1993 photo fide; Icones Orchidacearum Peruviarum Plate 288 Bennett & Christenson 1995; Venezuela; Paraiso de Orquideas Romero 1997 photo fide; Orchid Digest Vol 63 #4 1999 photo/drawing fide; Orchids of Venezuela [An illustrated field guide] Vol. 2 Ramiro and Carnevali 2000 drawing fide; Icones Pleurothallidinarum XIX Systematics of Masdevallia Part 1 Luer 2000 drawing fide; AOS Bulletin Vol 72 No 11 2003 photo fide; AOS Bulletin Vol 73 No 3 2004; Icones Pleurothallidinarum XXV Systematics of Masdevallia Part Five Luer 2003; Icones Pleurothallidinarum Vol XXVIII Luer 2006 as Alaticaulia tovarensis; Orchid Digest Vol 72 No 4 2008 photo fide; Mille et Une Mini Orchideees Roguenant 2009 photo fide; AOS Bulletin Vol 80 #3 2011 photo fide; AOS Bulletin Vol 88 #9 2019 photo fide;
---------------------------------------------------------------------------------------------------------------------------