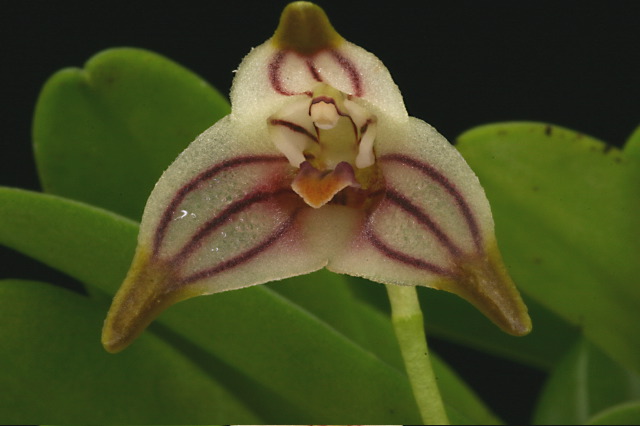 Masdevallia striatella Rchb. f. 1886 SUBGENUS Polyanthae SUBSECTION Polyanthae Rchb.f 1874 Photo by Marius Wasbauer.
Specimen plant Photo by Dale and Deni Borders.
Plant and Flowers in situ Costa Rica Photo by © Wilfried Löderbusch.




and EARLY

Common Name The Small Striped Masdevallia
Flower Size 3/8" [1 cm]
This mini-miniature sized, warm to cold growing epiphytic species is found in Costa Rica, Panama, Colombia and Venezuela? in lower montane cloud forests at elevations of 400 to 2500 meters on tree trunks with cylindric, 1/5 to 1/4" [5 to 7 mm] long stems enveloped with 2 to 3, thin, close, tubular bracts carrying a single, apical, erect, somewhat fleshy, spatulate, petiolate leaf that gradually narrows into the indistinct petiole, blooming on a slender, erect, 1 1/5" to 3" [3 to 7 cm] long, successive solitary flowered inflorescence arising from low on the ramicaul with a bract near the base and a tubular floral bract holding a single flower at mid-leaf height occuring in the fall and early winter.
Synonyms Masdevallia chloracra Rchb.f 1886; Masdevallia demissa var superflua Kraenzl. 1925; Masdevallia superflua Kraenzl. 1921; Reichantha striatella (Rchb.f.) Luer 2006
References W3 Tropicos, Kew Monocot list , IPNI ; Lankester's Epidendra Website CR ; AOS Bulletin Vol 28 No 9 1959 as M tubuliflora photo fide; Venezuelan Orchids Vol 3 Dunsterville & Garay 1965 not = M garciae; AOS Bulletin Vol 36 #9 1967 = M garciae; Flora de Venezuela Foldats Volumen XV Part 3 1970 not = M garciae; Orchids of Venezuela [An illustrated field guide] Vol. 1 Dunsterville and Garay 1979 as M ecaudata not = M striatella drawing fide; Venezuelan Orchids Illustrated Vol 5 Dunsterville & Garay 1972 as M ecaudata drawing fide; Orchids of Venezuela An Illustrated Field Guide Vol 2 Dunsterville & Garay 1979 drawing not = M garciae; Orquideologia Vol 16 No 1 1983 as M chloraca; Icones Planetarum Tropicarum Plate 1041 Hamer 1984 drawing fide; Systematics of Masdevallia Vol 2 Luer 1986; Systematics of Masdevallia Vol 2 Luer 1986 as Masdevallia striatella; Orchids Travel By Air A Pictoral Safari Mulder, Mulder-Roelfsema and Schuiteman 1990 photo fide; Icones Planetarum Tropicarum plate 1559 Atwood 1993 drawing fide; AOS Bulletin Vol 63 No 1 1994 photo fide; Orchids of Venezuela [An illustrated field guide] Vol. 1 Ramiro and Carnevali 2000 drawing fide; Icones Pleurothallidinarum XIX Systematics of Masdevallia Part 1 Luer 2000 drawing fide; AOS Bulletin Vol 72 No 10 2003 photo fide; Manual de Plantas de Costa Rica Vol 3 Hammel, Grayum, Herrera and Zamora 2003; Manual de Plantas de Costa Rica Vol 3 Hammel, Grayum, Herrera and Zamora 2003 as M tubuliflora; Icones Pleurothallidinarum Vol XXVIII Luer 2006 as Reichantha striatella; Orchid Digest Vol 72 No 4 2008 photo fide
--------------------------------------------------------------------------------------------------------------------------
---------------------------------------------------------------------------------------------------------------------------