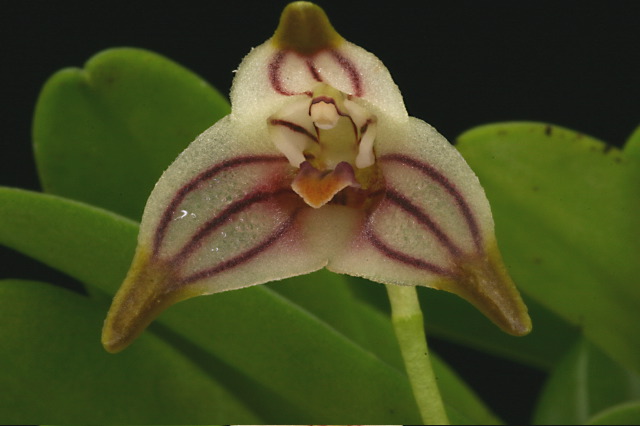 Masdevallia striatella Rchb. f. 1886 SUBGENUS Polyanthae SUBSECTION Polyanthae Rchb.f 1874
Photo by Marius Wasbauer
Photo by Dale and Deni Borders.
Plant and Flowers in situ Costa Rica
Photo by © Wilfried Löderbusch.




and EARLY

Common Name The Small Striped Masdevallia
Flower Size 3/8" [1 cm]
Found in Costa Rica, Panama, Colombia and Venezuela? in lower montane cloud forests at elevations of 400 to 2500 meters on tree trunks as a mini-miniature sized, warm to cold growing epiphytic species with cylindric, 1/5 to 1/4" [5 to 7 mm] long stems enveloped with 2 to 3, thin, close, tubular bracts carrying a single, apical, erect, somewhat fleshy, spatulate, petiolate leaf that gradually narrows into the indistinct petiole, blooming on a slender, erect, 1 1/5" to 3" [3 to 7 cm] long, successive solitary flowered inflorescence arising from low on the ramicaul with a bract near the base and a tubular floral bract holding a single flower at mid-leaf height occuring in the fall and early winter.
Synonyms Masdevallia chloracra Rchb.f 1886; Masdevallia demissa var superflua Kraenzl. 1925; Masdevallia superflua Kraenzl. 1921; Reichantha striatella (Rchb.f.) Luer 2006
References W3 Tropicos, Kew Monocot list , IPNI ; Epidendra Website CR ; Studies in the Family Orchidaceae Vol 3 Ames 1908 drawing fide; AOS Bulletin Vol 28 No 9 1959 as M tubuliflora photo fide; Venezuelan Orchids Vol 3 Dunsterville & Garay 1965 not = M garciae; AOS Bulletin Vol 36 #9 1967 = M garciae; Flora de Venezuela Foldats Volumen XV Part 3 1970 not = M garciae; Orchids of Venezuela [An illustrated field guide] Vol. 1 Dunsterville and Garay 1979 as M ecaudata not = M striatella drawing fide; Venezuelan Orchids Illustrated Vol 5 Dunsterville & Garay 1972 as M ecaudata drawing fide; Orchids of Venezuela An Illustrated Field Guide Vol 2 Dunsterville & Garay 1979 drawing not = M garciae; Orquideologia Vol 16 No 1 1983 as M chloraca; Icones Planetarum Tropicarum Plate 1041 Hamer 1984 drawing fide; Systematics of Masdevallia Vol 2 Luer 1986; Systematics of Masdevallia Vol 2 Luer 1986 as Masdevallia striatella; Orchids Travel By Air A Pictoral Safari Mulder, Mulder-Roelfsema and Schuiteman 1990 photo fide; Icones Planetarum Tropicarum plate 1559 Atwood 1993 drawing fide; AOS Bulletin Vol 63 No 1 1994 photo fide; Orchids of Venezuela [An illustrated field guide] Vol. 1 Ramiro and Carnevali 2000 drawing fide; Icones Pleurothallidinarum XIX Systematics of Masdevallia Part 1 Luer 2000 drawing fide; AOS Bulletin Vol 72 No 10 2003 photo fide; Manual de Plantas de Costa Rica Vol 3 Hammel, Grayum, Herrera and Zamora 2003; Manual de Plantas de Costa Rica Vol 3 Hammel, Grayum, Herrera and Zamora 2003 as M tubuliflora; Icones Pleurothallidinarum Vol XXVIII Luer 2006 as Reichantha striatella; Orchid Digest Vol 72 No 4 2008 photo fide; Orchid Genera and Species in Guatemala Archila, Szlachchetko, Chiron, Lipinska, Mystkowska and Bertolini 2018; Lankesteriana 19(1). 31 - 55 2019 photo fide; Vanishing Beauty, Native Costa Rican Orchids Vol 2 Lacaena to Pteroglossa Pupulin 2020 photo fide
--------------------------------------------------------------------------------------------------------------------------
---------------------------------------------------------------------------------------------------------------------------