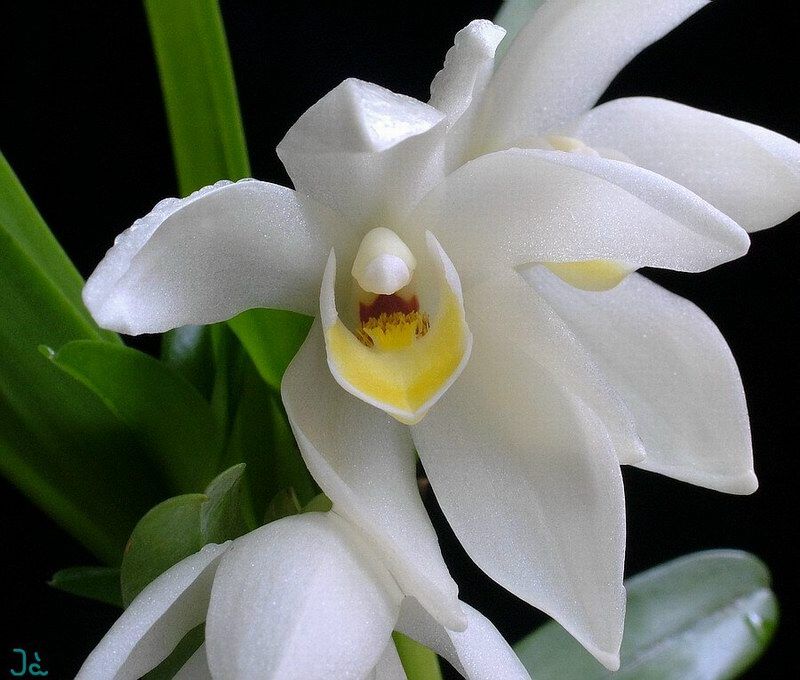 Maxillaria camaridii Rchb.f 1863 sect. Camaridium [Lindl.] Christenson 2013 TYPE for sect.
Plant and Flowers Photo by © Milan Vagner
Flowering plant ensitu in MexicoPhoto courtesy of Noble Bashor



TO


To

Common Name The Camaridium Maxillaria
Flower Size to 2 1/2" [to 6 cm]
A tropical wet forest, ascending, medium to large sized, warm to hot growing epiphyte with prominent bifoliate pseudobulbs and axillary growths found at 200-1200 meters with an elongate rhizome encased in distichous, imbricating, scarious sheaths which when in active growth carry distichous, conduplicate, imbricating, foliaceous leaf sheaths with elliptic, compressed pseudobulbs that are borne at intervals along the rhizome, carrying linear-ligulate, bilobed leaf that is conduplicate at the base which blooms from the winter through spring with showy, very short-lived, fragrant flowers held close to the pseudobulb and arising from the sheaths at the base of a newly forming pseudobulb on a subsessile, to 2" [5 cm] long, single flowered inflorescence and is found in Mexico, Guatemala, Colombia south to Peru, Bolivia, Trinidad, Brazil, Venezuela and the Guineas.
Synonyms Camaridium affine Schlechter 1922; Camaridium amazonicum Schltr.1925; Camaridium cryptopodanthum Barb. Rodr. 1907; Camaridium lutescens (Scheidw.) Rchb.f. 1863; Camaridium ochroleucum Lindley 1824; Cymbidium ochroleucum Lindley 1833; Maxillaria hoehneana P.F.Hunt 1965; Maxillaria lutescens Scheidw. 1839; Ornithidium album Hooker 1834; Ornithidium fragrans Rolfe 1894
References W3 Tropicos, Kew Monocot list , IPNI ; Bonplandia Rchb.f 1854 as Camaridium ochreleucum; Repert. Sp. Nov. Regni. Veg. Beih. 17: 72. Panama Schlechter 1922 as Camaridium affine; The Orchids of Panama L.O. Williams & P Allen 1946 drawing fide; Flora Brasilica Vol XII VII 115-147 Hoehne 1953 as Camaridium amazonicum drawing ok; Flora Brasilica Vol XII VII 115-147 Hoehne 1953 as Camaridium ochroleucum; AOS Bulletin Vol 27 No 6 1958; Native Orchids of Trinidad Schultes 1960; Venezuelan Orchids Vol 3 Dunsterville & Garay 1965 drawing fide; Encyclopedia of Cultivated Orchids Hawkes 1965; AOS Bulletin Vol 3 1970 drawing; Flora de Venezuela Foldats Volumen XV Part 4 1970 drawing fide; Die Orchideen #1 1-4 tafel 1&2 Rudolph Schlechter 1971 photo plant only; Flora of the Lesser Antilles Garay & Sweet 1974 appendix; Orchids of Venezuela An Illustrated Field Guide Vol 2 Dunsterville & Garay 1979 drawing fide; Icones Planetarum Tropicarum plate 552 Dodson 1982 drawing fide; The Orchids of Surinam Werkhoven 1986 photo fide; AOS Bulletin Vol 62 No 8 1993 photo; Icones Orchidacearum Peruviarum Plate 096 Bennett & Christenson 1993 drawing fide; Die Orchideen lieferung 28 Schlechter/Brieger 1993 drawing/photo fide; AOS Bulletin Vol 63 No 4 1994; Venezuela; Paraiso de Orquideas Romero 1997 photo fide; Fieldiana Biology, Flora Costa Ricensis Family # 39 Orchidaceae, subtribes Maxillariinae and Oncidiinae Atwood & Mora 1997; Orchids of Venezuela [An illustrated field guide] Vol. 2 Ramiro and Carnevali 2000 drawing fide; Native Ecuadorian Orchids Vol 3 Dodson 2002 drawing ok; Orquideas Nativas del Tachira Cesar Fernandez 2003 photo hmm; Flora of the Venezuelan Guayana Vol 7 Steyermark, Berry, Yatskievych and Holst 2003; Orchids of The Brazilian Central Plateau Menezes 2004 photo fide; Orquideas de la Serrania del Baudo Misas Urreta 2006 drawing/photo fide; Las Orquideas del Peru Bezverhov 2011 photo fide; Orquideas de Roirama Luz & Franco 2012 as Camaridium ochroleucumphoto fide;
----------------------------------------------------------------------------------------------------------
----------------------------------------------------------------------------------------------------------