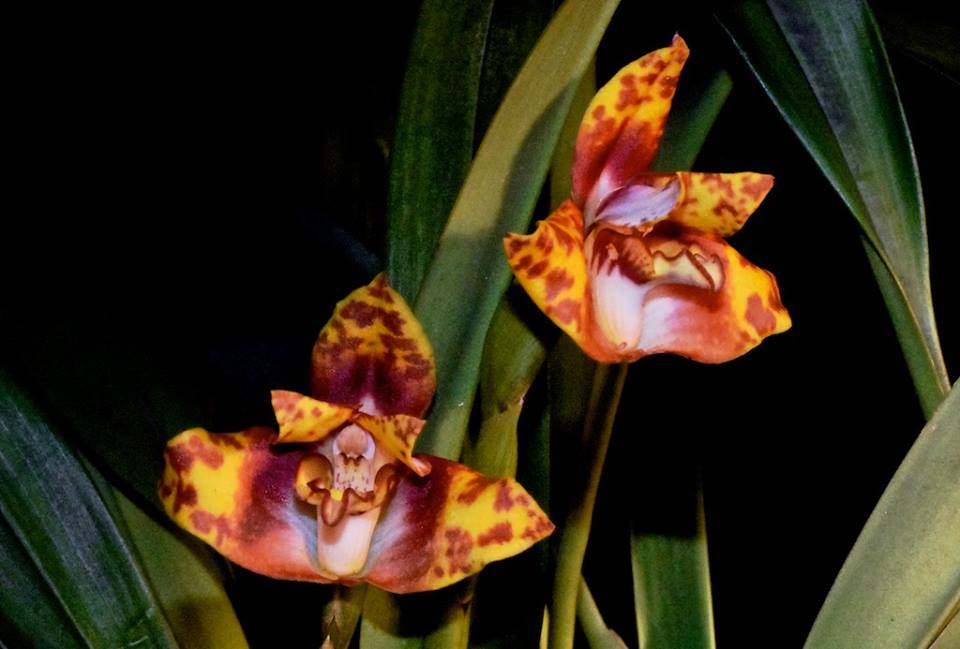 Maxillaria fucata Rchb. f. 1886 Photo by © Alexander Hirtz
Differnt Color Form Photo by Eric Hunt and his Orchid Photo Website




Common Name The Decorated Maxillaria
Flower Size 1" [2.5 cm]
Found in Peru and Ecuador in gravel and sandy soils in wet montane forests at elevations of 2000 to 2800 meters as a medium sized, cold growing epiphyte or terrestrial on steep embankments with ovate, compressed pseudobulbs enveloped basally by 1 to 2 large foliaceous sheaths carrying a single, apical, oblong-lanceolate, stiff, coriaceous, acute leaf with a conduplicate base into an elongate, compressed, channeled petiole and a prominently carinate mid-vein that blooms in the fall in situ on an erect, basal, 7 1/5" [18 cm] long, single-flowered inflorescence arising on a newly matured pseudobulb and enveloped completely by 11 to 14, tubular, acuminate sheaths and carrying heavy textured, fragrant flowers.
CAUTION The orchid above is a different form from the type which is usually spotted.
References W3 Tropicos, Kew Monocot list , IPNI ; Die Orchideen Schlechter 1915; AOS Bulletin Vol 29 No 11 1960 photo; Encyclopedia of Cultivated Orchids Hawkes 1965; Icones Planetarum Tropicarum plate 453 Dodson 1982 drawing hmmish; Icones Orchidacearum Peruviarum Plate 101 Bennett & Christenson 1993 drawing hmm; Die Orchideen Band 1B lieferung 28 1713 - 1776 Brieger 1993; Native Ecuadorian Orchids Vol 3 Dodson 2002 drawing/photo maybe; Orchid Species of Peru Zelenko Bermudez 2009 photo not M elegantula; Las Orquideas del Peru Izerskyy & Bezverhov 2011 photo not?
--------------------------------------------------------------------------------------