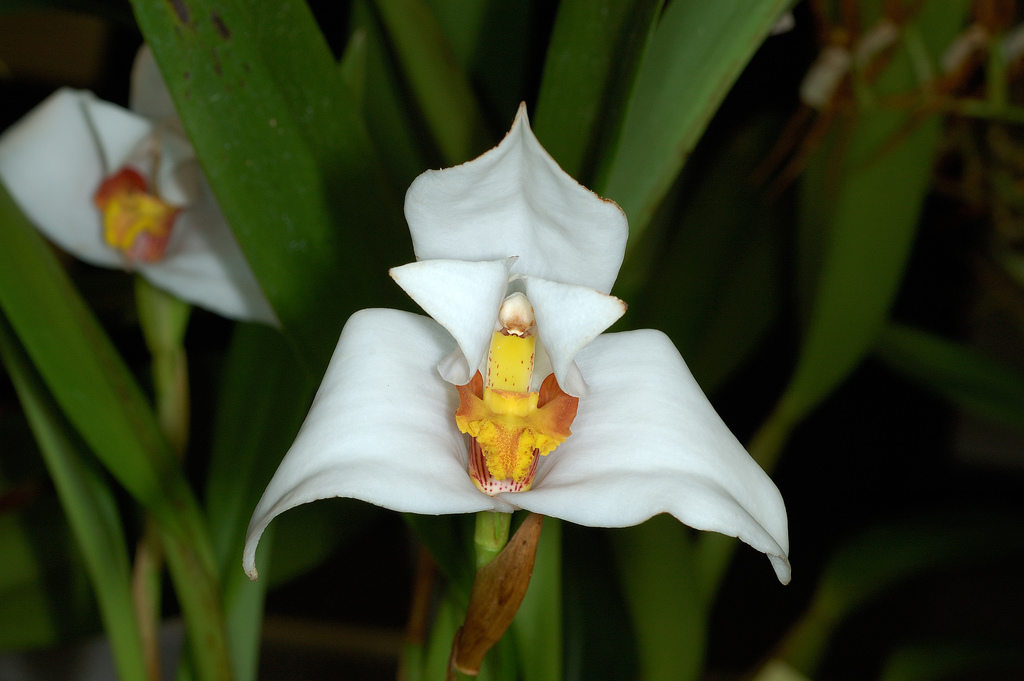 Maxillaria lehmannii Rchb.f 1886 - See also Maxillaria grandiflora [H.B.K.]Lindley 1832 Photo by © Eric Hunt and His Orchid Website.
Common Name or Meaning Lehmann's Maxillaria [German Counsel to Colombia and Orchid enthusiast late 1800's]
Flower Size 4 3/4" [12 cm]
Found in western Ecuador and Peru in wet montane cloud forests as a large sized, warm to cool growing epiphyte or terrestrial on steep embankments with flattened elliptical pseudobulbs enveloped basally by several leaf bearing sheaths and carries a single, apical linear, obtuse leaf that is gradually conduplicate into the narrow, elongate, channeled petiole that blooms in the spring and summer on an erect, 8" [20 cm] long, swingle flowered inflorescence enveloped completely by imbricating, tubular, acute bracts and arising on a mature pseudobulb holding the large flower at mid-leaf. This species is often cited as a synonym of M grandiflora but differs by having a population occuring on the western slopes of the Andes with minimal variation and has very large flowers with rigid floral segments.
References W3 Tropicos, Kew Monocot list , IPNI ; Otia Botanica Hamburgensia Rchb.f 1878; Icones Planetarum Tropicarum plate 397 Dodson 1980 drawing fide; Die Orchideen Band 1B lieferung 28 1713 - 1776 Brieger 1993; Icones Orchidacearum Peruviarum Plate 698 Bennett & Christenson 2001 drawing fide; Native Ecuadorian Orchids Vol 3 Dodson 2002 photo good; AOS Bulletin Vol 74 No 10 2005 photo; Orchid Species of Peru Zelenko Bermudez 2009 photo fide
--------------------------------------------------------------------------------------------------------------------------