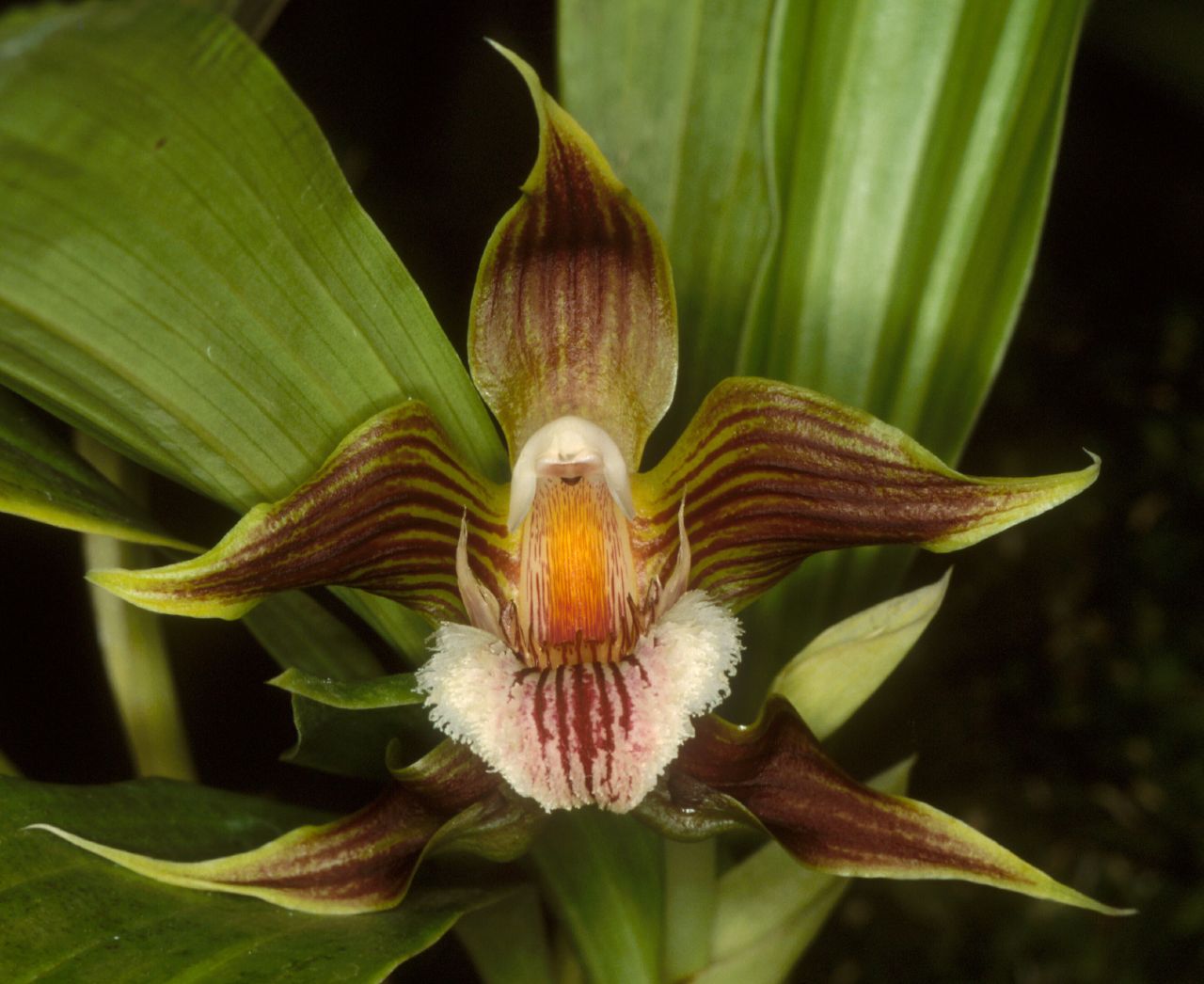 !Galeottia grandiflora A. Rich 1845
Photo By © Lourens Grobler.
Photo Courtesy of Patricia Harding.
Photo Courtesy of Wilford Neptune.



to


and

Common Name The Large-Flowered Galeottia
Flower Size to about 3.6" [9 cm]
This is a medium sized, hot to cool growing, humidity loving, epiphytic species from Mexico, Belize, Guatemala, Costa Rica and Colombia found on trees in open, lowland rain forests at 100 to 1100 meters in elevation, with pyriform to ovoid pseudobulbs subtended in youth by a few scarious sheaths and carrying 2 to 3, plicate, ovate-lanceolate, conduplicate at the base leaves that blooms in the spring and summer on a basal, 2 to several flowered, to 8" [20 cm] long, lateral inflorescence arising on a newly maturing pseudobulb that has ovate lanceolate bracts and carrying fragrant, fleshy flowers.
Synonyms Batemannia grandiflora [A.Rich]Rchb.f 1856; Mendoncella grandiflora Hawkes 1964; Zygopetalum grandiflorum [A.Rich]Benth & Hkr f. 1883
References W3 Tropicos, Kew Monocot list , IPNI ; Lankester's Epidendra Website CR; *Ann. Sci. Nat. Bot. sér. 3, 3:25. 1845; Bonplandia 4: 323. Rchb.f 1856 as Batemania grandiflora; Biol. Centr. Amer. Bot. 3: 251. 1883 as Zygopetalum grandiflorum; Die Orchideen Schlechter 1915; Atlas des Orchidees Cultivees Constantin 1920 drawing fide; The Orchids of Panama L.O. Williams & P Allen 1946 as Zygopetalum grandiflorum drawing fide; Encyclopedia of Cultivated Orchids Hawkes 1965 as Mendoncsella grandiflora; Icones Planetarum Tropicarum plate 1235 Dodson 1985 as Mendoncella grandiflora drawing fide; Selbyana Vol 10 Orchids of Central America Hamer 1988 drawing fide; The Manual Of Cultivated Orchid Species Bechtel, Cribb & Launert 1992 photo fide; Icones Planetarum Tropicarum plate 1534 Atwood 1993 drawing ok; Rudolf Schlechter Die Orchideen Band 1B lieferung 27 1648 - 1712 Brieger 1993 photo fide; Vanishing Beauty, Native Costa Rican Orchids Vol 1 Pupulin 2005 photo fide; AOS Bulletin Vol 79 #12 2010 photo fide; AOS Bulletin Vol 85 #6 2015 drawing fide; AOS Bulletin Vol 85 #1 2016 photo fide;
----------------------------------------------------------------------------------------------------------