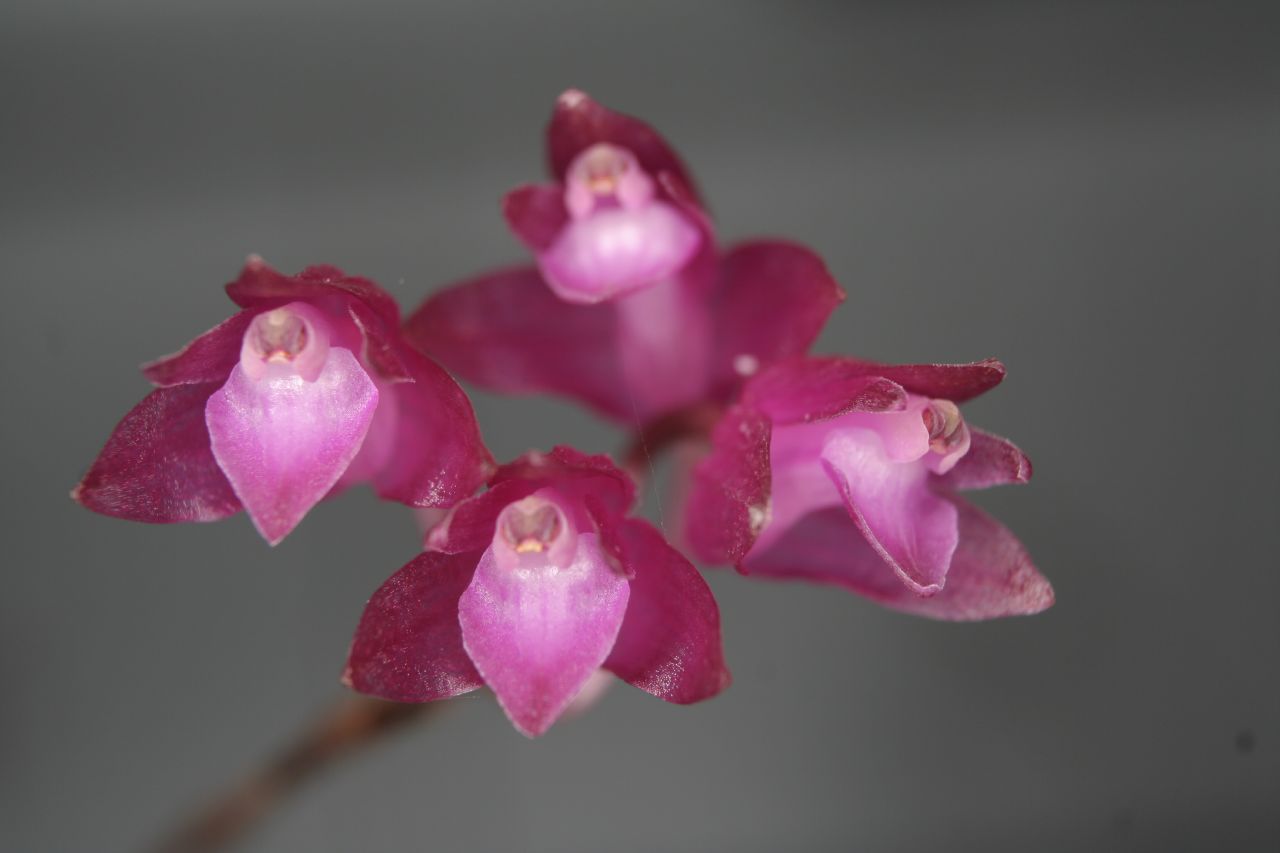 !Nageliella purpurea [Lindley]L.O.Williams 1940
Photo by © Lourens Grobler
Plant and Flower in situ in Mexico
Photo by Weyman Bussey


to


Common Name Purple Nageliella
Flower Size about 1/8" [.7 cm]
Found in Mexico, Guatemala, El Salvador and Honduras from sea level up to 1500 meters on horizontal, mossy branches of trees on rocky hillsides as a small sized, cool to warm growing epiphytic species is from with slender, erect, pseudobulbous, clavate stems carrying a basally clasping, lanceolate or ovate-lanceolate, acute or subacute, coriaceous, green leaves that are spotted bronze-purple that blooms in the summer and carries non-fragrant flowers.
They open successively over months and keep pumping out of old dead looking 8" [24 cm] long, flower stems so don't cut them off at the end of the bloom season, because you will find that the old ones will rebloom next year as well.
Best mounted on cork or tree fern and given moderate light and year round moisture.
Synonyms Domingoa purpurea (Lindl.) Van den Berg & Soto Arenas 2007; Hartwegia comosa Lindley ex Pfitz. ?; *Hartwegia purpurea Lindley 1837
References W3 Tropicos, Kew Monocot list , IPNI ; Die Orchideen Schlechter 1915 as Hartwegia purpurea; AOS Bulletin Vol 30 No 9 1961; Encyclopedia of Cultivated Orchids Hawkes 1965; Las Orquedias De El Salvador Vol 2 Hamer 1974 drawing/photo fide; Die Orchideen 3 Auflage Bd 1 Sonderabdruck aus Schlechter Lieferung 8 449 - 512 Brieger, Maatsch and Senghas 1976 drawing fide; AOS Bulletin Vol 48 No 5 1979; Orquídea (Mexico City), n.s., 7[3]: 1979; Las Orquedias de El Salvador Vol 3 Hamer 1981 drawing fide; Icones Planetarum Tropicarum plate 881 Dodson 1983 drawing hmm; AOS Bulletin Vol 55 No 3 1986 drawing fide; An Introdution to the Orchids of Mexico Wiard 1987 photo fide; The Manual Of Cultivated Orchid Species Bechtel, Cribb & Launert 1992 photo fide; Cattleyas and Their Relatives Vol 5 Withner 1998 photo fide; Icones Orchidacearum 5 - 6 Orchids of Mexico Part 2 - 3 Plate 629 Hagsater & Soto 2002 drawing fide; Mille et Une Mini Orchideees Roguenant 2009 photo fide; Guia de Orquideas de Chiapas Carlos Rommel Beutelspacher Baigts 2013 as Domingoa purpurea photo fide; Orchid Genera and Species in Guatemala Archila, Szlachchetko, Chiron, Lipinska, Mystkowska and Bertolini 2018 photo fide
--------------------------------------------------------------------------------------
--------------------------------------------------------------------------------------